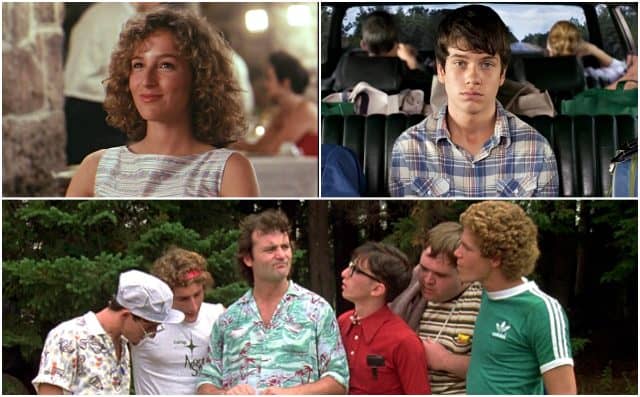 Summertime has been a favorite setting for movies pretty much since movies began. Some of my all-time favorite films actually are about this season. When it's way too hot out, staying in and watching a good movie is one of my favorite ways to beat the heat. It's a virtual summer experience!
A special niche in summer films are the coming-of-age movies. Stories about pivotal changes in a young person's life love to be set in the summertime. Maybe it's because summer is when school's out and thus when children are left to their own devices? It also could be that so many writers went to summer camp…..
Whatever the reason the result has been some great movies about growing up in what are supposed to be the "relaxing" days of summer. Some of these movies will make you feel nostalgia for those carefree younger days. Others will have you take pity on your younger self and thank God you're an adult! All of them will remind you why summer time can be so transformative.
10 Great Summer Coming-of-Age Movies – The List
Whether you're in the mood for drama or laughter, there's something on this list that fits the bill. Regardless of the genre though, all of these coming-of-age movies feature those long summer days. The stories in these film range from childhood to college. They are listed chronologically, because they all offer something great. Some are first features of some great directors (indicated by a "*"). There are also some major firsts for some great actors as well (indicated by "**"). Most of the films on here are considered classics, the ones that aren't…haven't been out long enough!
01. Meatballs, 1979. Director: Ivan Reitman*
You learn something new everyday. I had no idea this was a Canadian production, and I've probably seen this movie a good 15-20 since I stumbled onto it when I was a kid. Nor did I know that it was the first time Bill Murray had a starring role in a movie.
Reitman was one of the producers of the hit comedy, National Lampoon's Animal House. At first glance it looks like Meatballs is going to be in a similar vein of being a pure over-the-top spoofing of summer camp.
[youtube https://www.youtube.com/watch?v=ty7f-E45jJY]
…Okay, so there's definitely some of that going on! Are you ready for the summer?
However, there's a sweetness in this movie. That crazy head counselor ripper Harrison (Bill Murray) is also an insightful one. When he takes the misfit camper Rudy Gerner ( Chris Makepeace) you know there's a lot more to him them just playing pranks on his boss.
Rudy and the various CIT's (counselors in training) all do some growing up and changing. With Tripp, it's more like we get to see more of the adult that's been there all along. Of course…he doesn't completely change – and thank goodness for that!
02. Stand By Me – 1986. Director: Rob Reiner
This film is based on a Stephen King story called The Body – but it's not a horror film. Suspense at times, but not horror. The story about the boys takes place in 1959, and the film is generally considered a modern classic. Parts of it have the feeling of a modern Tom Sawyer/Huckleberry Finn story – only with four boys instead of one.
The story in Stand By Me is one especially poignant for men as it captures both the fun and innocence of boyhood, as well as a pivotal time of change in the lives of these 12-year-old boys. It's told as a flashback by author Gordie Lachance (Richard Dreyfuss). When he was twelve he and three of his friends had set out to find the body of dead boy. What has brought him to this memory as an adult is that one of the friends has been murdered.
[youtube https://www.youtube.com/watch?v=soEFK6PSKEY]
As to the fate of the actors playing the young boys, they all, in one way or another, continued working in Hollywood as adults.
Jerry O'Connell ** was the only one who hadn't acted before. As an adult he was a regular on Crossing Jordan. He continues to steadily work in television.
Wil Wheaton (Star Trek: The Next Generation) was essentially bullied out of that role by a small group of views. As an adult has branched out significantly in the gaming and geek world and occasionally appears on The Big Bang Theory.
Corey Feldman was already a well-known child star when he did Stand by Me. As an adult he's had roles in a number of things and his own reality TV show. Most recently he's known for speaking out about childhood sexual abuse in Hollywood.
River Phoenix became the most well-known of the four. Sadly, it was for both his talent ( he later became an Academy Award Nominee) and his early death at 23 due to a drug overdose.
Did I mention that John Cusack (whom we'll see on this list again) and Kiefer Sutherland are also in this? It also has an awesome soundtrack!
03. Dirty Dancing
– 1987. Director:
Emile Ardolino .
Long before Dancing With the Stars turned ballroom dancing into weekly entertainment, Dirty Dancing had shown that it could hot in a modern times sensibility. This is the movie that moved Patrick Swayze from being a young well-known actor into a bonafide star. Playing the secretly sensitive bad boy dance instructor at a Catskills summer resort in 1963, his character Johnny Castle made girls and women swoon!
Despite being set in 1963, the story in Dirty Dancing still holds up well. The classic formula of the rich girl falling for the poor boy from the wrong side of town takes on a new level by really taking us into the community of the "have not" group of dancers that are separated from the resort-goers. Jennifer Grey co-stars as Frances "Baby" Houseman, a true "Daddy's girl." Her sheltered life gets turned upside down because of her desire to help one of girl dancers get an illegal abortion. Part of helping requires Frances being able to fill in for the girl at another resort. Private lessons thus begin….
[youtube https://www.youtube.com/watch?v=-sYKI4A3uhc]
Oh, did I mention it has one those iconic 1980's awesome soundtracks? Between the music, the movement, and the message, Dirty Dancing is a must-watch for the summer. Because every now again a person needs to be reminded that, "No one puts Baby in the corner."
04. Say Anything – 1989. Director; Cameron Crowe*
This is another summer romance film, with yes, another daddy's girl. The divide this time is less about class economics though. Instead it's about brains and ambition. Diane Court (Ione Skye) is the high school valedictorian. It doesn't take long to figure out that more than just the smartest person at her school she's probably one of the most brilliant high school seniors in the country.
John Cusack (I told you he'd be back) plays Lloyd Dobler an "average" guy from her graduating class that is determined to go out with her. Just as it doesn't take long to realize Diane is super brilliant, Lloyd is shown to be not so average. He's the only guy in school who's even bothered to approach her, and his humor and kindness wins her over for a first date.
[youtube https://www.youtube.com/watch?v=QeUnT3f7eAA]
Yes, that's Lily Taylor telling Lloyd, "The World is full of guys. Be a man." John Mahoney play's Diane's concerned father.
Nearly thirty years later what's interesting about Say Anything is seeing the disconnect between how it was marketed and the actual story. It's a love story, but from the original trailer you would think it was largely about Lloyd's character. That's because Cusack's performance of Lloyd's sweet, earnest devotion to Diane melts your heart every time. As the totally supportive boyfriend to Diane's ambitions he was the dream guy every woman wanted.
Yet, even more so than Dirty Dancing, there's a lot going on for both characters in this movie, and it's Diane that has the biggest changes in her character arc. Like the young woman in that film, Diane is another "Daddy's Girl." However, the conflict is more than an issue of her finding herself and defying his values. Diane's Daddy may be keeping some secrets from his brilliant daughter that change everything….
05. My Girl – 1991. Director: Howard Zieff
This coming of age film takes us back to that time between childhood and adolescence. It's also proof that Macaulay Culkin really could do more than look cute and make that classic Home Alone face. It's also the debut performance of actress Anna Chlumsky – who's continued her acting career as an adult. (Currently she plays Amy Brookheimer in HBO's critically acclaimed series Veep.)
[youtube https://www.youtube.com/watch?v=GreDP22A-0k]
There are two trailers combined in the above video. Note the very different approaches to them. The first is Culkin's character Thomas J. Sennett telling us about his best friend Vada Sultenfuss. The second is just scenes and moments of Vada. That second trailer may have been because it didn't take long to realize that while Culkin was the name child star, Chlumsky's Vada is the heart of the movie. It's a great summer film, but, like Stand By Me, it does address the issue of death and loss. You will, at one point, be sobbing.
06. What's Eating Gilbert Grape – 1993. Director: Lasse Hallström
Leonardo DiCaprio was only 19 years old when he got his first Oscar nomination. It was a best-supporting one for playing Ernie, the developmentally delayed brother of the film's title character. Who played Gilbert Grape? Johnny Depp. Then there's Becky, the age-appropriate love interest that shows up in Gilbert's life. That's done by the actress Juliette Lewis. The inappropriate age married woman who Gilbert's having an affair with is portrayed by Mary Steenburgen. …At this point, why don't I just show you the trailer?
[youtube https://www.youtube.com/watch?v=X6sLIP3908w]
That Gilbert has way too much responsibly on his young shoulders is obvious. At the same time, watching him find a way to a life that includes his own true desires quickly pulls you into his world. It's shocking, beautiful, and bittersweet ending – but it's not a downer.
07. Crooklyn – 1994. Director: Spike Lee
Crooklyn is another film that looks at the difficult transition from childhood to adolescence. At first glance it might appear to be a slice of life type of film. That's because Lee takes much care in building the world that nine-year-old Troy Carmichael (Zelda Harris) lives in.
[youtube https://www.youtube.com/watch?v=tJ3njLoAmxc]
Here's an interesting piece of background about Crooklyn. The story is semi-autobiographical and both it and the script was co-written with Lee's brother Cinqué and sister Joie (IMDB). The film has a great 1970's music soundtrack, and also looks at some 1970's social ills. However, it's really about Troy's world changing as she grows up. As you follow her journey, expect yourself to have a lot of laughter – and tears.
Now and Then does for women what Stand By Me does for men: it highlights memories of special childhood friendships. Both deal films with issues of death and have a summer mystery to be solved. The point of view of each is narrated by the character that grew up to become a writer. Both deal with small town dynamics.
In Now and Then, the writer character is Samantha Albertson. The 12-year-old was played by Gabby Hoffmann, who is currently in both Girls and Transparent. Hoffmann isn't the only child actress from this that continued working as an adult. The other girls are played by Christina Ricci, Thora Birch, and Ashleigh Aston Moore. Only Moore chose to leave the business in 1997. (She later tragically died in 2007 of pneumonia. )
The approaches to these two films are quite different though. For one, we see much more of the characters as adults. Demi Moore, Melanie Griffin, Rosie O'Donnell, and Rita Wilson, play the girls as adults. Their story bookends the girls the coming of age story of the girls in 1970.
Then there's the fact that the tone of Now and Then is a much lighter than Stand By Me. Both do deal with issues of death. However, Now and Then is very much a film about finding the joys of life, and the lasting bonds of friendship.
[youtube https://www.youtube.com/watch?v=XeoqxB7NCk8]
09. Camp – 2003. Director: Todd Graff *
I love every movie on this list, but I have to say that Camp has a special place in my heart. This is the only film on the list that is really about a group of young people who don't necessarily have any connection to each other…besides a love of musical theater. (Yes, Camp, doesn't just mean the place these kids hang out for the summer.)
These teens are dealing with all sorts of different issues, race, gender, sexuality, misguided parents, bullying…and being competitive.
[youtube https://www.youtube.com/watch?v=XAvAlsX57sg]
You may have noticed a young Anna Kendrick in the trailer. The busy Oscar-nominated actress and star of the musical film, Pitch Perfect, made her film debut in Camp. In it, she has a major storyline, and one heck of a show stopping number! However, at this point in her career, Kendrick was already a Tony-nominated Broadway veteran. Boy, does it shows!
Camp isn't just great musical performances. Kids can be cruel…but so can adults. Some of these stories hit some painful places. They don't stay there though. They get through those places. Then we get to witness them gaining a new wisdom and maturity – even if they aren't exactly all happily ever after.
10. The Way Way Back – 2013. Directors: Nat Faxon*, Jim Rash*
Do you love water parks? Then you will love The Way Way Back. Granted, this movie has a lot more going for it than that, but the sight of all that summer water fun when it's 98 degrees outside is a definite plus!
The story centers around 14-year-old Duncan (Liam James, who just played "Adam" Warren in ABC's The Family). Duncan is a somewhat shy and introverted young man. Unfortunately for him, his mother's new boyfriend Trent (Steve Carell) is a first-class S.O.B. – and that's just the start of his problems.
[youtube https://www.youtube.com/watch?v=6qoaVUdbWMs]
As much as you see in the trailer, it doesn't give the movie away. What it does do is show off its killer cast! Aside from James and Carell, it's got: AnnaSophia Robb Toni Collette, Allison Janney, Sam Rockwell, Steve Carell, and Maya Rudolph!
The Way Way Back is a quirky dramedy with many plots going on. Romances, heartbreak, and mother-son issues are just a start. However, there is one aspect of the film that I really enjoyed watching unfold. Out of all these coming-of-age movies, it's the only one that directly addresses what it is that separates boys from men.
It does this by contrasting Carell's Trent, and Owen,the water park manager (Rockwell). Both characters read masculine, or what one would say is "a guy's guy." However, Trent is an overgrown high-school bully in a man's body, a first-class jerk who takes pleasure in putting down a 14-year-old boy. Trent is also a guy's guy, but more than that, he's a thoughtful and compassionate adult. With all his issues and imperfections he's taking the time to show Duncan (and thus the audience) what it is to be a man.
The Wrap Up
Well, that's the list! If you haven't seen some of these, they truly are some the best summer-themed coming-of-age movies. They're also just good movies. Now, if you have seen them, I can honestly say they're even better the second, third…or hundredth time around. Happy viewing!