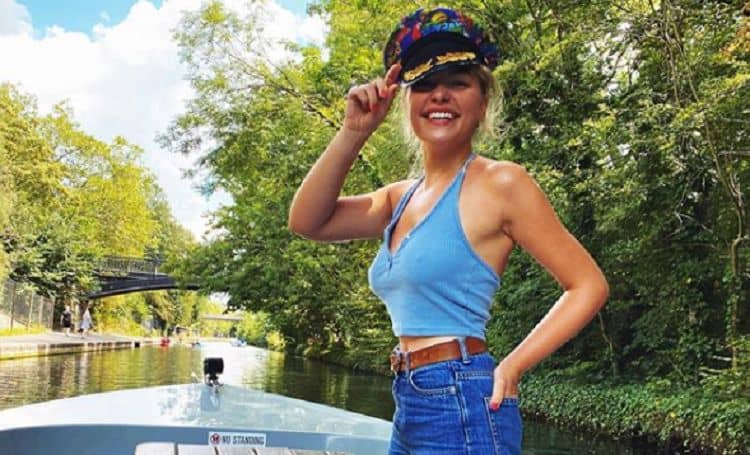 Ciara Charteris, has only been in the industry for a handful of years, but she has managed to cover a lot of ground in a short amount of time. She is best-known for her starring role in the British TV series, Poldark in which she plays Emma Tregirls. Ciara's talent has an effortless quality that make her both fun and intriguing to watch. Although she hasn't had many roles yet, she's still managed to show just how diverse her skills are. With her career already off to such a strong star, many people are thrilled to see what other kids of things she's decides to work on in the future. Continue reading for 10 things you didn't know about Ciara Charteris.
1. She Was Raped By A Close Friend
After years of holding it in, Ciara recently decided to open up about a very traumatic experience she had with someone she once considered a close friend. When she was 16-years-old, she was raped her friend Charlotte's house by a friend named Niall. She also shared that she had been further betrayed by Charlotte whom she had confided in the day following the rape. Even though Charlotte always appeared to be supportive and empathic in regards to what Ciara had gone through, Ciara later learned that Charlotte continued to hang out with Niall.
2. She Moved To London As A Child
Ciara is widely considered a British actress which may be true at this point, however, she isn't actually from England. She was born in South Africa. She and her family moved to England when she was around was around 3-years-old, and Ciara has lived in London ever since.
3. She Has A Boyfriend
Having a strong support system is invaluable and Ciara has been lucky to find support in several people – one of which is her boyfriend. She is in a happy relationship with a man named Nick Nunn who is also an actor. The two have been together for quite some time and they appear to still be going strong.
4. She Loves To Empower Others
One of the reasons Ciara decided to share her story was to help empower other people who may have experienced the same type of trauma. She is dedicated to using her platform to inspiring others and helping survivors find their voice. Ciara is also an ambassador for an organization called I Am Arla which is a platform dedicated to "Uplifting & healing space for women who have experienced trauma."
5. She Likes To Watch Netflix In The Bathroom
Ciara's schedule can get pretty hectic and it's important for her to find moments to practice self care. Taking a nice warm bath is one of her favorite ways to relax. She says, "For ultimate relaxation I have been known to prop my laptop up on my toilet so I can watch Netflix whilst in the bath… Perhaps with a tub of ice cream as well just to round the whole thing off."
6. She's A Beauty Product Junkie
As someone who spends most of her time in front of a camera, looking good is of the utmost importance to Ciara. She takes pride in taking good care of her skin and loves trying out all sorts of different beauty products. Luckily for her though, when she's at work she has someone to take care of her makeup for her.
7. She Loves Doing Period Dramas
The majority of Ciara's career has been spent working on period dramas, and she isn't made about it. She told The Resident that period dramas "are just wonderful, and it's great to go and be in a different world." However, she would like to get the opportunity to work on other types of productions as well.
8. She Trained As A Dancer
Before getting into acting, Ciara spent many years training as a dancer. She practiced dance almost every day until she was about 18-years-old, but she eventually realized that she would probably never have a successful career as a dancer. Even though she worked hard, she was missing the element of natural talent.
9. She's A Big Grease Fan
It's impossible for Ciara to narrow down her favorite time in history to just one period although she does have an extra level of appreciation for the 50s. She has always been a fan of the movie/play Grease and would love to get the chance to dress up like Sandy.
10. She Loves Being At Sea
Being on set isn't the only place that makes Ciara happy. She loves to be near the water and spends as much time by the ocean as she can. During her interview with The Italian Reve, she said, "…seawater is definitely my happy place, it makes me feel very at one with it. I'm so much happier if I am by the sea. Which was also so amazing about being able to film in Cornwall, because I got to be by the sea all the time."