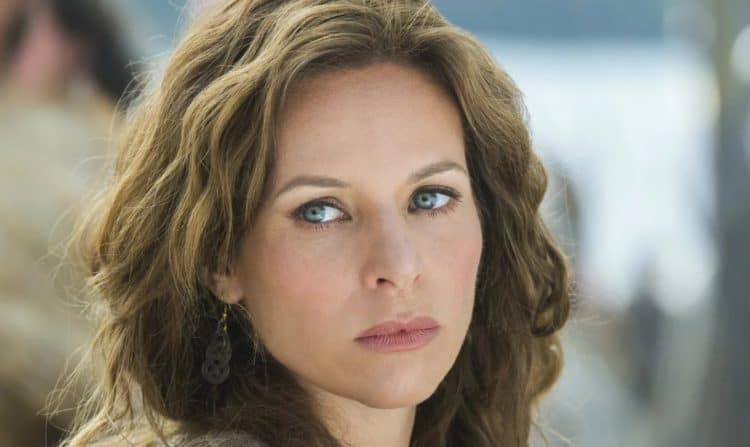 Jessalyn Gilsig first came to our attention as Lauren Davis in Boston Public. Since those early days, she's wowed us in Vikings, entertained us in Glee, and had us begging for more in Grand Hotel. With a new show, Big Shot, already in the works for 2020, it's time to learn more about the talented actress.
1. She became an American citizen in 2013
Gilsig was born on November 30, 1971, in Montreal, Canada. After graduating from McGill University in Montreal in 1993 with a Bachelor of Arts degree in English, she moved to New York, honing her skills in numerous off-Broadway plays. She's lived in the US ever since, and in 2013, cemented her status by becoming an American citizen.
2. The part of Lauren Davis in Boston Public was written for her
Gilsig's association with the writer and producer David E. Kelley can be credited for her rise to fame in the early 2000s. After starring in a couple of episodes of Kelley's The Practice in 1999, she was cast in another of his shows, Snoops. Snoops proved a short-lived affair and was canceled before Gilsig made her first appearance. Fortunately for Gilsig, Kelley was sufficiently determined to work with her again that he wrote the part of Lauren Davis in Boston Public, a role that catapulted her into the big league, specifically for her.
3. She'd love to do a comedy
Gilsig has proven she can turn her hand to most roles, but the one genre she'd like to do more of is comedy, something she did a lot of in her pre-TV, theater years but hasn't really had the opportunity to do since. "I would really, really like to do comedy," she tells The PCP Principle. "I want to do a single camera type of comedy show. I love the rhythm of comedy, I love the part when you say a line and the other person closes it with a joke, I just love that dance. If I had a vision board, which I don't, but if I did, a single-camera comedy would be on it for sure."
4. She married (and divorced) her child heart sweetheart
Teenage love may be intense, but it rarely lasts. In Gilsig's case, it did… until it didn't. The actress met her former husband, Bobby Salomon, when she was still a high school student. Salomon, a football quarterback she's since described as a "cool guy", caught Gilsig's eye, and the two soon began dating. They eventually drifted apart, but reunited years later when Salomon (now a film producer) moved to LA. After the old spark reignited, the pair began dating: on January 1, 2005, they made the union official at a traditional Jewish ceremony. A daughter followed a year later- the divorce, meanwhile, took a further 4 years to come around, with the pair cutting ties for good in September 2010.
5. She was a child actor
Gilsig started her career in the industry when she was just 12 years old, featuring as a voice actor in 1984s Masquerade. She continued working as a voice actor long before she made her first appearance on screen, voicing characters in the likes of The Little Flying Bears (1991), Young Robin Hood (1991-1992), and Gulliver's Travels (1992).
6. She's a millionaire
Gilsig has been working since she was 12… a fact that's more than reflected in the state of her bank balance. Thanks to the numerous recurring roles she's enjoyed in the likes of Vikings, NYPD Blue, Prison Break, Friday Night Lights, Nip/Tuck, CSI: NY, Heroes, and Scandal, she's made the kind of fortune most of us can only dream of. According to Celebrity Net Worth, she's currently worth a very enviable $3 million.
7. Her school years weren't the best of her life
You know how every generation warns the next one that their school years will be the best of their life? And how no one really believes them? In Gilsig's case, the old adage couldn't be further from the truth. Asked during an interview what she would change about her high school days, Gilsig responded "Everything" before expanding with "I would relax a little more. I thought everybody knew what was going on except me, and that I was completely missing the boat. Now, I think I was probably on par with everybody else. So, I'd just cut myself some slack and have more fun."
8. She's a producer
Although we know her best as an actress, Gilsig is as much a talent behind the camera as she is in front of it. In 2013, she experienced her first taste of producing with the film Somewhere Slow, which managed to scoop the award for Best Narrative Feature at the Brooklyn Film Festival. Considering her extensive involvement in the project, Gilsig was rightfully proud of the achievement, telling Collider, "It's just something that's very special to me because it's the first time I've ever produced something." "As an actor, you're almost never there, from the moment of inception to the final piece. So, to be there from the very beginning, and to be a part of the edit and the mix and the composer, that was really satisfying."
9. She doesn't care about being likable
Gilsig has a reputation for playing characters that at best could be described as "interesting" and at worst, "mentally unstable". While some actors fear being typecast, Gilsig has no such worries, saying she'd rather take on a meaty, villainous character than a nice but boring one any day of the week. "I'm not concerned with likeability," she's explained to Martini Production Sync. "I want to play truthful, flawed, and full characters."
10. She's narrated an audiobook
Before she became a regular on series like Boston Public and Glee, Gilsig's main experience of the industry was as a voice-over artist- something that no doubt came in handy when she voiced the novel, "Friction", by E.R. Frank, for an audiobook released by Listening Library in 2003.