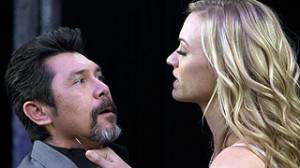 What was life like for Sarah Walker before the Intersect mission? This week we got another glimpse in to this past when Sarah was a member of the all female Cat Squad. This homage to Charlie's Angels was of course expertly pictured by Morgan, in yet another fantasy dream sequence that opened the episode.
The premise of the Cat Squad disbanding after feelings of mistrust was one that we have previously seen with Sarah and Carina, who returned tonight and proceeded to throw a spanner in the works between Morgan and Alex. The other members Amy and Zondra are new to us and Chuck but it was pretty obvious that Amy was going to be the mole, it's never the person who is least trusted and Chuck does ask the right question of how can they trust Amy when she is so perky? This might have been the longest way round for Sarah to get some bridesmaids and it didn't have the best pacing with it being so obvious, but I enjoyed the end result.
The episodes where we get to explore Sarah's past have always been fun whether it is with her high school reunion in "vs the Cougars" or with her father (please bring back Gary Cole), especially with how resistant she is to the whole process. With the mention of her complicated relationship with her mother I can not wait to see how that one will go and who will be cast to play her, any dream casting choices?
Another complicated relationship that gets a brief but important mention is between Casey and Alex's mother Kathleen, who last week we saw happy in her life. There definitely seems to be a desire by Casey to reconnect with her, despite what he says here and it is a revelation that I think will happen before the season ends, hopefully the consequences won't be devastating.
This was not an easy week for Chuck and Sarah who once again felt conflict with Chuck trying to fix everything in time for wedding festivities. This came to a head when he came crashing through the glass ceiling to rescue Sarah and the other Cats, not that this was all his fault, just his bumbling nature. Sarah's anger to this whilst it might have seemed on the harsh side was just a reaction to all his other attempts to save her her personally and seemed justified in the moment. Ellie understands her brother's desire to help but I like that because of where Ellie has been in regards to Awesome's over bearing family she is the perfect sounding board for Sarah's issues and will make an excellent Maid of Honor, perhaps she will be the one to help find Sarah's family.
Another relationship that was put through the wringer this week was Morgan and Alex who have had relatively plain sailing to this point, the conflict of course was Carina who was attracted by the newly confident Morgan. Whilst I was more than glad that Morgan didn't do anything stupid, I did end up shouting at the screen for him not to lie to Alex, but where would the conflict be if he was completely honest? We needed this to get to the "I love you" scene and it was worth it and I hope these two are in for the long haul.
This was a good, but not great episode that built on some already interesting ideas regarding Sarah and her past and I hope this can of worms/Pandora's Box continues to be opened. I enjoyed seeing all of the Cat Squad even if the mole idea was a little weak and of course any appearance by Lou Diamond Phillips is fun, especially when outside the realm of celebrity reality shows (he really deserves so much better than being stuck in a jungle with Spencer and Heidi). The groundwork has been laid for what could be a very interesting wedding and if it's anything like Ellie and Awesome's then that is a very good thing.
What did you all think? Enjoy seeing the Cat Squad together? Want to see more of Sarah's past? Think that Morgan's declaration of love was the perfect way to end Valentines Day? Let us know in the comments below or join us in the Chuck forum. Be sure to check out the always excellent recap by Michael here.