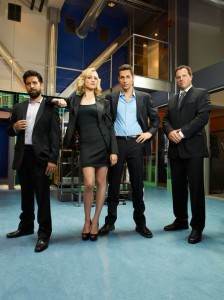 Tonight is the Chuck series finale and we have interviews with Zachary Levi (Chuck), Joshua Gomez (Morgan) and Adam Baldwin (Casey) to share; they look back with fondness over the five seasons and talk about favorite moments, what the fans mean to them and the overall Chuck experience.
The one consistent talking point in these interviews (that you can see below) is how much they all appreciate the fan support and that they would not have hit this five season mark if it wasn't for the fans. Zachary Levi thinks that "every show should be so lucky to have fans like ours" and that the "integrated fan experience" is both unique and what kept the show on air. Joshua Gomez reiterates this connection with the fans and thinks that Comic Con and social media allowed for this bond to exist and thrive. The passion of the fans is something that Adam Baldwin calls "overwhelmingly uplifting" and it is clear that even if Chuck was never a ratings juggernaut, that the fans made up for this with their devotion.
Both Zachary Levi and Joshua Gomez name the season 3 episode "Chuck vs. the Beard" as a favorite; not just because it was Levi's directing debut but because it was the moment that Morgan found out the truth about Chuck and his spy life. Levi's favorite episode moments are generally when there was a big character reveal but he also loved the 'kick ass fights' and the guest stars that the show has scored over the years.
They share some information about the final episode including the hint of an epic Jeffster! performance and that you should probably have some tissues to hand. Levi says that "It's an emotional finale. Chuck fights with everything he has for his girl." This emotion can be seen in Levi himself during the interview as he is clearly trying to hold back the tears on a couple of occasions. Adam Baldwin hints that Casey will also have to make a decision about his future about whether he should follow his heart. Alas, there is no video interview with Yvonne Strahovski (Sarah), but she did talk to TVLine about the end of Chuck saying "There will be a satisfying ending, but it's almost slightly, slightly tragic, the lead-up to what happens."
What are you going to miss most about Chuck?
Check out the video interviews below and for sneak peeks from tonight's episode head here.
Tell us what's wrong with this post? How could we improve it? :)
Let us improve this post!