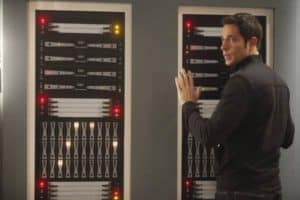 This week we saw what Chuck does best and that is finales, of course this isn't the season finale (thankfully) but was originally intended to be so. Josh Schwartz boldly claimed that the last 10 minutes were the best in Chuck history and whilst I would disagree with this statement it was most definitely an excellent ending and would have satisfied as a season finale. For the record my favourite moments in Chuck would be the season 2 episodes "Chuck vs the Santa Claus", "Chuck vs The Ring" and last years "Chuck vs the Other Guy".
What we got from "Chuck vs the Push Mix" was a conclusion to the Volkoff story and the birth of Ellie and Awesome's baby. This pregnancy has felt very quick much like the plotting of the Volkoff story but again this can be explained by the originally short season especially when we now have another half to go. If we do get a season 5 (fingers crossed very tightly on this) and the same structural problems happen I hope that the stories will not feel as rushed as they have for the last few episodes.
What we got tonight in abundance were some really great moments between these characters who are not all family by blood but are family through their roles in Team Bartowski. Casey the least emotional of the bunch has acted as the man of wisdom with Chuck a few episodes ago about his 'perfect' proposal and with Awesome tonight who in his panic of impending fatherhood lost all his awesome (love it when this happens). The bond between Casey and Alex has been cemented and she knows him well enough to bring his Bonsai tree to his hospital bed, Casey even seems accepting of Morgan in the life of his daughter and this dynamic is one that I look forward to see where it will head.
To the big story and the take down of Volkoff who thankfully was spared his life, hopefully he will be brought back for future episodes as he really was a deliciously funny villain. Tonight he was no different; giving Mary one of the most disturbingly creepy kisses I've seen on TV, not really getting the concept of video calling and showing that a master villain craves ice cream too. Having him refer to Stalin as his favourite poet and humanitarian was also hilarious and so perfect for this character. Using Orion to bring him down was a lovely flourish, if only the real Stephen J. Bartowski wasn't dead.
Now that the Volkoff industry has been destroyed I wonder what this means for Linda Hamilton's role as Mary is in the show, will she be around for a while to reconnect with her children and now her grandchild? Considering she has been undercover for all this time it will be interesting if she returns to the CIA fold or whether she will take a stab at civilian life. What we do know is she made it to Ellie's side in time for the birth but like Casey she has a lot of parenting hours to make up. Also this probably absurd but considering how much Mary and Casey have in common could there be room for romance between them in the future?
We were also treated to the most wildly inappropriate Jeffster performance of the series so far, doing a fabulous rendition of Salt 'N Pepa's "Push It" in the maternity ward as Ellie is in labour. I would love to know what was on Chuck's 'Push Mix' as I love all this 'indie crap', hey marketing guys at NBC remember how popular The OC mix CDs were? Here is another opportunity to make some big bucks, well maybe not big but I would definitely get this one.
So it might not have lived up to the "best 10 minutes in Chuck history" but it was pretty great; in these final 10 minutes we got Jeffster, the birth of Clara (which got me all teary) and the proposal that we have all been waiting for. Whilst this episode was light on Chuck/Sarah relationship shenanigans to finally get to the point of the last shot was a triumph, and showed that it wasn't about the perfect proposal but just the girl, whether you are on a glorious balcony in France or a hospital corridor that is being cleaned it doesn't really matter.
What did you all think? Satisfied after Josh Schwartz's statement before the episode? Best Jeffster performance ever? What direction will Mary take? Let us know in the comments below or in the forum, and for Michael Salerno's excellent recap click here.