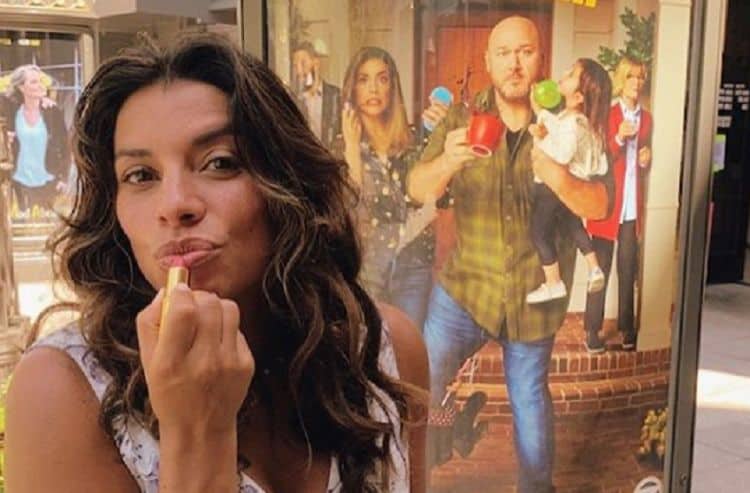 Christina Vidal has been working in the industry for more than 25 years, and she's one of the few who has been able to successful transition into a career as an adult. If you were a kid or teenager during the early 2000s, there's a good chance you remember Christina from her role as Taina Morales in the Nickelodeon series Taina. Despite only being on the air for two seasons, Taina was a very popular show. Over the last 18 years, Christina has continued to work consistently, and she's appeared in several popular shows including Code Black and Training Day. She currently has a leading role in the ABC sitcom, United We Fall, and fans are excited to see her play a main character. Keep reading for 10 things you didn't know about Christina Vidal.
1. Her Sisters Also Work In The Entertainment Industry
Christina isn't the only person in the Vidal family with a knack for keeping people entertained. Her sisters, Lisa and Tanya also work in the industry. Tanya is a director and producer and Lisa is an actress. Lisa currently has a main role on the sitcom The Baker and the Beauty.
2. She Had A Record Deal
When Christina was singing on Taina, that wasn't just part of the role. Christina is a talented singer in real life and at one point she was signed to MCA records. Her debut album was supposed to be released in 2002, but unfortunately that never happened. However, in 2003, her song "Take Me Away" was featured on the soundtrack for the film Freaky Friday.
3. She Was In A Disney Movie
Does the name Brink ring any bells? If you're a millennial the answer is probably yes. Christina played the role of Gabrielle in the 1998 Disney Channel movie. On the screen, Gabrielle was the toughest girl at the skate park. For viewers, she inspired many young girls to believe that they could skate as well.
4. She's Had Two Ground Breaking Roles
Even though she's still going strong, Christina's career is already what most people would consider legendary. In her debut role in the 1993 film, Life with Mikey, she became the first Puerto Rican child actress to play a leading role in an American film. In Taina, she was the first Latina to have a leading role in a Nickelodeon show.
5. She's A Wife And Mother
Christina has worked very hard to build a successful career, but not at the expense of her family. She is happily married to Marcus Emanuel Mitchell who is also an actor. Marcus is best-known for his roles in the Step Up: High Water and Making Moves. The couple has two beautiful children together.
6. She Was Featured On A Will Smith Song
Christina never got the chance to release her own album, but she still got to work with some big names in the music industry. Her vocals are featured on Will Smith's 2001 hit single, "Black Suits Comin' (Nod Ya Head)" which was featured on the Men in Black II soundtrack.
7. She Loves To Cook
Work takes up a lot of Christina's time, but when she isn't busy on set or preparing for a role she loves to spend time at home with her family. One of her favorite things to do is cook with her daughter, Willa. She often uploads videos of the two cooking together on Instagram.
8. She Loves Sitcoms
Just because Christina is an actor doesn't mean she can't also be a fan. She has always loved watching sitcoms or anything comedy related. When the opportunity for United We Fall came along, she was excited to get the chance to be part of a funny series.
9. She Lives In Los Angeles
New York and Los Angeles are the two best places to be for anyone who wants to pursue a career in acting. Christina has been lucky enough to experience living and working in both cities. Christina was born and raised in New York and spent the early years of her career there. However, she currently lives in Los Angeles with her husband and children.
10. Faith Is Very Important To Her
Over a decade ago, Christina decided to recommit herself to God. In May, she wrote a heartfelt post describing her journey and the happiness she's has since bringing God back into her life. She said, "About 13 years ago, I gave my life to Jesus and ever since I have been filled with inexpressible joy and truly blessed beyond my wildest expectations. See, when I came to Christ, I just wanted to stop feeling anxious and afraid everyday, little did I know that He had much much more in mind for me; He always does. I have less "professional success " and material things now, than I did before becoming a Christian, but never have I felt more rich and full!"