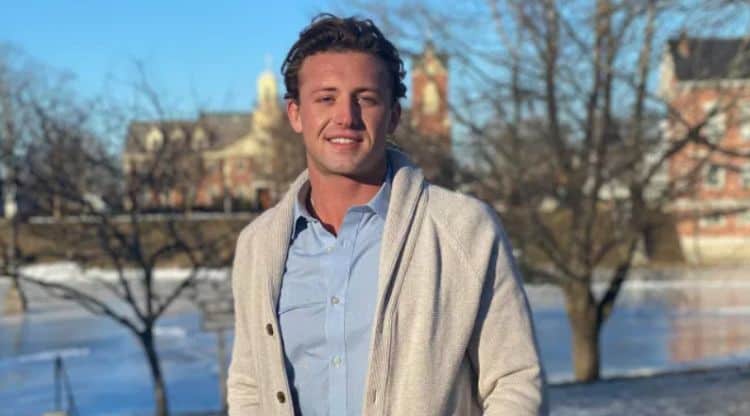 As a contestant on The Bachelorette, building a connection with the bachelorette of the season is obviously the major goal at hand. However, it doesn't hurt to build a connection with the viewers, too. So far, Charlie Smith has managed to do both. Even though he didn't get a first impression rose from Katie, Christian got off to a strong start during episode one it looks like there could be some legitimate potential there. Despite the stiff competition, he's up against, Christian has never been one to back down from a challenge and he's willing to do what needs to be done in order to find true love. Continue reading to learn 10 things you didn't know about Christian Smith.
1. He Lives In Boston
Boston is the most well-known city in all of New England, and it's the place that Christian is proud to call home. He had lived there for his entire life and he seems to really love the area. Of course, if he ends up winning the season he'll probably have to consider relocating. Katie currently lives in the Seattle area and so Christian staying in Boston wouldn't be the most convenient of arrangements.
2. He Likes Spending Time Outdoors
Even though Boston has a lot of great qualities, warm weather isn't one of them. Like the rest of the northeast, Boston is only warm for a few months out of the year. Still, that doesn't stop Christian from making the most out of the nice days when he can. He also loves to travel to places that have beautiful beaches.
3. He's An MMA Fighter
Christian is certainly no stranger to competition, which is exactly why he isn't intimidated by any of the other contestants on The Bachelorette. He has trained in MMA and he has participated in several competitions throughout the years. Unfortunately, we weren't able to find any information on his fighting career.
4. He Works In Real Estate
When it comes to his career, Christian knows a thing or two about success. Not only does Christian work in real estate, but he's very good at what he does. He has been with Keller Williams Realty for more than three years and during the course of his career, he's sold more than $25 million worth of residential properties.
5. He's All About Staying Positive
There are lots of people who can only focus on all of the negative things going on around them but Christian isn't one of those people. Instead, he always chooses to see the glass as half full. According to Christian's Instagram bio, he is a "professional optimist".
6. He's Family Oriented
Christian comes from a very close-knit family, and the relationships he has with his loved ones are very important to him. It's unclear if he hopes to start a family of his own someday, but if he does there's a good chance that he'll want to recreate this same atmosphere.
7. He Loves Going To Parades
If floats, music, costumes, and large crowds are your idea of a good time, you and Christian may have something in common. His bio for The Bachelorette mentions that he "loves parades". Unfortunately for Christian, there are only a few big parades throughout the year.
8. He Went To Saint Anselm College
Even though Christian really loves Massachusetts, he decided that it would be best for him to venture outside of his home state for college. Christian studied at Saint Anslem College in New Hampshire where he graduated with his bachelor's degree in business/commerce 2018.
9. He Knows Exactly What He Wants In a Woman
Having a clear understanding of what you want is one of the most important things to keep in mind when getting into a relationship. Fortunately, this seems like a topic Christian has already put a lot of thought into. His bio states, "Christian wants a woman who is confident and driven…Christian's ideal woman values the meaning of making a promise and keeping their word. He hopes to find a woman who appreciates him for the thoughtful, hard worker that he is while also pushing him to be the best version of himself." These are all boxes that Katie should have no problem checking.
10. He's Very Romantic
Most women will tell you that they would love to have a man they're interested in shower them with romantic gestures. Sadly, though, there are some guys who simply have no interest in doing that. Christian, however, is all about being romantic and he's ready to show Katie just how sweet he can be.