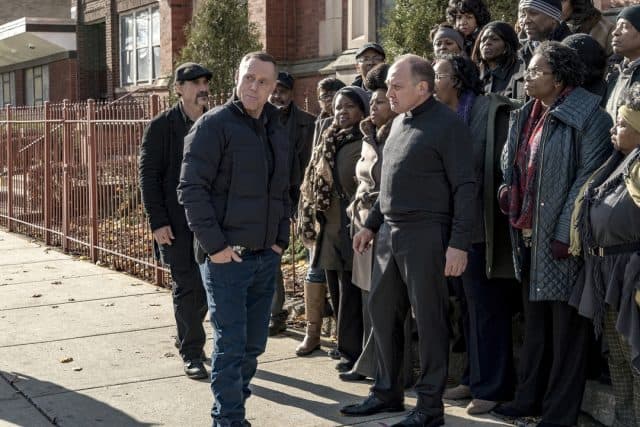 Disputes between church and state date back to before humans could legibly write. Wars have waged across different religions in different countries in different centuries. One steadfast rule has been in place for hundreds of years because of the violence-Sanctuary. It's not always upheld, but it still exists for a reason. Churches are safe havens for those who have nowhere else to go, though it is at the discretion of its priests. In the case Chicago P.D. has to deal with, there's a fine line between saving a soul and destroying one. There also needs to be a clear divide between suspicion and persecution.
Intelligence attempts to bring in two teenagers when they are seen around the deceased body of a rape victim. Before the boys can be questioned, they seek sanctuary in a Catholic church with a very sympathetic priest. Intelligence has no choice but to uphold Sanctuary while they build a case which justifies their arrest, or exoneration, of the boys. If you pick a fight with the church, it needs to be undeniably justified. The good news is that Intelligence is keeping an open mind on other suspects. The victim's violent boyfriend, ex-criminal stepfather, and married boyfriend who is also her boss, all look like good suspects. Unfortunately, everyone has an alibi.
Voight is inclined to believe in the boys' innocence after a frank conversation with them. He barely gets the chance to do so when the victim's boyfriend decides to literally smoke the boys out of the church. After combing through the security footage from the park (something I am eternally grateful for as a woman), CPD figures out that a park worker named Russell Tillman is the real assailant. After all, a normal guy doesn't keep his landlord's head in his freezer.
Voight has certain pressure points people don't want to push. He hates being lied to, he hate attacks on the innocent, and he hates when people blame the black kids. After Burgess brings Tillman in with a nicely broken arm, Voight breaks the other one so Tillman will be properly motivated to admit what all the evidence says. Tillman isn't even sorry, so he doesn't garner any of Voight's sympathy. The good news is that the boys bear no ill will towards Voight; they're just happy the real killer was caught. Voight's rules don't just apply to suspects, but to his own team as well. So far Rixton has been a good addition to the team, but he needs to learn to never lie to Voight about where he gets his information.
To bring a little levity to everyone's life, Chicago's finest come together to rebuild the burned church, after which Atwater tries his hand at stand up comedy. Laughter and honesty go a long way towards healing.
What's your take on Chicago P.D.'s story of church vs. state?
Chicago P.D. Season 4 Episode 12 Review: "Sanctuary"
Summary
Chicago P.D. has to work with the Catholic Church to bring a deadly rapist to justice.