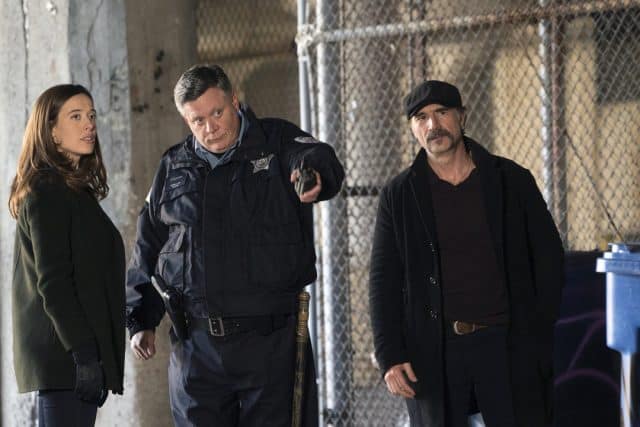 There's no way around the fact that police brutality exists, and Chicago P.D. is not immune from the controversy. Since we trust Voight and his Intelligence unit, viewers trust that the choices he makes are made with either good intentions or a good heart. Voight and his unit cannot call themselves clean by any means, but there are lines an officer of the law should never cross. That bodes the question of who defines those lines, and who will be there to punish the guilty if everyone deserves to be judged. Voight has already crossed that line. Can he help another officer from the guilt of doing the same?
Intelligence finds the body of a convicted rapist and all around trouble maker, sans his little weapon. He was in the process of raping a young girl named Emily Vega when she pulled out a knife to defend herself. She didn't kill him, he was actually strangled to death. In order to track the victim's movements, they track his patterns for the last year. This puts them in conflict with the town's Special Police, officers who have the full weight of the CPD, but aren't subject to its rules and regulations since they operate on private property. The Sergeant who runs the unit has a sketchy past all his own, but the fault for that lies with his former commanding officer who blamed him for a bad call. The Sergeant tried to run his unit so nothing like that would ever happen to his men, but getting a rapist off the street proved to be too difficult. Special Police Officer James Mooney responded to a call about the rapist banging on his ex-girlfriend's door, and followed orders to do what was necessary to get him off the street. Doing what it took proves to be too much for Mooney, causing him to try to kill himself. A rapist is off the street, but two good men's lives were ruined in the process. Not to mention whatever little trust Emily Vega could have had in the law is completely shattered. Speaking of shattering things…
Lindsay has been cautious, but not ambivalent, when getting to know her newfound father. Jimmy certainly believes he is Lindsay's father, especially since Bunny sent him pictures of Lindsay for years. We all know how truthful and reliable Bunny is though. Just to be sure, Halstead runs a DNA test. Jimmy turns out not to be Lindsay's father. Instead of seeing this as another one of Bunny's lies, Jimmy accuses Lindsay of running a scam with her mother. Lindsay has every right to break more than just her mother's breakfast for all the grief Bunny seems to enjoy putting her daughter through. If there's one thing Bunny loves more than torturing her daughter, it's torturing Voight. Bunny loves to make a big show and blame all of her problems with Lindsay on Voight. This time she goes so far as to hint that Lindsay could in fact be Voight's daughter. We're 99% sure that's not possible, even if we would like Voight to be Lindsay's biological father. He was too faithful to his wife, and Lindsay is Voight's daughter much more than she will ever be Bunny's.
This whole experience really seems like the final straw for Lindsay where her mom is concerned. A friend mentions that leaving Chicago might help, but could Lindsay really leave Voight and Halstead?
What do you think Lindsay will do to finally break away from Bunny? Is there anything she can do?
Chicago P.D. Season 4 Episode 11 Review: "You Wish"
Summary
Chicago P.D. goes up against an independent police force unafraid to go outside the law.