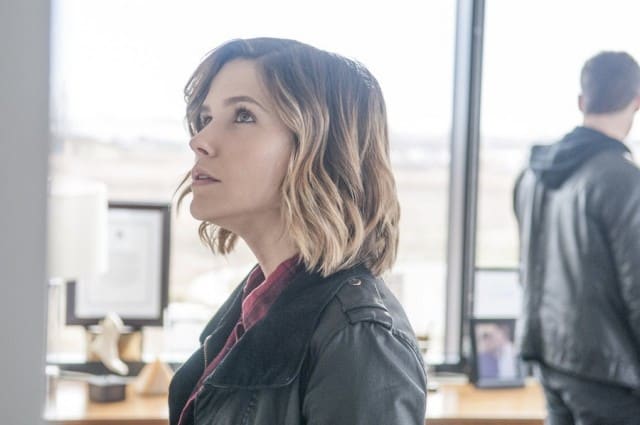 The "One Chicago" crossover event concluded with a riveting episode of Chicago P.D. As if the subject matter wasn't enough of a pull for the audience, the case becomes personal when the Intelligence Unit discovers they have a personal tie to their target.
Intelligence is called into investigate why women are being poisoned with chemotherapy when they don't have cancer. They find out that the victims knew each other and are connected through Dr. Dean Reybold. Voight and Lindsay are horrified to realize he is the same doctor who treated Voight's late wife Camille before she died of ovarian cancer.
Dawson calls in a friend, ASA Dana Shelby to personally assist them in going after Reybold. She makes it very clear that if an airtight case is going to be built against Reybold, she needs admissible evidence and a clean arrest. Once Voight and Reybold come face to face though, Voight would rather arrest him there and then. To be fair it was probably alternative to the alternative scenarios Voight had going on his head.
Intelligence has the unfortunate task of informing all of Reybold's patients that they do not have cancer. After looking at his patient's faces when they realize this, Intelligence is more motivated than ever to nail Reybold to the wall for what he has done. Unfortunately, the best they can hope for at the moment is a fraud conviction, not homicide. Even with this charge Reybold makes a deal for a plea bargain. Voight is at his wit's end by this point, so he goes to Dr. Charles for help to find a way to bring Reybold down. In order for this to work so that Dr. Charles could testify in court, he has to get a little creative. Charles has a conversation with Reybold at a coffee shop where he goes on praising himself for all his success. Dana has even more good news about how they can get to Reybold. The doctor scheduled appointments with his victims right after he ordered several times more the amounts of chemotherapy that their bodies didn't need. Put together it's enough for a trial.
Unfortunately, the judge rules they cannot bring in Reybold's patients to testify against him since they were already involved in the fraud case, so they could be considered as prejudiced against Reybold. Opposing council does a good job of making Reybold seem like a generous man for paying for his patient's treatments himself. Dr. Charles does his best to paint Reybold as the psychopath that he is, but the defense exploits his friendship with Intelligence. After this Dana has no choice but to put Voight on the stand. The defense is much too eager to question Voight about Camille, so much so that they open the door for him to mention Reybold's 42 other victims for a slam dunk guilty verdict. It's a victory and a huge relief for Voight and Lindsay, who had to dredge up painful memories of Camille's last days.
Peripherally throughout the hour we get back to another case still open. Roman is still suspected of foul play in the shooting of his friend's abusive ex. Platt gives Burgess the unofficial okay to canvass the area where the shooting happened to clear Roman's name. Burgess spends the day pounding the pavement while Roman wallows. Burgess knows the victim's brother covered for him by getting rid of the gun. With Platt's help, they are able to convince him to tell the truth in exchange for Roman's friend getting the reward money the police are offering for information about the gun.
This intense case showed just how on-point Chicago P.D. still is. Welcome to 2016 Chicago.
[Photo credit: Matt Dinerstein/NBC]
Chicago P.D. Season 3 Episode 10 Review: "Now I'm God"
Summary
The case for the "One Chicago" crossover event became very personal in Chicago P.D.'s winter premiere.