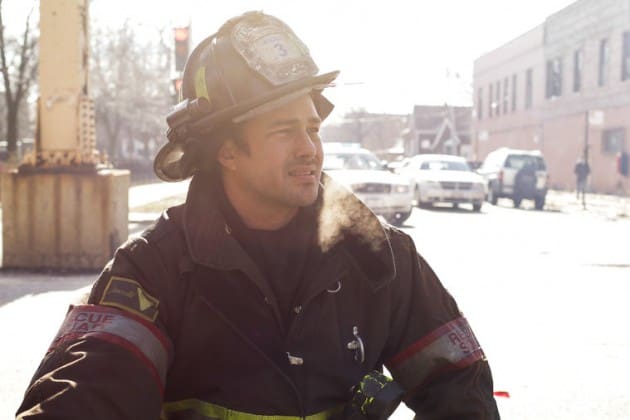 In this week's Chicago Fire, Severide and Dawson make headway in their investigation into last week's storage locker, Mills deals with the emotional fallout of being kidnapped, the Chaplain's life is on the line, and Boden gets disturbing news in what should be the happiest time of his life.
Let's start small and work our way to the big revelations of the week. Following last week's kidnapping, Mills is unwilling to deal with his emotions. Now, suppressing emotions is bad in any situation, but when you deal with high pressure situations on a daily basis, suppression is triply bad. In Mills' case, he takes his anger out on an abusive husband who he was unable to stop after a domestic violence call. Let's see if this comes back to bite him.
We're reminded in this episode of a man who has been a constant support to the department, Chaplain Orlovsky. After a horrific car accident leaves him and another woman trapped, Casey is faced with a terrible decision to free his friend or the other driver first, a decision that could result in one or both of their deaths. Because Casey is who he is, and because it's what Orlovsky would want, Casey chooses to save the other victim first, and spends the rest of the episode hoping his decision doesn't result in the Chaplain's death. Luckily it doesn't, and this good man gets a second chance at life (and a newly painted apartment courtesy of the pee-wee hockey league).
On a sour note, just when life should be going great for Chief Boden, he is rocked with the news that his father has stage four cancer. At first, the senior Boden drives his daughter-in-law crazy, advising her on how to take care of her newborn son (and a piece of advice, NEVER tell a sleep-deprived new mom what to do). When Boden's father reveals his diagnosis, however, it becomes pretty clear Boden isn't going to let his father leave anytime soon.
And in one of the most disturbing revelations that Chicago Fire has ever given us, Severide and Dawson begin their own investigation into the fire that killed Shay (because as Severide reminds us, no one will turn over every stone like they will) and find that the fire was indeed arson, which means their best friend was murdered. This will lead us into next week's Chicago Fire/Chicago P.D. crossover, which was previewed as an intense search for the arsonist. That means double duty for me next week as we delve into this next epic crossover, a feat I should have known was inevitable given Dick Wolf's team's gift for seamlessly weaving together the shows.
Other tidbits:
-Casey and Dawson are still broken up, and it is still very much weird when she calls him Lieutenant.
-On the bright side, Dawson and Brett's roommate/"mermaid" situation is working out well (as is Brett and Cruz's relationship, TMI).
-Hermann is very much the over-invested hockey parent, rallying the department for support for his son's pee-wee league. I would say he goes a bit overboard, but I've seen hockey parents up close, and if anything, Hermann's performance is on the understated side.
-Apparently, the Chaplain was once a major contender for the NHL but turned it down to become a man of the cloth. Who knew?
All in all a great setup for next week's crossover. What did you think?
[Photo via NBC]
Tell us what's wrong with this post? How could we improve it? :)
Let us improve this post!