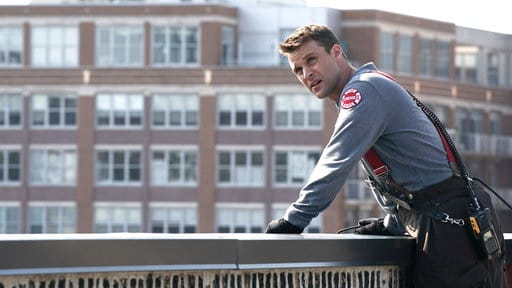 Something that has been a bit needed on Chicago Fire is a little bit of surprise. The season premiere touted change in the wake of a close call, but we haven't seen that much of a shift other than a reawakening of some of the crew's passion for life. Part of living a good life means enjoying the unexpected surprises it brings. Sometimes it's a surprise party thrown by good friends, sometimes it's a bad situation turning into a positive one. The point is that surprises are important. Big, glaring bombshells are not.
Some surprises take patience. Boden takes half a shift off to teach at the Fire Academy, leaving the house in new hands. His temporary replacement, Chief Mullins, is on the shortlist for Commissioner. He and Casey get off on a bad start, and it doesn't get much better from there. To be honest, he is not the worst temp to come through Firehouse 51, not by a long shot. Casey's decisions during a jumper call bring things to a head. He pulls off a risky move to save a man's life, even though it could hurt his own career. Casey will never apologize for prioritizing someone's life. It's the reason he gave up being an alderman. He did what he had to do, and now he is being rewarded for it. No one is allowed to call him Lieutenant Casey anymore. From now on, it's Captain Casey! At least this test brought a pleasant surprise, and it wasn't the only one to hit Firehouse 51 this week. Even with a few hiccups, Mouch pulled off bringing Cruz's brother Leon back to Chicago for his birthday. Both of these things are good surprises. The next one is not.
Severide's taste in women has always been hit or miss, but this one is monumentally screwed up. She's shifty, she's dishonest, and she's a thief. Hope may be Brett's hometown friend, but people change a lot when you're not looking. She hangs around the firehouse, hangs around Severide, and eventually gets a job at 51. What she fails to tell anyone is that she stole $10,000 from her last employer. Thank goodness Connie is a good judge of character. Let this be a lesson: whether it's a law firm or a firehouse, a school or city council, the assistants know everything. Trust their judgment and their knowledge.