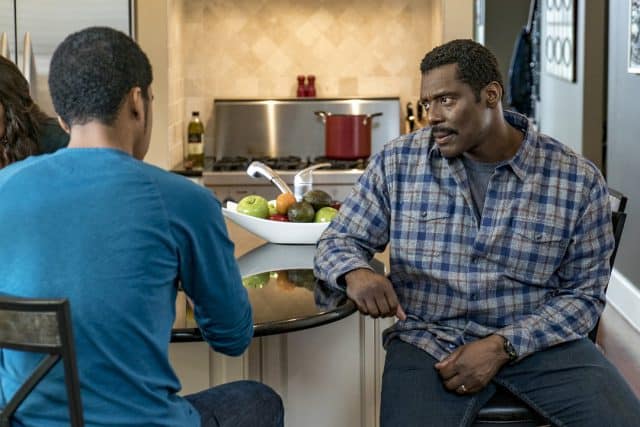 Parents do what they have to do to protect their children, or at least they should most of the time. Sometimes they falter, as we saw on this week's Chicago Fire. It doesn't matter how old or young you are, a parent can disappoint their children. Gabby and Antonio have to deal with a huge blow from their parents this week while Chief Boden has to protect his son from a danger he didn't know was there. What we do to protect our kids. It doesn't always work out the way you plan.
Boden's suspicions are raised when James asks if he can stay with his dad for the remainder of the school year. It's not that Boden minds. On the contrary, he and Donna love the idea of having James stay with them. It's just that Boden knows his son. He knows there's something else James isn't telling him. When Cruz notices James's body is covered in bruises, Severide discreetly keeps an eye on James. His reaction to being near people and witnessing a fight on a call tells Severide the Chief needs to know that his son is in trouble. Initially James tries to cover by saying he is being worked over by bullies at school. The real reason James wants to move in with his father is because his mother's boyfriend has been beating him, so James no longer feels safe in his own home. It's also why he's felt more comfortable in the firehouse. He sees a group of men who would do anything to keep someone safe, and he can actually sleep soundly. Boden isn't quite as calm about the whole situation. He goes ballistic on the guy and is suspended for one shift as a result. In the house's eyes it was completely worth it, so they throw Chief a suspension party. James's compassionate nature wins out. He decides to go back to live with his mom and grandma. It seems like the kid's protective nature has all the makings of a firefighter.
Herrmann signs Otis and Kidd up for the Mud Run as publicity for Molly's. What starts off as a friendly competition ends up being a very dirty business. The good news is that Otis wins and invites all the Mud Runners back to Molly's, so the publicity angle was a success. The bad news is that Herrmann threw $500 down the drain in cleaning services before the run. This starts off a dangerous rivalry between Otis and Kidd, who will next face off in the Polar Plunge (which the cast of Chicago Fire participates in every year).
The toughest cases are the one with kids, and they're even tougher for Casey now that he has Louie. After rescuing a kid dangling from warehouse equipment, Casey questions every decision he made during the call. He doesn't even feel comfortable telling Gabby when the kid dies because Gabby is so overwhelmed preparing for her parent's anniversary party.
To say Antonio and Brett's relationship is going well would be an understatement. They are in the sickeningly sweet early stage of their relationship where everything is perfect. Even though Brett is extremely nervous about meeting the family at the Dawson's 40th Anniversary party, the younger Dawsons and Casey do their best to assure Brett everything will be fine. Everything is fine with Brett and Antonio, but the same can't be said for Antonio and Gabby's parents. Their children are in blissfully happy relationships, but the patriarch and matriarch of the family announce their divorce in the middle of the party. Gabby is so distraught afterwards and Antonio just wants to pummel his father. The bright side is that this family disaster only reaffirms the strength of the younger Dawson's relationships.
Will this family crisis be the final push Gabby and Casey need to take the ultimate plunge down the aisle? See you next week for the Chicago Fire's 100th episode celebration.
Chicago Fire Season 5 Episode 7 Review: "Lift Each Other"
Summary
Chief Boden does what he has to do to protect his son on this week's Chicago Fire.