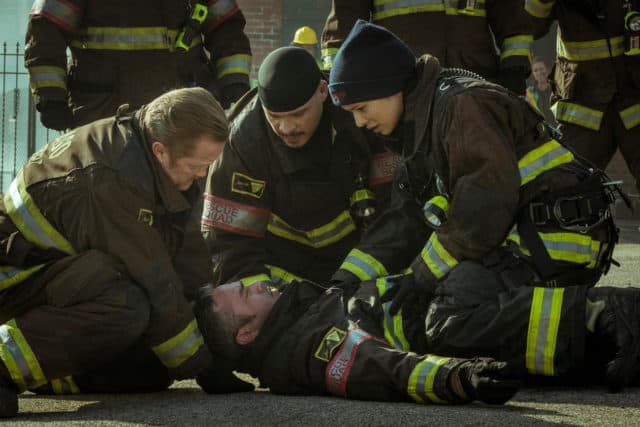 Chicago Fire has returned from hiatus while the Olympic Winter Games were airing. Now it's back to business as usual. When last we left off, the boys just had to make a big show of jumping off a roof. Not that they had much of a choice, given the circumstances. Plus, it gave Casey a nice excuse to make an Olympic diving reference now that the winter games are over. Luckily, everyone came out of that okay, with both Severide and Casey going home to tease their girls. Their split-second decision turns into a little bit of a mess that puts Casey in a particularly tough spot.
Remember this shot?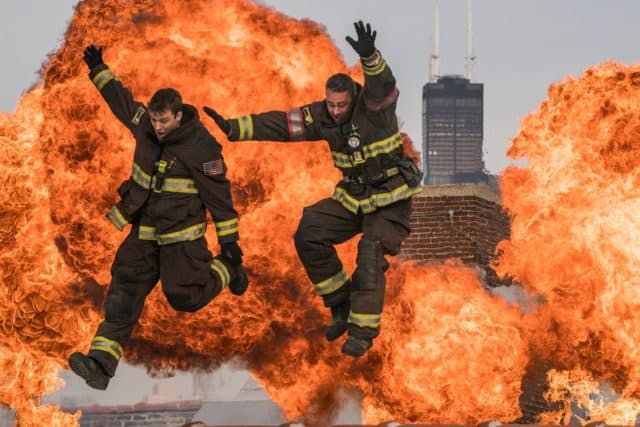 Well, this shot got a lot of public attention. It got so much positive attention from the public that the department decides it would be a good idea to do a "Day in the Life" feature on Firehouse 51. It seems like a good idea at first, especially since the photographer says from the get-go that he will stay out of the way. That is, until, he plays Peeping Tom with Dawson in the shower. Had he gotten any closer, Casey probably wouldn't have left it at throwing the guy out. Plus, if Boden hadn't stepped in with the District Chief, the whole thing might have been swept under the rug.
At least he didn't stick around long enough to document the Brett's online war with Hope, or Herrman's attempt at life coaching. Herrman should not be a life coach. Period. It leads to bad consequences, one of which is Otis's girlfriend contemplating a move to Hawaii. Elsewhere, Brett deletes an email from Hope, which turns into an online war when Hope decides to trash Brett all over the Internet, and the boys are more into revenge than Brett is. Why does this make me think they've been secretly watching The Real Housewives? Brett was right. It's only a worthwhile fight if there is something worth fighting for. Which is why Brett puts her fight into helping a frequent flyer homeless man get his home back.
The roof incident didn't change much for Stella. She still plans on moving out, much to Severide's displeasure. Here's the thing. These two are both so, so alike. They both say what they mean, and mean what they say, until they afraid something is going to change too much. Severide is a man of few words, but I'll give him this. When he says something, he really means it. All he had to say was "I don't want you to go." That was it. Whether Stella knew it or not, that should have been the moment she decided to stay. Instead, she ends up on another date with Jeff, and Severide ends up on Casey and Dawson's doorstep. Again.
No sooner does Casey have that pervy photographer blackballed from every major news outlet in the city, than he shows up at another call. Casey can't do anything because of Freedom of the Press, but karma gets the guy when he is hit by a car. Still, Casey doesn't hesitate to save him. Why, you may ask? Because, as Boden puts it, the minute those in public service start weighing the value of one person's life against another, they can no longer do their jobs fairly. It's not what people expect of them, and they should expect better of themselves. You don't know what one good act will do for a person.
Will Severide and Stella be able to get it together before season's end?