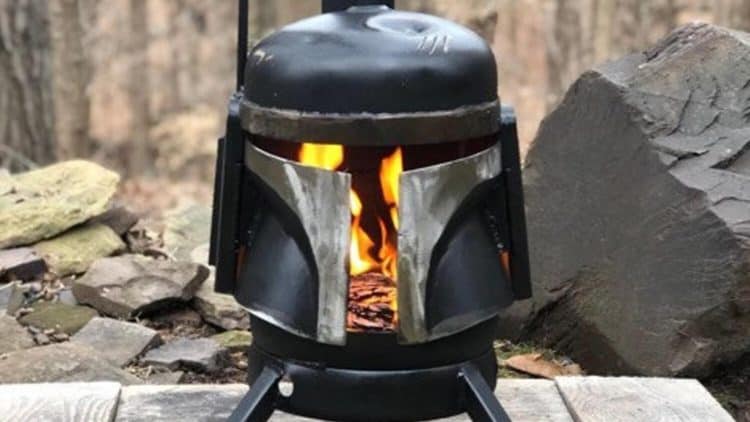 For Star Wars fans this is definitely a cool and must-have item, especially if they're into camping or simply sitting outside by the fireplace. The visor actually splits and acts as two separate doors that allow a person to load the fireplace easily and safely, and the look is just too cool. This is the kind of thing that a person might find in a fanatic's home since the custom-made piece is just one that's been made by Burned by Design, as there have been others such as the Death Star, R2-D2, and even Darth Vader's helmet. The attention to detail in each piece is great since looks almost exactly like each subject that the fireplace has been modeled after, and the work put into each piece is amazing. As you can guess though, they're not that cheap and they are bound to take up a bit of room depending on where they get placed. This piece isn't too big, but it would no doubt require a safe spot to sit when being operated, and moving it about could become a little tiresome since it looks pretty solid. The piece also looks as though it could pretty hot as well, so it's definitely not something to keep around children, at least not without supervision.
But the fact is that Boba Fett and several other characters have been so vital to Star Wars that people have taken note and the idea that there are literally hundreds of items out there with the likeness of the famed bounty hunter is evidence that his limited screen time so long ago has created a figure that people would easily agree is legendary. From t-shirts to plastic figurines to this, Boba Fett has been a serious influence that's even recognizable to those that don't follow Star Wars since he's been pushed in such a wide-reaching manner. Some might confuse Boba Fett and Din Djarin at this point, like I said it would probably be those that aren't Star Wars fans, but fans know the difference since not only are the helmets different, but their methods are quite different as well, as Boba is more likely to follow his own obscure code while Din is bound to follow that of the Mandalorians, who he was raised by as a foundling. The similarities between the two of them are great enough that they could be aligned and even follow the same cause, but as we saw in The Mandalorian, that's not bound to be the case when season 3 hits.
Fett has been around so long that it's fair to state that he's helped to shape a good deal of the fanbase that Star Wars has enjoyed for so long, and yet for quite some time he wasn't given a whole lot of exposure other than that which was granted by the fans since they were the ones that locked onto the character and made something out of him. The term 'Mandalorian' wasn't even fully understood by anyone for quite some time since to anyone that watched the movies he was a bounty hunter, plain and simple. He was definitely one of the cooler-looking hunters, but that's essentially all he was. But when stories about Fett started cropping up his legend only grew by leaps and bounds since it was obvious that he was something special considering that he not only took on some of the biggest and most dangerous bounties, but he had his pick of which bounties he wanted. This is a hunter that became one of the best in a business run by cutthroats that would just as soon kill each other, and it took someone that had ice water in their veins to do what Fett did since he had little to no compassion and even less mercy when it came to his bounties. So if anyone ever asks why Fett has been immortalized the way he has, there's a clear answer: he's just that awesome. That's why his image is on so much Star Wars merchandise because he helps the franchise to make money. And now that Disney owns Lucasfilm, they've taken to recognizing that and have done whatever they can to further image and continue to cash in on Fett's name. It's a smart marketing ploy really, and bringing him back in The Mandalorian was an even better idea since now The Book of Boba Fett will be coming to Disney+ and things will continue to kick off in the right direction.
Fans taking on the idea of creating Fett-inspired merchandise is nothing new, but sometimes each new work of art is impressive enough to push to the front so everyone can see it. Hopefully, this won't ever hit mass production, because one can easily assume that the quality would go down quite a bit.