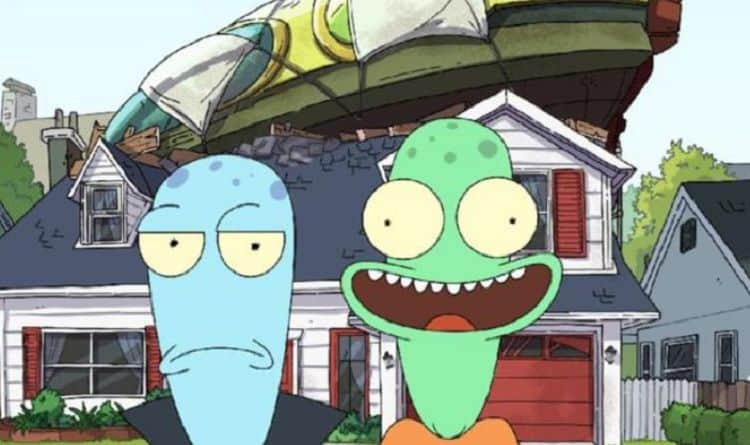 Maybe, just maybe, Rick and Morty wasn't quite weird enough any longer? I can just imagine the torrent of abuse that might be heaped upon anyone saying this in the middle of a Rick and Morty convention, but since the same creators that made that possible are now putting up a show like Solar Opposites it makes a person wonder just what prompted such a show and what craziness we're in for now. As Nicolaus Li of Hypebeast tells it the first season will be featuring 8 episodes, each running 30 minutes, so it feels somewhat tentative at least as the show might try to feel out the audience in a way that will determine just what kind of reaction they'll give. But really, if it's mean to appeal to the same fans that love Rick and Morty it's bound to be given a pretty decent reception since it already looks like it's going to be over the top in every conceivable way that it can be and yet funny as hell on the way over. One thing is kind of obvious when looking at the trailer, someone in the animation studio really has a thing about birds. As of right now it also looks as though the show has an impressive array of voice talent as Tiffany Haddish, Rainn Wilson, Jason Mantzoukas, and several others have been signed on to voice several of the characters. It might be worth just to see what's going to happen.
The story thus far is about a group of aliens that escape their home world before it's destroyed and end up landing in a ready to move in home on earth. While half of the group despises earth and everything they see the other half happen to enjoy the perks and luxuries that earth has to offer. With them there is a living supercomputer that they're waiting to grow to maturity so that it can terraform the earth, which says a lot considering the commentary that many people are already bound to start heaping upon this show in one way or another. Yes, illegal aliens, yes, different cultures, and yes, changing things around are all bound to be subjects that will be covered with this show since they all hit hot button topics that people have been discussing for a while and could become hot topics again even during the current pandemic. Karen Han of Polygon has more to say about the show. Of course if there was ever a time to close borders to keep people safe, not necessarily exclude them, it would be now. Putting a border in the sky however is definitely something that the Rick and Morty creators would be more primed for since their imaginations are simply all over the place as it would appear.
As TV shows go it might not be that bad really as it already looks like it's taking off in a slightly different direction than Rick and Morty, though it's kind of a wonder if we'll see any type of crossover since after all, Rick and Morty aren't exactly bound by any one reality that often and it could be that they'll make their way into this dimension on accident, or something similar. At any rate since the properties both belong to the same guys it could possibly happen. In the meantime it's likely that the first season will set a firm baseline for the aliens and where they stand when it comes to their place in the world. The whole assimilation process is bound to be kind of interesting to watch, and the whole idea of an alien intelligence that will attempt to change the world might be kind of creepy but it's also something that's bound to be used as a plot device to get a lot of laughs as well. One thing that's obvious is that the creators of Rick and Morty do know how to gather fans and how to make them laugh while keeping them hooked on what they have to offer. While a lot of us might stand here and wonder just what in the world they're smoking to come up with some of this stuff, the fans are fully enjoying it and going nuts over every episode and the merchandise that comes from it. Hopefully there won't be any craze about a new McDonald's sauce in this show since the whole 'Mulan' sauce issue with the Rick and Morty show was enough to give a person eye strain from all the eye-rolling. Plus, the fact that people took it so seriously that they would actually throw fits over the stuff was enough to make a person think that Rick and Morty might actually induce some sort of madness in their fans.
So far the show looks like it could be a good laugh, but until it airs we won't really know much more than that.