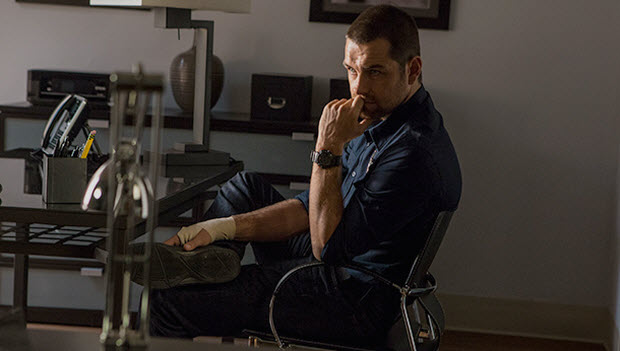 What does the word 'evil' mean in the world of Banshee? In a show full of con men, murderers, crooks, gangsters, and racists, the pure absence of morality seems to rob the word of its definition. It's not like the larger powers of Banshee – the Kai Proctors and Rabbits of the world – are more deplorable than the 'everyday folk'; if anything, their allegiance to some kind of professional code almost makes them more noble than the show's protagonist (or most of his cronies). So what significance does a title like "Evil for Evil" mean in a world where this is already the norm?
Turns out, not a whole lot: the central Biblical metaphor of "Evil for Evil" struggles to find its way to the surface in interesting ways, instead taking a detour to define Emmett as another angry male with no emotional control, lumping him in the same category as literally every other male character on the show. His journey is predictable from the moment his pregnant wife appears on-screen and we see the neo-Nazis from "Ways to Bury a Man" peering from outside the diner, telegraphing every step along the way by refusing to do anything but the predictable. Neo-Nazis beat up his wife (killing the baby in the process, of course), say some racist things, than Emmett fights the urge to beat them up… until he can't fight the urge anymore, immediately feeling like a bad Christian once he's cracked Sharpe's (the mouthy racist) sternum open and left him bleeding from the back of his head.
Demetrius Grosse does his best to give emotional depth to Emmett's 'journey' in the episode; but the predictability of his character's moral degradation seems only to serve the show's brutal mantra, filling a quota for violence with trite race-baiting and an utter lack of self control in the face of male pride. And when its catalyzed through a horrific, narratively manipulative act like a beating in open public that leads to the death of an unborn baby, it robs any kind of depth or ingenuity out of the dramatic construction: by the time Emmett's wife is being accosted, it's pretty clear how things are going to end ("I never wanted to be a cop," Emmett says). The only time Emmett's plot brings any kind of interesting perspective to the table is right before Emmett begins beating the prisoners, and its purely symbolic: Emmett using Proctor's tools of "evil", he channels the dark, anarchistic rage usually reserved for the show's true devil (a man who worships in the secret, armory-esque office he hides in the back.
Speaking of Proctor, his "d*ck-measuring" contest (ADA's words, not mine) contest with Hood comes to a head in this episode, when Hood attributes a fake tip to Juliette, a source who is most certainly going to die, especially after Rebecca sees the crayon drawing that reads "I love you Mommy" (or whatever it actually reads; you get the point) and subsequently rats her out to Proctor. The threads here are again, completely obvious: soon as Hood illegally enters the house and Rebecca sees him, she sends the jailed Proctor after Hood's source, the only way to keep her nose clean and let Kai get back at Hood to keep the "game" going (which also involves being borderline incestual with one's uncle, in case you were wondering how to do it right).
Proctor getting arrested isn't inherently interesting: it's only a matter of time before the stripper is dead, and Kai's back to the land of the free (we've all played the "main character goes to jail" game on dramas before, no?). What's intriguing is what follows in the next two episodes: Lucas' goal to establish as many enemies for himself as possible is nearly complete, with Rabbit, Kai, and Chayton waiting the shadows to take down the bloody knuckled enigma that is Lucas. Those enemies include his own police: questions are beginning to be raised about the Sheriff's "methods", putting his fake career as a cop on the line, along with the very real careers of Siobahn (who predictably gets angry after a male character explains to her how to feel… something that's occurred a few times with various female characters this season) and Brock. In Banshee, everything good does somehow find its way to turn into sh*t – but is this Proctor's fault, Hood's fault… or is Banshee just the Sodom and Gomorrah of this universe? This may not be a question Banshee is every interesting in answering – but of the many violent or brash actions that occur in "Evil for Evil", it's a valid one: is this just a world where everyone is evil, ticking time bombs waiting for a catalyst to explode?
Other thoughts/observations:
– Lucas, to an enraged Kai: "Let me have my moment, alright?"
– the episode opens with Lucas busting Ana and Job in the process of a robbery, allowing them to go and raising Brock's suspicions.
– Kai can understand the ecstasy manufacturing plant being blown up, but messing with the slaughterhouse? "You're f*cking with my meat!!!"
– All of a sudden, Gordon is forgiving and sober… I suppose your kid going to the ER could do that, but it's an about face for the character that really isn't established all that well.
– When Juliette mentions her and Kai share "no pillow talk", we get a shot of Siobahn's longing, suddenly understanding face. She then yells at Lucas later, confronting him after some Jameson. I really wish Siobahn's expanded role on the show would come in some other fashion.
– Longshadow agrees to double-cross Kai to help Hood if needed. Will he really follow through? It certainly sounds like Alex finally vents his frustrations with his father to Lucas, fostering an uneasy alliance for the next couple weeks (if not longer).
– Job and Sugar are my new favorite tandem: after Job tries to explain what he did to track down Rabbit, Sugar's incredulous look angers Job: "Translation: I used the computer."
[Photo via Cinemax]