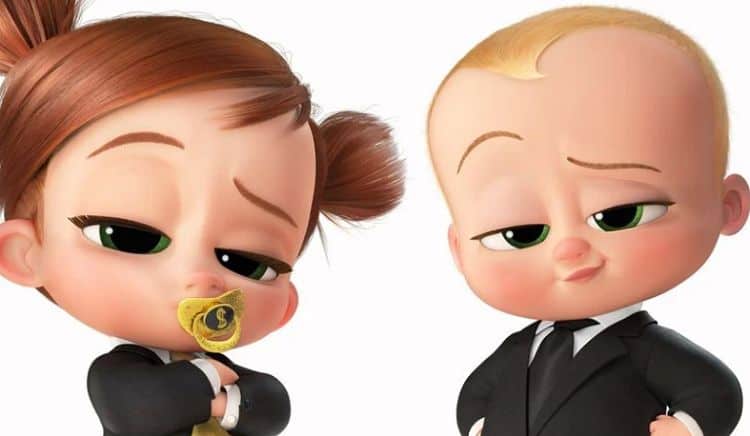 Well, it's happening, the boss is back, kind of, sort of, at least for one last mission, and it's bound to be one that's every bit as adventurous as the original movie. Set years after the first movie, Ted is now a big success, while Tim is a father and appears to be doing well enough to have a home and a nice family. That of course isn't going to be enough for a nice story since Tim and Ted still have plenty of disagreements when it comes to pretty much anything it sounds like, but especially money. When it's revealed that Tim's youngest child, Tina, is also from BabyCorp, the two have to team up and mend the rift between them in order to take down another nefarious plot that will end up turning kids into obnoxious brats. Gee, one would think that the writers were trying to make a point concerning one generation or another or something.
Anyway, the movie looks about as cute and fun as the first one, which means some folks are likely to go out and watch it while others might just roll their eyes and wait until it comes to video or streaming. The first movie managed to spawn a series that's been fairly popular and sees the continuing adventures of Boss Baby and his crew, as well as Tim when he gets dragged into Ted's many different escapades. Now that it would appear that Tina is in on the family business one has to wonder if she too is going to grow up like her Uncle Ted, or there's something else in her future. Whatever happens one can expect to hear the word 'boomer' a few times at the very least and likely hear a lot of generational jokes that will be threaded into the dialogue at key points in the movie. As long as people take it as the humor that it is there shouldn't be an issue, but it's a little too easy to guess that someone might get their feathers ruffled over something they hear.
With the first movie, it kind of felt as though this idea would come and go and not really catch on for a bit. But as things progressed, people started paying attention and the idea of Boss Baby, no matter what anyone thought about it, kept moving right along. It could be that Alec Baldwin is kind of hard to resist when he's at it his best or it could be that kids took to this idea pretty well, but the fact is that Boss Baby has been keeping his popularity on TV as well as on the big screen at this point and that's a big win for the idea as a whole. One could say that there are plenty of moments within the first movie that leaves a person's jaw hanging open since some of the jokes and content are a bit, well, adult in nature. But it did help adults to get into it and hopefully, any parents watching with their kids were able to field any questions that were left hanging when the movie was over and done with.
Boss Baby 2 looks as though it's going to be a bit of a fun ride back to babyhood and back to BabyCorp in order to foil another dastardly plan that will leave a lot of people in stitches if it's even half as funny as the first movie. With the voice talent that's being brought into play for this movie, it's not hard to think that the jokes are going to come quickly and without warning which is how some people tend to like it. But watching Ted and Tim go back to their younger selves is bound to be priceless so long as the routine isn't exactly the same and the jokes are just as funny, but also just as biting.
The Boss Baby series on Netflix has been doing well since it's taken some of the characters from the first movie and developed into a series of adventures that have been kind of fun for kids to watch, so it's going to be interesting to see how, or if, that will connect to the upcoming movie since one would imagine that Ted would have to experience growing up at some point, and it would also make a person wonder just how many other adventures that he and his brother Tim went through in the period of time between the movies. As for the endpoint in this movie, it's kind of a hope that it doesn't switch hands and keep going with Tina, if only because it would be better to leave it wide open and let it sit for a few years. Maybe at some point it could be revisited and rebooted.