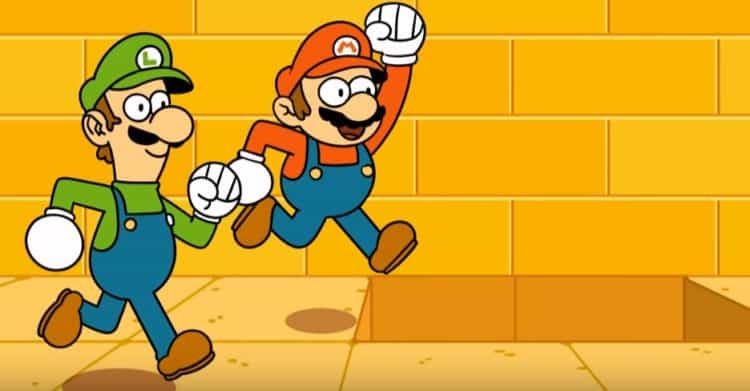 You can honestly believe that there's been a lot of resentment bubbling just under the surface for so long when it comes to Mario and Luigi and their relationship throughout the years. The brothers have been operating under the auspice that Mario is the star, that he's the reason why the franchise has been going on for so long, and that he's the one that's been the most important amidst all the characters that have come and gone. That's not entirely wrong to be honest since for a long time now his name has been the one that has been pushing the franchise and it is Mario that has been the main focus. Luigi has been noticed and pushed a time or two throughout the years but it's always been seen that the franchise has focused primarily on the man in the red cap and shirt. Luigi has been playing second fiddle for a long time, and this anime version makes it clear just how he's felt about that for so long.
It's enough to make a person laugh as the anime versions go into a dialogue, while each brother takes his turn simmering in molten lava, as they explain how they've one-upped each other over and over. But the kicker is when Gooigi, a character that Chelsea Stark of Polygon has information on, knocks Luigi in and explains to both brothers how bad HIS life has been. That's when a lot of people might roll their eyes if they're hoping to see the kind of story that might make a lot of sense without the drama. Thankfully the video goes back to the old school look after Gooigi is defeated and the brothers make their way along again. That kind of returns things back to the normal order even if Mario takes the lead again despite the fact that it does seem as though Luigi should be able to outpace him quite easily. Did anyone else happen to notice that?
In the original game they had the same look, the same skill set, and the same abilities they could use. In the second game however Luigi acquired a seriously huge advantage, and disadvantage, as Renan Fontes of GameRant describes, in a super jump that made it possible for him to cover great distances. Unfortunately it also made him a very big target if a person didn't know how to use him in the game. Mario was the most balanced character of the bunch and had the average skill set that he'd been given in the first game. From that point on the games kept treating the brothers different in some regards but also focused on keeping Mario in the front while Luigi was kept as backup along with everyone else. For the longest time Luigi has just been the brother that is there to help Mario out when it's needed, and is there more for ridicule and passing notice than anything. He's actually had a lot of people that have taken notice throughout the years, he's even been given a fan base that is kind of impressive really since he's become a focal point throughout the years that people want to shine a light on.
Anime definitely brings out a new side of the brothers that you don't get to see that often since the otherwise oblivious nature of the game seems to indicate that everything is the way it should be with Mario out in front and Luigi coming up a close second. But the idea of talking during a tragedy or a tense moment seems to be a very anime thing to do since in just about any other venue it might be seen as kind of unnecessary and even a bit silly. Anime tends to like a great deal of exposition while Mario and Luigi have almost always been more brief and to the point when not in the game. While in the game they tend to take things as they are and just move on, much as they did in the end part of the video. It would still be interesting to see just how many people actually like this version and would rather see the brothers go full anime rather than sticking to the regular cartoon figures that they've been for so long.
Throughout the years Mario and Luigi have been such a huge part of pop culture that it's become commonplace to see them as they are, one in front and one behind as support, that seeing them in any other light is kind of fun and even challenging since it's still not the norm. But in the spirit of challenging things that have stood for so long the anime version is kind of intriguing since even though it tends to slow the action down and makes it more dramatic than it needs, it's still worth watching just to get a good laugh.