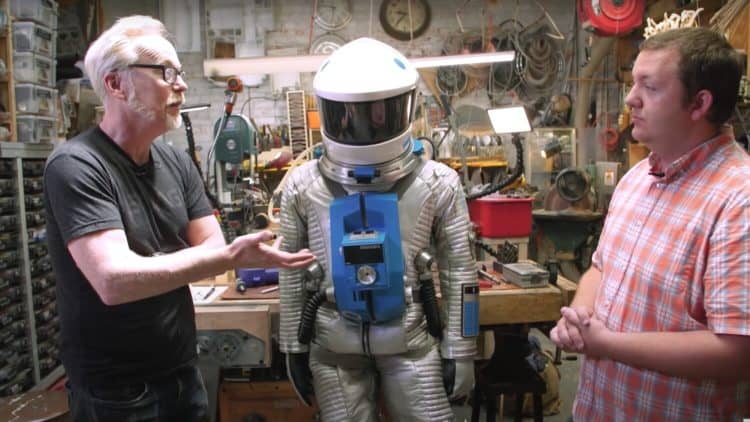 If there's one thing that Adam Savage gets into whenever he's showing something off or creating something, it's detail. That's what makes him so fun to watch though since he gets into his projects and has no trouble talking about them in a very detailed and animated fashion. It's almost like watching a kid showing off their toys and talking about what interests them most in life since Adam is fully into his own interests and is willing to share them with anyone that is willing to come to visit his cave and be amazed. Seriously, how awesome would it be to simply stand in this room and wonder at the kinds of things he's created over the years? This time around he and his guest are taking a look at Adam's spacesuit that was fashioned after the suit from 2001: A Space Odyssey. It's no surprise that Adam would have this since anything that has to do with a lot of detail and such a classic movie would definitely be in his wheelhouse given that there's a lot to accomplish with this idea and it's easy to think that Adam enjoyed every bit of it.
Looking at the suit though one can easily tell that it takes someone that has the attention to this kind of detail and the meticulous nature to get it all looking the way it does. Many people might look at something like this and not bother to notice a lot of the finer details that have gone into the construction of it, but Adam exclaims excitedly over every piece as though he's a kid in a candy store, or maybe a kid in a video game store, yeah, that analogy works better in this day and age. The fun thing is that it's likely that this is how Adam has been for most of his life since the passion and the zest for this kind of hobby is something that a lot of people either have when they're younger and grow out of, or keep as a part of their personality throughout their lives.
If we could all have this same level of enjoyment with what we do it feels like the world would be a happier place, but then again, taking joy in every little aspect of life might be kind of odd since there wouldn't be much balance left in the world. But anyway, getting back to Adam and his suit, this thing does look like it might have taken time to put together and, as we've already seen in the past, would appeal to Adam's ability to get in and really hammer out the finer points of the project since looking at this thing it's easy to think that Adam wanted as many parts as he could get to make it look authentic. Even if there are a few parts in the mix that might not have been as up to par as he wanted, Adam managed to make everything come together in a way that a lot of people might not have thought about. Hearing him talk about the decals alone is enough to make one realize just how in-depth he likes to get with his projects since some folks might not even think about any adhesive materials.
From the construction to the details to the finer points of his project, Adam is fun to listen to since he brings a definite interest to the project in a way that's too much fun even if a person isn't into the subject at the time. The idea is that his level of interest is infectious since listening to him talk about anything kind of gets a person into the idea for the duration of the video and perhaps even further. What he talks about is definitely interesting enough to listen to for at least a few minutes. It might not catch the attention of everyone that listens, but his exuberance is still kind of infectious at times since he's the type of guy that is so invested in what he's doing that anyone around him can't help but be caught up in the excitement since his interest is about as pure as it gets, though it is a bit technical.
Seriously, not a lot of people would think about every little decal that goes on a project, nor what it might really say, but Adam is all about knowing every bit of his creation from start to finish, and in some cases the history and construction of the materials he's using. That's serious dedication to a hobby that takes a lot of money and a lot of time and effort to keep up. But much like work, if a person enjoys what they're doing then it becomes worth it and stops being a task to be completed.