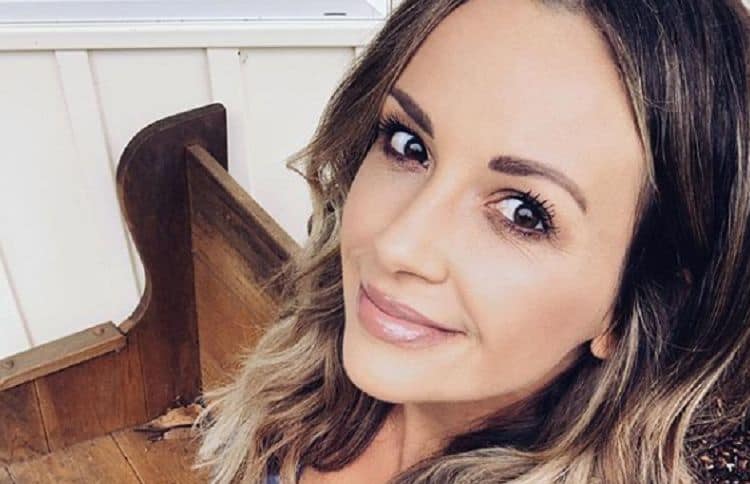 In 2017, country singer Carly Pearce broke onto the scene with her debut album, Every Little Thing. Since then, the 29-year-old has gone from strength to strength, picking up various award nods, opening for some of the biggest names in the business, and earning herself the title of ABC radios "country's 'it' girl". With her upcoming sophomore album set to replicate (and even surpass) the success of its predecessor, it's time to get yourself up to speed with the new country sensation.
1. She's been touring since she was 11
If you thought your part-time job at college was a sound example of an early work ethic, you may want to consider Carly's bio for comparison. Born into a family of music lovers, Carly grew up with the sounds of Bluegrass all around her. By the time she was 11 years old, she'd already decided her future lay in recreating those same sounds. After touring for several years, she dropped out of school at the age of 16 and took a job performing at Dollywood.
2. She'll never forget performing at the Grand Ole Opry
While Carly's most rewarding experience may have been peaking in the top five on country radio with her debut album, her most memorable experience, like many country singers, was performing at the Grand Ole Opry. "I always wanted to sing on the Opry as a child, and I consider that the highest honor as a country music artist," she explained to Taylor Magazine.
3. Every Little Thing is her favorite track
Carly has described the process of making her breakthrough album as an emotional experience that stripped away her shell to reveal a new layer of vulnerability. She carefully crafted each of the album's songs as a way of telling a story, whether good or bad. Some describe heartbreak and loss, others describe love and joy. Regardless of the emotion, they're all intended to reveal a part of Carly's history. Of all the tracks on the album, Carly has described her favorite as the titular track, Every Little Thing, a song she's described as her most honest and as the barometer for every other track she's written since.
4. She's a millionaire
She may have only recently broken onto the scene, but Carly's rise up the country ladder has been stellar. At the age of 29, she's already managed to achieve the kind of success most of us can only dream of… and, for that matter, the wealth. Since she broke onto the scene in 2017, she's managed to sell out enough tours, shift enough album units, and get enough radio airplay to give her a very cool $1 million net worth.
5. She wasn't an overnight success
While Carly's success over the last two years has been remarkable, it was a long hard slog for her to get here. After moving to Nashville at the age of 16 to perform at Dollywood, Carly spent several years taking any job she could (including cleaning guesthouses, nannying, and working in retail) just to make ends meet. Her first record deal in 2012 ended in her being dropped from the label, and it would take several more years of hard graft before she finally made her breakthrough.
6. She's engaged to Michael Ray
While some of her songs may deal with heartbreak, these days Carly is happily loved up with her fiancée, the country singer Michael Ray. The pair went public with their relationship in July 2018; 5 months later, they announced the happy news that they'd got engaged. Carly shared the news with her fans on Instagram, gushing "Earlier this week, the man of my dreams got down on one knee and asked me to be his wife. All in one simple "yes", I said "yes" to love, "yes" to peace, "yes" to faithfulness, "yes" to respect, "yes" to kindness, "yes" to trust, "yes" to patience and "yes" to never settling. Michael, I would've married you the first night we hung out because I knew then you were the one. You will always be my most precious example of God's timing and His love for me. I have found my home in you & will love you with everything I have forever and a day. WE ARE GETTIN' MARRIED, BABY!"
7. She has her own line of merchandise
Question: How do you know when someone's made it big? Answer: When they have a t-shirt with their name on it. In Carly's case, she has several. For just $25, you can pick up one of two shirts (one in black, the other in white) emblazoned with the country singer's face. If you'd prefer a more retro option, you also have the chance to splash out $35 dollars on a monochrome, raglan sleeved sweater. If you want to check out the styles, all the options are available to buy on the official Carly Pearce website.
8. Her sophomore album is due in 2020
It's been 2 long years since her breakthrough album hit the shelves, but, thankfully, fans don't have too much longer to wait for the release of her sophomore album. The album, which marks one of the final productions that the producer and Carly's longtime collaborator busbee worked on prior to his sad passing on September 29, is due to be released in 2020. Already, Carly has been whetting fan's appetite with a few tasty snippets from the upcoming release including the Lee Brice duet, "I Hope You're Happy Now".
9. She's toured with some huge names
As well as being hugely successful in her own right, Carly has become known for her collaborations with other artists, as well as for touring with some of the biggest names in the industry. Since featuring as a guest vocalist on Josh Abbott Band's "Wasn't That Drunk" in 2016, the country singing "It" girl has toured with everyone from Blake Shelton, and Rascal Flatts to Luke Bryan and Jason Aldean.
10. She's an award winner
Given how her star has gone stratospheric since the release of Every Little Thing, you'll not be surprised to learn Carly has become something of an awards queen. Last year, she picked up both a CMT Music Awards Breakthrough Video of the Year and Radio Disney Music Award for The Freshest! — Radio Disney Country Best New Artist. This year, she's picked up nominations for iHeartRadio Music Awards Best New Country Artist, ACM Awards New Female Artist of the Year, CMT Music Awards Female Video of the Year, and is currently in contention for the CMA New Artist of the Year.