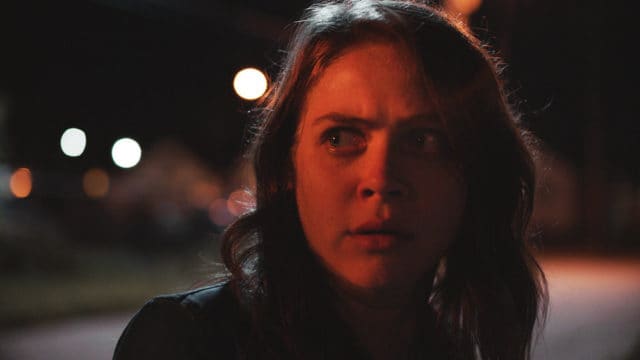 I'm a devout fan of Channel Zero, the creepypasta-based Syfy anthology series from creator Nick Antosca. Throughout its first two installments, 2016's Candle Cove and 2017's No-End House, Channel Zero has completely redefined what it means to tell a horror story on television. Succeeding in ways that even the longer-running American Horror Story has never managed to do, Channel Zero has carved out its spot in the history of television horror, and audiences are all the better for it.
Tonight, Channel Zero returned with its third installment, titled Butcher's Block. As with previous stories, Butcher's Block is inspired by an internet creepypasta (sort of like a fictionalized urban legend originating on the web). This season's inspiration comes from Kerry Hammond's "Search and Rescue Woods," but, unlike previous seasons, the story diverges and becomes its own in such a major way that the story's original title hasn't carried over to its Channel Zero adaptation. For fans of the series, this is even more exciting than usual as it gives the foreknowledge that Antosca and the writers will truly be telling their own tale this go-around.
One of the ways that Channel Zero stands out from the crowd is its use of a single director and cinematographer for each season. These directors tend to come from the world of indie horror (with Craig William Macneill helming Candle Cove and Steven Piet taking the reins for No-End House), and Butcher's Block is no exception. Taking control this season is Arkasha Stevenson, a relatively unknown director whose Pineapple project had its world premiere at Sundance back in 2017. Stevenson is joined by cinematographer Isaac Bauman, who returns from his incredible work last season on Channel Zero.
The entire cast and crew put together for this season (including Olivia Luccardi from It Follows and the incomparable Rutger Hauer, best known from Blade Runner) is pretty buck wild, and I've been looking forward to the season premiere of Butcher's Block, "Insidious Onset," since the second that it was announced.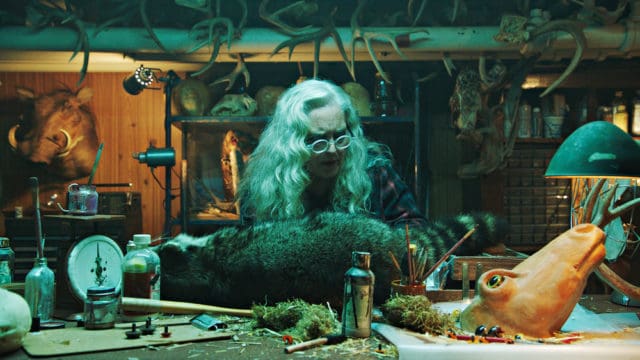 From the very beginning, Butcher's Block begins to distinguish itself from the previous seasons aesthetically. Whereas Candle Cove was very rural and nostalgic and No-End House was more sleek and urban, Butcher's Block hits you with a wave of a small town atmosphere that has started to grow up around itself in a way that the residents may not have quite been ready for. It's a very specific aesthetic that's difficult to put into words, but, once you see it, a perfectly recognizable set of emotions rush to you.
While the aesthetic may be its own, there are several shots in "Insidious Onset" that re-establish that Butcher's Block is, indeed, an entry in the Channel Zero franchise (the earliest one that stands out to me is the first shot of the staircase in the woods, a shot that would fit perfectly in an episode from No-End House). The most obvious explanation for this is Bauman's return behind the camera, and it helps create a bit more visual cohesion between seasons than we saw between Candle Cove and No-End House. Bauman's work last year was one of the most exciting aspects of the production on a weekly basis, and his continued excellence in Butcher's Block is certainly appreciated.
Every season of Channel Zero is creepy and horrific (it is a horror series, after all), but Butcher's Block really seems to be tackling horror in a more head-on way than the show has before (for the most part, at least; No-End House had some of the scariest sights of the year across any form of media). The opening sequence alone is incredibly unsettling, and it sets a great tone for the season.
Speaking of the visuals, there are some great Hannibal-esque moments in the episode (primarily in the final third) that remind the audience of how elegant horror can be when done in the right way. The best horror tends to be that which goes as far as possible into the absurd without crossing that very thin line, and it's something that Butcher's Block (at least in its premiere) seems to be doing exceptionally well.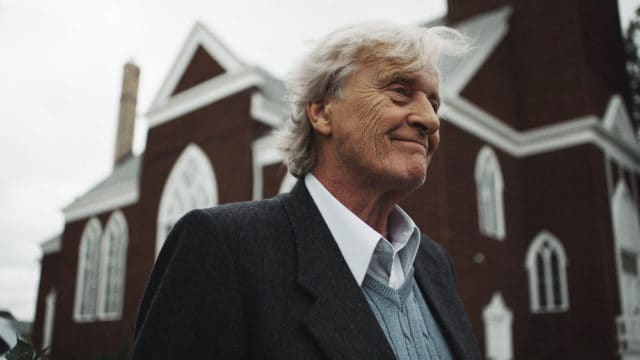 At least in "Insidious Onset," the acting is, oddly, unspectacular for the most part, a noticeable difference from previous seasons. It isn't present throughout the episode, but these moments are brought on by what seems to be a mix of clunkier dialogue than usual and odd delivery. With that said, I really appreciated Holland Roden's performance as Zoe in the episode. It's a bit of an understated performance, but Roden manages to exhibit a real darkness and sadness in an almost effortless way. It's an incredibly exciting turn that I can't wait to see more of as the season goes along. The biggest treat, though, is easily Rutger Hauer as the mysterious Joseph Peach. In only a couple of scenes, Hauer dominates the screen in a manner similar to how John Carroll Lynch did in No-End House, and it's already clear that his performance is going to be one of the major driving forces of Butcher's Block moving forward.
Something that Channel Zero has always done extremely well is blend social commentary with its horror. Every season so far has examined grief in a unique way, and Butcher's Block tackles that theme instantly. Additionally, it seems like we're going to be in for an exploration of mental illness with this story, and, from the glimpses we get in "Insidious Onset," that exploration promises to be handled with the series' typical delicacy and care.
"Insidious Onset" sets up a very intriguing season of Channel Zero, and I'm very excited to see where Butcher's Block goes from here. More than ever, this season feels like an extended horror movie, and it's a neat turn for (possibly) the most unique series on television. With its first episode, Channel Zero: Butcher's Block is already knocking it out of the park.
What did you think of the premiere of Butcher's Block? Are you as excited as I am to see where this season of Channel Zero heads? Let us know in the comments down below!
Photo Credit: Syfy
Tell us what's wrong with this post? How could we improve it? :)
Let us improve this post!