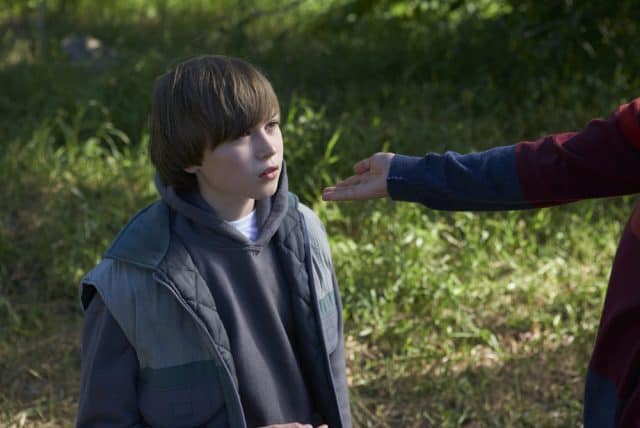 In a somewhat unexpected turn of events, Syfy's Channel Zero: Candle Cove has managed to become possibly the greatest horror event of the year. The first two episodes of the anthology were some of the most well-made entries on television this fall, and the series is quickly carving out its own prestigious spot in a crowded television landscape. Let's take a look at this week's new episode, "Want to See Something Cool?"
Spoiler, yes, I do.
The episode opens with a flashback to Mike and Eddie on their birthday in 1988, reminding us of a time in which the family was happy. That's immediately contrasted against the scene of Marla cleaning her table not long after Mike is taken away following his confession at the end of the previous episode. Fiona Shaw is delivering a wonderfully emotional performance that is really helping Marla become the more-developed character that she desperately needs to be, and I continue to be amazed at how strong this (relatively small) cast has been throughout the first half of this story.
More than in the episodes that came before it, "Want to See Something Cool?" puts quite a bit of focus on the 1988 flashbacks to explore the histories of Candle Cove's characters. The horror and unsettling nature of the series us definitely one of the most important aspects, but I'd argue that the characters are what makes this show so great. In a lot of ways, it reminds me of Stephen King's It when I watch, and I mean that in the most positive way possible.
I'll admit that the story unfolding about Eddie isn't at all what I expected for Candle Cove. I've got to give major props to the series for defying expectations like this. There's a great balance here between horror and tragedy (which may be the true horror in and of itself), and the way that the events are playing out is indicative of a quality of writing that you don't often see in a genre show.
I would be remiss if I didn't mention again how spectacular Candle Cove's design is from top-to-bottom. The color scheme for every episode continues to blow my mind with what it brings to the table, and the music for the series is outstanding. I think I've mentioned it before, but I'm reminded of Hannibal in just the right ways from a stylistic perspective. The direction is still remarkably cinematic and strong, and Craig William Macneill is showing exactly why he was chosen for the season.
Candle Cove is really dark, and it gets darker still with each and every episode, but it's a darkness that never feels overblown or as if it's dark for the sake of darkness. Everything tonally with the series fits perfectly with the story that's being told, and it's so nice to have a series that understands itself and its audience this well. We're three episodes in now, and I feel just as excited to see what comes next after this episode as I did after the series premiere.
What did you think about the third episode of Channel Zero: Candle Cove? Let us know your thoughts in the comments down below!
[Photo Credit: Syfy/Allen Fraser]
Channel Zero: Candle Cove Episode 3 Review: "Want to See Something Cool?"
Summary
Candle Cove's increasing darkness is playing perfectly for the series, and it's clear that it understands itself completely.