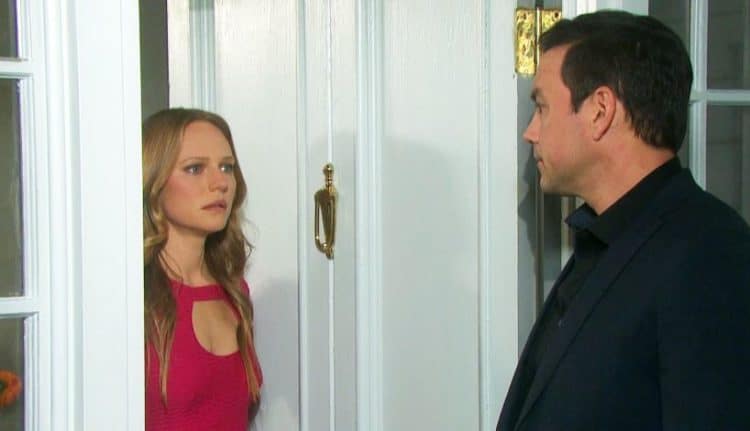 Days of Our Lives fans are living with some serious anxiety right now. A lot is happening, and it's been very ugly to see how situations are unfolding and how people are falling apart at the seams. You see, there is a lot going on. Gabi is going about her plan perfectly, and Kate is right there to help her. We still can't get over the fact that she will keep this man's child from him, but whatever. Gabi is right there to subtly offer him the advice she wants him to hear about leaving his wife, and she's there to tell him that it must be so difficult to feel a baby kick when it's not your baby. To feel a constant reminder of another man in your wife, and by the way, did your wife really have feelings for Stefan if her inner personality was willing to sleep with him? All the right things, and we can't decide if we love seeing her like this or hate it.
And then there is Ben. He wants to do right by Ciara, but he doesn't know how to do that. He's unsure how to make this life of his a better one, and he's not sure how to make sure things don't fall apart. He wants to be normal so that he can have a chance with her, but we all know that's simply not possible. There is no way she can be entirely normal and stuff like that. But we do know that they can get this situation under control if they give it time. Rafe and Hope might never love it, but that's something they'll have to deal with after they deal with a few other things — like the fact that he's got mental issues that turned him into a serial killer, for instance.
What's Happening on Days of Our Lives
So long, Salem. Hello, Denver. #DAYS is coming to the Park Meadow's Retail Resort this Saturday, August 11. See you there! pic.twitter.com/yetNGcUMc6

— Days of our Lives (@nbcdays) August 8, 2018
You have another two days to get it together and get to Denver to meet some of your favorite stars. They'll only be there for a few hours, and now is your chance to meet the people who play your favoriate characters. Some of the cast will be at the Park Meadows Retail Resort at the Dillards Court for a few hours in the afternoon, and it's all you get to meet them. Now is your chance, so be sure you've gotten the correct information and you know where to go so you don't miss out on this amazing event.
What's Next on Days of Our Lives
Marlena gets ready to marry John, and Ciara finds she can't stop thinking about Ben. Watch Days of our Lives, weekdays on NBC. pic.twitter.com/4OlvjdIu4d

— Days of our Lives (@nbcdays) August 6, 2018
Chad is done. He can't do it. He's not someone who can live with a wife who is pregnant with the baby of another man, and this is too much for him. We saw it coming. He was struggling to be with her when he realized that she was in bed with his half-brother and that her personality had taken over her body completely. There is nothing that he can do to get this out of his mind, and the baby is just too much for him. He's not mad at Abby, per say, but he's just not strong enough to move past this and not think about the fact that his wife is pregnant with another man's baby. She's not, if you need another reminder, but Gabi wants them to think this way — and Kate is on board with all of it. He's walking out on her, and it's ugly.
Additionally, we know that Steve overheard his own wife discussing something that shocked him with Jennifer. He was unaware of what it was, what was going on, and that this was a situation. But he also doesn't want to keep secrets anymore. He wants to talk to her about it, but he's not sure what is going on. We will see him open up to John about it. His friend is going to give him the sagest and wisest advice to speak to his wife about it rather than making assumptions and trying to put things off to a new time and place.
Stay tuned for more Days of Our Lives and be sure to check out TVOvermind daily for the latest Days of Our Lives spoilers, news, and updates.