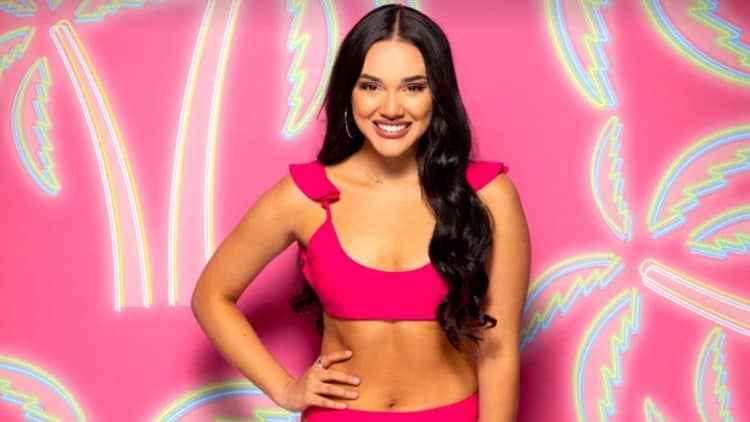 The second season of Love Island USA is just getting started and cast member, Cely Vazquez, already has the internet talking. The beautiful California native has already caught the eye of the guys on the island and she's already putting out feelers to see which one might be the perfect match for her. Some people may see her behavior so far on the show as doing too much, but others will see it as Cely simply trying to weigh all of her options. Plus, Love Island is a competition show at the end of the day, so there's always a little bit of strategy involved. Either way, no matter how you feel about Cely, she'll likely be a big part of why lots of people tune into the show. Continue reading for 10 things you didn't know about Cely Vazquez.
1. She's Bilingual
Being bilingual is a great skill to have. No matter what field you work in, knowing more than one language can open up lots of doors for your career. In a few years, there's a good chance that knowing another language will be almost necessary. Fortunately for Cely, she's already ahead of the game. She is fluent in both English and Spanish.
2. She's Got Some Music Skills
Even if it weren't for Love Island, Cely was probably going to end up on our TV screens one way or another anyway. She is a talented singer/songwriter who also plays the guitar. She often shares videos of herself singing on Instagram. It doesn't look like she's officially released any music of her own yet, but she's definitely working towards that.
3. She Works In The Legal Field
Cely isn't just beautiful, she's got the brains to back it up. She attended California State University, Sacramento where she earned a bachelor's degree in criminal justice. She is currently putting her education to good use while working as a legal secretary at a law firm.
4. She Loves To Go Thrifting
Cely loves fashion and she has a great sense of style. However, she isn't just caught up in purchasing the latest name brands. She likes to get creative with her outfits and enjoys browsing local thrift shops for some hidden gems. Sometimes she even adds her own razzle dazzle to the items she finds.
5. She Started A YouTube Channel
She may not be a big YouTuber yet, but she's got the potential. Cely has a YouTube channel that mostly consists of her song covers, but she also posted a vlog. She only has a little over 500 subscribers at the moment, but her channel has gotten nearly 5,500 views. She hasn't uploaded a video in a few months, but if she starts being consistent there's a good chance she'll be able to build a large following.
6. She's A Summer Walker Fan
Like any musician, Cely also enjoys listening to other artists work as well. She's a big fan of Summer Walker and even sang a cover of her song, "Session 32". In the caption of her post, she referred to Walker as a "queen". For those who aren't familiar with Summer Walker, she released her debut album in 2019 and is best-known for songs like "Playing Games".
7. She's On TikTok
Cely loves to create content and apparently the people on TikTok love her for it. While most Love Island fans have probably found her Instagram by now, her TikTok might just be the place to be. She uploads lots of funny skits and has already gotten two million likes.
8. She's A Big Star Wars Fan
Some people may consider Star Wars to be a little on the nerdy side, but Cely has never let that stop her from being a proud fan of the franchise. She absolutely loves Star Wars and has a highlight section on her Instagram account dedicated to it. From the movies to the games to the merchandise, Cely is with it all.
9. She's Into Astrology
Cely's bio on the CBS website mentions that she feels like her last relationship didn't work out because she and her ex had incompatible zodiac signs. She also mentions that she and her celebrity crush, the late Patrick Swayze, would have a great relationship because their zodiac signs are compatible.
10. She Was A Soccer Player
Cely loves sports and has always been a very athletic person. During her time in high school, she was a member of the JV soccer team. She eventually went on to join her school's cheerleading team as well. Hopefully she'll be able to tap into her competitive side a bit to help her make it to the top two on Love Island.
Tell us what's wrong with this post? How could we improve it? :)
Let us improve this post!