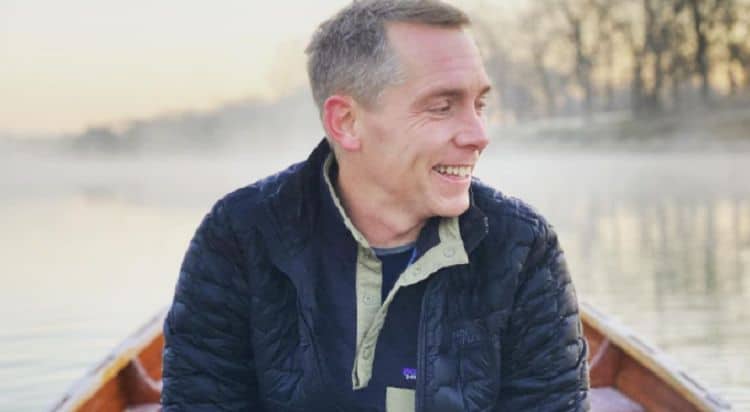 Clint Harp is easily one of the most recognizable men on television. He quickly rose to fame as the friend and exceptionally talented woodworker of HGTV stars Chip and Joanna Gaines when they began filming their show, "Fixer Upper," so many years ago. From the time we get to know him on the show until he was graced with his own show, the world fell instantly in love. He's kind, he's talented, he's funny, and he's clearly a man who enjoys life and allows himself to find joy in every small moment. Clint Harp is a gem, and we all love him. Let's get to know more about one of television's most famous and talented creators.
1. He Met Chip Gaines at A Gas Station
The year was 2012. Harp was flat broke and unsure he could even put gas in his car, but he was hopeful he'd get at least a few bucks in the tank before he couldn't afford to put any more in. He happened to bump into Chip at the gas station that same day, and history was officially made. They would not realize it at the time, but that was a turning point in their lives.
2. He Was a Successful Medical Salesperson
Prior to going broke, he was a man earning six figures per year working as a medical sales representative. He worked in Houston, and he was wildly unhappy. He didn't love what he did. He did not find joy in that manner of his life. He did not have any idea how to make a change while doing what he did, so he quit his job. He loved making furniture, so he decided to take a leap of faith and just go with it.
3. He Knew of Chip When They Met
When he ran into Chip Gaines at the gas station, he knew who he was. He was not famous yet. However, he'd heard of Chip from a friend, and he worked up some courage. He approached the soon-to-be-famous reality star and gave him a pitch. The two spent some time together riding around Waco that day. That's when Chip invited Clint and his wife, Kelly, to his home for dinner. He wanted the woodworker to meet his wife, Joanna, who sold furniture out of their home.
4. He and Joanna Hit it Off Immediately
Upon meeting Joanna Gaines, he began making custom furniture for her to sell from her home. He was suddenly making a bit of money and doing well for himself, and he was finally feeling better about his life. However, they had no idea at the time that a year from that point, they'd all be on reality television and their careers would be shot into the realm of fame that they never imagined. Now he has his own series on HGTV. He never imagined that day at the gas station what that conversation would mean to his family.
5. He and His Wife are College Sweethearts
He and Kelly met while they both attended university at Baylor University. They met, fell in love, and married after they graduated, and they moved to Houston for his job. When he left his job, they moved home to Waco. They currently reside in Waco with their three kids. Their kids are Hudson, Holly, and Camille.
6. His Wife is a Wonderful Designer
When he is working on a new piece, he often relies on the help of his wife to make sure he is doing what he can to make it perfect. He says her eye for design is lovely, and that he values her opinion more than that of anyone else. It's a wonderful thing when a marriage is also a successful partnership in every aspect of life.
7. He Has a Big Heart
If you ask Clint Harp about his business, he will tell you without hesitation that tables are the main focus of what he does. His belief is that every family should have a table at which they want to sit down each night and share a meal. They should have a table that allows them to focus on their family, to share their love, and to share their stories. He wants memories made around his tables.
8. He Had to Move
When he and his wife bought a major fixer-upper, of course, Joanna and Chip worked on it for them. They made their dilapidated old fixer-upper into their dream home, but the family had to sell their home and move. They did not want to, but they did not have any privacy. Because the home was featured on the show and Waco is a huge tourist attraction as a result, they constantly had fans from the show in their yard, staring at them, talking to them while they were outside playing with their kids, and always there. For their own safety, peace of mind, and their own privacy, they wanted a home that wasn't a famous landmark.
9. His Grandparents had a Famous Friend
Clint Harp's grandparents had a very famous friend. Their friend was former President Jimmy Carter. They worked well and closely with him when they were younger. It's a fun fact that Harp gets to share from time to time.
10. He is a Genuinely Nice Guy
Here's the thing – you can pretend to be anyone you want on television and on the internet, but Clint Harp has a reputation for being a nice guy. He's kind, he's willing to do the work and do it right the first time, and he always puts his family first. He's a great friend, husband, father, and businessman.