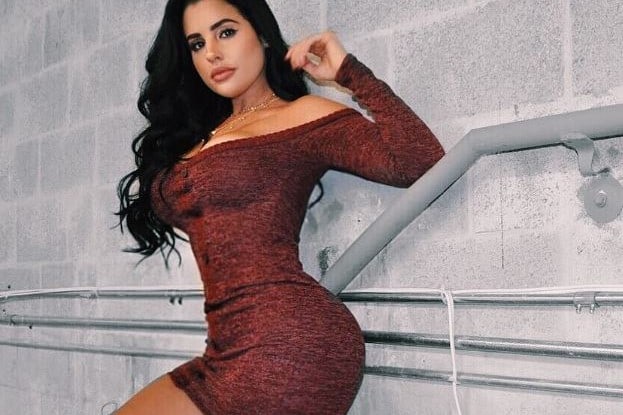 Stephanie Acevedo is one of the leading model and singer/actress from Miami, United States of America. She has acquired fame from her modeling photographic and music videos. Stephanie Avocado is popularly best known for Young Money Music label where she is signed. In fact, she has worked as a backup vocalist on various songs produced by Lil Wayne. Here are 10 things you possibly don't know about this stunning girl, Stephanie Acevedo.
1. Stephanie is 28 years old
Stephanie was born on 11th October 1990 in Miami, Florida, USA. She has Cuban and Puerto Rican heritage but was born and raised in Florida. Here, her father was popular for being a notorious drug smuggler.
2. Acevedo's Dad Spent Time in Prison
In the premier series of Cartel Crew, Stephanie remembered the time police came to arrest her dad. When she was eight years old, her father was sent to prison. The dad served six years in jail and several other years on probation. After her papa went to prison, Stephanie, here mama, Gloria as well as her family struggled financially. Acevedo wishes her dad was not in the drug cartel lifestyle due to the consequences it had on her family. However, the good thing is that she did not let her father's criminal history hold her back from being successful.
3. She is a Singer signed by Young Money
In her youth, Acevedo's mother, Gloria wanted to become a singer. Although she did not make it, her daughter Stephanie is fulfilling her dreams. Stephanie's dream was to get signed by Young Money label which is owned by Lil Wayne. She worked hard to become a singer by releasing several cover songs of other musicians. It was in 2015 when her dream was fulfilled after being signed by Lil Wayne's label. Afterward, she released a cover video of Leona Lewis named 'Bleeding Love.' Besides featuring as a backup singer on Lil Wayne's song 'Crystal Ball,' she has also released her solo video named 'Acercate.'
4. She went to a Medical School
Before signing with Young Money label, Stephanie had graduated from Miami Dade College's medical program. However, she did not major in the medical career but instead became a ring girl in MMA promotions and a glamour model.
5. Her Family Life
There is no extensive information regarding her parents and family life. However, Stephanie Acevedo spends her life mostly in Miami, Florida alongside her parents.
6. She Was An Actress Before Moving Into Music
Acevedo started her career as a model before moving to the singing career. In 2011, she featured in a couple of short movies. The 'Bleeding Love' cover song she did have gained more than 750,000 views on YouTube to date. Besides this, she has also worked as a model for various modeling agents in Miami.
7. 'Tatu Baby' is her Best Friend
Stephanie and Katherine Flores 'Tatu Baby' have been best friends for a couple of years and understand one another best as daughters of drug lords.
8. Physical Features and Body Measurements
Stephanie Acevedo is certainly one of the hottest models. She has an hourglass-shaped body and amazing curves that make her one of the hottest models in the American modeling business. Stephanie measures five feet and six inches with a standard body weight. She possesses a tanned skin complexion accompanied at its best by dark brown eyes and black hair. Additionally, her shoe size is 8.5 US.
9. Her Social Media Channels
The famous girl from Miami can be seen on her official Instagram profile as 'stephs_music' and as 'StephsAmusic' on her Twitter handle. Acevedo's Instagram profile has whooping 523K followers alongside her Twitter channel with 12.3K followers. In addition, her Facebook official page has attracted more than 110K followers.
10. Stephanie's Personal Life
When it comes to Acevedo's personal life, there is little information regarding her relationships and affairs. She has not revealed anything regarding dating anybody or having any form of relations. Probably, she might be searching for a decent individual that meets her requirements. As of now, her marital status is single.
Lastly, her full names are Stephanie Acevedo Cruz. Her Zodiac sign is the Libra. A few months ago, she was contracted by championship Fighting Alliance to work as their ring girl. Since Stephanie keeps most of her private life private, we cannot confirm her actual net worth, but we know she is wealthy from the contracts won