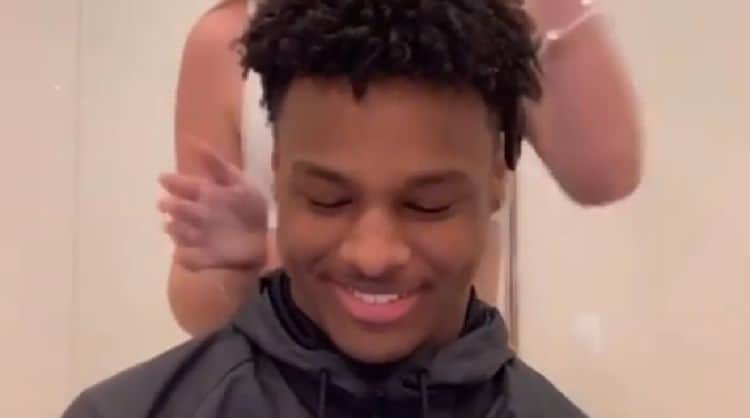 As the oldest son of Lebron James, Bronny James has big shoes to fill on and off the court. Like his father, he is a very talented athlete and many are already projecting that he could have a serious impact on the game of basketball. But despite the heavy weight on his shoulders, Bronny is still just a teenager who wants to have fun and enjoy 'normal' teenage things. Unfortunately, him simply living his life brought some extra attention when a TikTok of him and a female friend went viral. The video showed Bronny and his friend innocently participating in a TikTok challenge, but many assumed that the girl in the video was Bronny's girlfriend. Bronny hasn't confirmed or denied the relationship, but of course that hasn't stopped the rumors. Keep reading for 10 things you didn't know about Bronny James.
1. He's Good Friends With Zaire Wade
LeBron James and his former teammate, Dwyane Wade, formed a brother-like bond over the years and that connection was passed down to their children. Bronny is really good friends with D. Wade's son, Zaire. The two are also teammates at Sierra Canyon High School in Los Angeles.
2. He's Already Gotten Scholarship Offers
Just being LeBron James' son already made Bronny's basketball career highly anticipated. But once it became clear that he is actually talented, schools started paying attention. Even though he is only 15-years-old, he's already started getting athletic scholarship offers from colleges and universities.
3. Russell Westbrook Is One Of His Favorite Players
Of course, most people would probably assume that Bronny James' favorite player has always been his father. After all, LeBron James is a lot of people's favorite player. However, for many years, Russell Westbrook was actually Bronny's favorite player, and he wore jersey number 0 to pay homage. However, in 8th grade, he changed his jersey number to 23 like his father.
4. He Already Has Over 5 Million Followers On Instagram
In a lot of ways, Bronny James is just a regular teenage. On the other hang though, his teenage experience is very different from most. Bronny already has 5.5 million followers on Instagram which puts him at a higher follower count than some people in the NBA including some of his father's teammates.
5. He's A Gamer
In addition to playing basketball, Bronny also enjoys playing video games. He's an active member of the only video game community and likes to play games like NBA 2k, Fortnite, and Call of Duty. Occasionally, he even likes to live stream his gaming sessions.
6. He Joined FaZe Clan
In August 2020, Bronny took his love for gaming a step further by joining the FaZe Clan. The professional esports group has become very popular over the last few years and is home to several well-known gaming influencers. Other big names to become affiliated with FaZe Clan include Philadelphia 76ers star, Ben Simmons.
7. He's One Of His Dad's Biggest Fans
Despite the fact that Russell Westbrook has been one of his favorite players, Bronny is also a big fan of his dad. He loves watching his father play as often as he can and there's no doubt that he's learned a lot from him. The feeling is definitely mutual though, and Lebron is also a big fan of his son.
8. His Dad Didn't Allow Him To Join Instagram Until He Was A Teenager
Instagram is one of the biggest social media platforms and it's attracted people of all ages. Needless to say, Bronny has always wanted to be part of the action. However, his father didn't allow him to join the platform until August 2019 when Bronny was 14-years-old. Since social media can be a cruel place, it's no surprise that LeBron wanted to shield his some from that world. Almost immediately after joining, Bronny's follower count had reached six digits.
9. He Loves Sneakers
Basketball and style have gone hand in hand for decades. Not only does Bronny like to wear sneakers that feel good, he also likes shoes that look good as well. He loves to go sneaker shopping and recently visited the popular Los Angeles sneaker store, Cool Kicks.
10. He Likes To Stay Lowkey
Bronny may have millions of followers on social media and a very famous dad, but he seems to like to stay pretty low key. He doesn't have very many posts on Instagram and he doesn't really do any interviews. Staying out of the spotlight as much as possible allows him the opportunity to just enjoy being a kid without having to worry about all of the extra stuff.