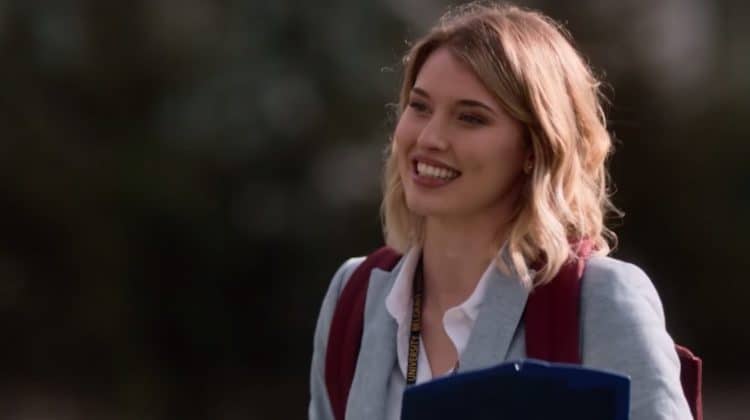 Canadian born actress, Sarah Grey, is one of the industry's rising stars. Within the next few years, it wouldn't be surprising if she became a household name. Since making her debut in 2010 she has landed some very impressive roles. She has appeared in shows like Bates Motel and DC's Legends of Tomorrow. She is best-known for her starring role in the Netflix series, The Order. The Canada native has officially gained international success, and there will definitely be more in the future. While the third season of The Order hasn't yet been confirmed, fans are hoping to get the chance to see Sarah back in action again. Keep reading for 10 things you didn't know about Sarah Grey.
1. She Originally Wanted To Be A Singer
Sarah loves to act, but a career in acting wasn't always at the top of her priority list. She is also a talented musician. During an interview with Relate Mag she said, "I grew up on Vancouver Island B.C and initially wanted to be a singer! I didn't really comprehend that acting could be a job when I was young, so it wasn't on my radar. I fell into an acting class by a random series of events, and immediately fell in love with it."
2. She Loves To Travel
At the beginning of her career, all of Sarah's projects were filmed in Vancouver. One of her biggest goals was to work on projects that allowed her to travel. Not only has that dream come true, but she's also done lots of traveling of her own. Some of the places she's visited include Hawaii and California.
3. She Advocates For Social Justice
Since being founded in 2013, the Black Lives Matter movement has worked towards ending racism and injustice. Since the murders of George Floyd and Breonna Taylor, the movement has gained renewed interest from people all over the world. Over the last few months, Sarah has used her platform to share information and resources regarding the movement.
4. She's Been On Magazine Covers
Sarah makes magic every time she steps in front of the camera and that doesn't only happen when she's acting. She's also got some serious modeling skills and as a result, she has graced several magazine covers including Cosmopolitan, Rizing, and Terroir Magazine.
5. She Keeps A Low Profile
Being a professional actress usually comes with lots of time in the spotlight. Although Sarah has been getting a lot more attention in recent years, she still chosen to keep a relatively low profile. She doesn't like to share much information about her personal life and instead prefers to keep the focus on her work.
6. She Was In Power Rangers
Sarah is only 26-years-old which means she wasn't even born when the first episode of Power Rangers aired in 1993. However, she still managed to become part of the franchise. She played the role of Amanda in the 2017 film which was a very exciting opportunity for her.
7. Her Family Has Been Her Biggest Influence
Instead of having just one person who has been her biggest influence, Sarah has several. When asked who has influenced her the most, she told Relate Magazine, "I would have to go with my entire family. I can't pick just one person! If it weren't for them I don't know if I'd be pursuing this career. They instilled in me the desire to follow my passion. I have an extremely inspiring, supportive family that has led by example."
8. She Doesn't Have Stage Experience
Most on screen actors got their start in theater, but Sarah doesn't have stage experience. Okay, it's not entirely true that she doesn't have any stage experience, but the little she does have isn't something that most people would count. She had a role in a theater production of Grease when she was 13-years-old, but other than that she hasn't done any stage work.
9. Concealer Is Favorite Makeup Product
When you spend as much time on camera as Sarah does, you get pretty familiar with makeup and which products help you achieve your desired look. While talking to Hey Beauti Magazine, she shared that under eye concealer is her favorite makeup item and she feels it makes a big difference.
10. She Believes In Manifestation
Sarah has worked very hard to advance her career, but hard work isn't the only thing that's helped her achieve her goals. She is a firm believer in the power of manifestation which essentially means speaking things into existence. She also believes in practicing gratitude for all of the opportunities she's gotten throughout her career.
Tell us what's wrong with this post? How could we improve it? :)
Let us improve this post!