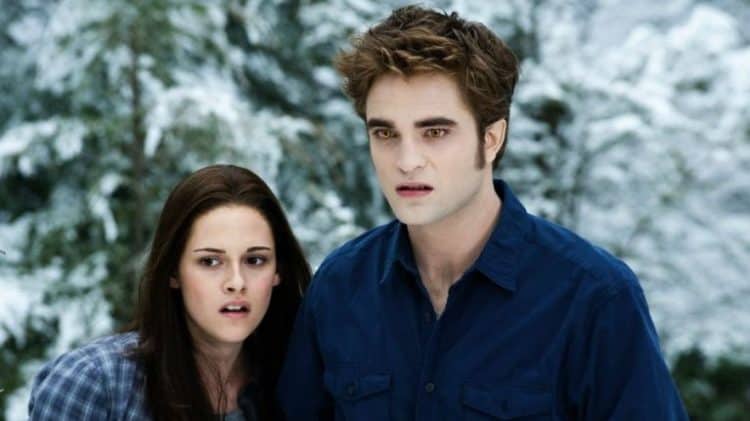 For some actors and actresses, it was love at first sight or shall we say at "first scene". After long hours on set pretending to be in love and experiencing steamy intimate moments with each other, it only made sense that they became a real couple when the cameras stopped rolling. Now whether or not, it was happily ever after is up in the air. Here are ten celebrities couples that were co-stars in films and went on to fall "dangerously in love" with each other.
1. Brad Pitt and Angelina Jolie
At one point, Brad Pitt was considered the sexiest man alive and Angelina Jolie was called the most beautiful woman in the world. It made sense that the two most attractive people would get married and have a bunch of beautiful babies together. The two A-listers, once considered a golden couple of Hollywood had quite the journey. They started off as co-stars in the hit film Mr. and Mrs. Smith a romantic comedy that explored the mundane lives of a married couple that found out they were both assassins employed by rival agencies. They find out the truth about each other when they were assigned to assassinate the same target. It's impossible to mention Brad and Angelina without talking about their scandalous start. They fell in love while Brad was still married to Jennifer Aniston another A-list celeb. Unfortunately, the couple divorced in 2016 due to irreconcilable differences.
2. Ryan Reynolds and Blake Lively
Ryan Reynolds and Blake Lively are two A-list celebs that met and fell in love while filming their movie; The Green Lantern in 2011 a superhero film based on a DC Comic Universe comic book. According to Reynolds who was married to Scarlett Johansson at the time, the two remained friends after filming. A couple of years later they both ended up on a double date with other people which ultimately led to their romantic connection. The two are currently married and have three children.
3. Miley Cyrus and Liam Hemsworth
Miley and Liam were teenagers when they met on the set of Last Song a film based on a novel by Nicholas Spark over ten years ago. While most teen romances are fleeting, Miley and Cyrus were deeply in love and they were together for four years when they got married in 2018. However, the couple divorced in 2020 and got in engaged again several months later.
4. Kristen Stewart and Robert Pattinson
Kristen and Robert were perhaps the most mysterious yet cutest couples of the decade. They met while filming Twilight a popular vampire romance drama in 2009. Although they even went their separate ways, their fairytale romance was immortalized in four other sequels to their original film.
5. Penelope Cruz and Javier Bardem
Penelope and Javier met thirty years ago when Penelope made her acting debut in the film Jamon Jamon. However, they didn't have any romantic interest in each other until they started filming Vicky Christina Barcelona in 2008 in which Penelope played former lovers who reconnected during a summer vacation in Spain with friends. The couple quietly tied the knot in a beautiful wedding ceremony in the Bahamas in 2010 and they are still together.
6. Emma Stone and Andrew Garfield
Emma Stone and Andrew Garfield were definitely one of our favorite young couples. They met while filming Spiderman in 2012. In a recent interview with US Weekly, Andrew said that filming Spiderman was a beautiful experience because he got to meet Emma Stone. Hold your horses. The young couple's relationship lasted for four years before they broke things off due to their super busy schedules.
7. Ryan Gosling and Eva Mendes
Sparks started to fly between Ryan Gosling and Eva Mendes while on the set of Place Beyond The Pines in 2011. Ten years later the couple have two children ago. Although there were rumors a couple of years ago about them getting married they never confirmed if it was true or not.
8. Rachel Weisz and Daniel Craig
Rachel and Daniel were friends for several years. However, it wasn't until they started filming Dream House in 2010 that they realized that there was more between them than just friendship. They fell in love on set and were married a year later in 2011. The couple brought their first child together into the world in 2018.
9. Stephen Moyer and Ana Paquin
Stephen and Ana's romance in True Blood (2008-2014) is what had us all enamored into the show. They fell in love while filming the series and were married just two years after the first season. Ana gave birth to twins in 2012.