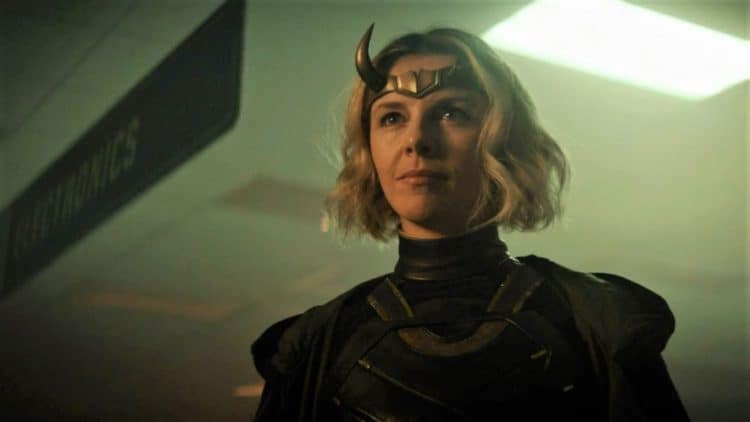 When Sophia Di Martino entered the Marvel Universe through Loki, it was no surprise that she would become a fan favorite. The emerald green wearing Loki variant won the hearts of many(including the god of mischief himself). As such, it's easy to see why. She plays the quippy emerald green wearing Loki variant perfectly. However, the 37-year-old actress has a long filmography reel under her belt. Long before entering the Marvel Universe, she already staged plays at home for her family. As her love for films grew, she saw herself book several TV appearances such as BBC's Ideal. Having cemented herself in the superhero world as a mega fixture, the English-born actress has been in several soaps, dramas, and short films. Some have gone to win awards (Flowers), thereby cementing her as an icon in the industry. Di Martinos' first TV debut was in Holby City, starring as Gemma walker. Since then, the actress cum director has been in numerous TV shows.
Flowers
This 2018 dark comedy follows the lives of an eccentric, dysfunctional family; the Flowers. The cast includes a depressed father, Maurice, his wife Deborah, played by Olivia Colman, and their 25-year-old eccentric twins, Douglas, an inventor, and Amy, an angsty goth musician. Through the series, it's easy to see yourself and your family reflected in the lives of the Flowers. They deal with deeper issues such as death, mental health, love, and acceptance while still holding to their comedy. In an interview with Esquire, Di Martino recalls playing Amy was when she felt like she belonged. It was also the moment where it all clicked, "shes the first character I've really had the chance to work with the writer and create someone special." It shows seeing Amy go through tough times but, in the end, healing her spirit just like the rest of us.
Casualty
Even though this medical series may have aired back in the 90s, Di Martino's performance is nothing short of amazing. She started as a guest star. Soon she was cast as Polly Emerson, an idealistic, fun, opinionated ambulance technician who takes it upon herself to try and save the world. She doesn't realize that you can't deliver everyone from the world. Despite playing Emerson for two years, she gave the character depth, and you see her grow into someone who understands herself.
Yesterday
Suppose you woke up in a world where no one remembers or knows who the Beatles are? It would seem like an episode of strange things. Right? Well, young British musician Malik wakes up from an accident and is the only one who knows and remembers who the Beatles are. This series is based on the song by John Lennon and Paul McCartney. It makes you wonder if things are as they seem. Sophia plays the role of Malik's friend and has great one-liners such as "its not cold play its not fix you." And when Malik does a rendition of Yesterday, she is once more brought to tears. The film was star-studded by legends such as Ed Sheeran, Lily James, and Kate McKinnon.
Into the Badlands
When Sophia made her American debut into the badlands starring as the badass smuggler ex-wife of Bajie, it came as no surprise to her fans who had just seen her in Flowers. This role was one of many where she would be a badass, stabbing people close to her in the back while remaining poignant as ever. The series set some 300 years on earth after an apocalypse of sorts destroys the old civilizations follows a mighty warrior and a young boy as they go on their quest for enlightenment in a territory controlled by ruthless barons.
End-O
The portrayal of endometriosis in the film industry isn't something that you usually see. That is why it was glorious seeing Sophia cast as Jax in this brilliant short tragicomedy by Elaine Gracie and Alice Seabright. Jax and her older sister Claire both have endometriosis and are confronted by the realities of navigating life while living with endometriosis. The film is raw, and Sophia does a fantastic job of bringing to light an issue that many women suffer silently.
The Darkest Universe
The darkest universe follows Zac (Will Sharpe), an edgy city trader on the verge of a mental breakdown. He's lost his job, his girlfriend (Di Martino), and now his wayward sister(Tiana Ghosh) has gone missing with her boyfriend, who she was living with on a narrowboat. As his search becomes more frantic and his losing grip on reality becomes more evident, the search moves from Alice to himself. Sophia was cast as Zac's girlfriend and delivered an outstanding performance.
Silent Witness
Silent Witness is one of two medical dramas that Sophia has been cast. The series follows a group of forensic pathology experts on their investigations into crimes committed in London. She joined the long-running crime drama for only two episodes. Still, she did a great job as the ambitious inspector Claire Ashby. Inspector Claire is looking into the suspicious murder of a 13-year-old boy. She believes those who commit injustices are those closest to us. From creating nexus events to shattering stereotypes, this Loki variant has a lot in the works. The work includes a new upcoming show, Electrical Life of Louis Wain. It's a biopic of a British artist who painted mind-blowing cat portraits. Sophia Di Martino plays the president of the cat society and also starring Benedict Cumberbatch.