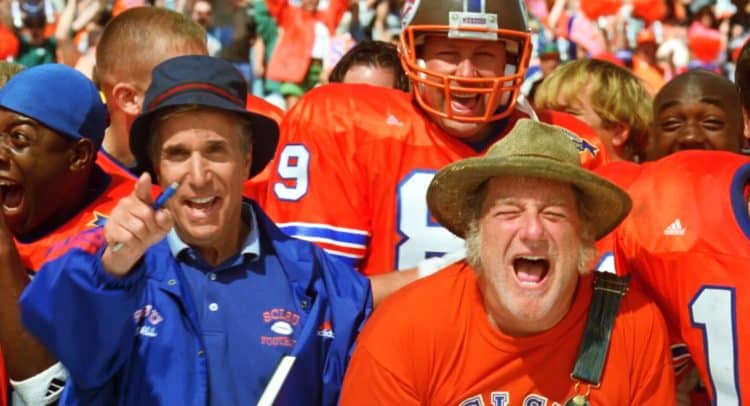 You know you've seen him in a bunch of movies but somehow the actor's name escapes you somehow since you know them by their character names and not their real names. But Blake Clark has been around for a while and he's been a part of several different big-name projects, a few with Adam Sandler as a lot of people surely noticed since Farmer Fran and a few others have been hard to miss. He's been a part of several TV shows as well throughout his long career and reading through his credits is enough to give a person eye strain. Seriously, he's been in a lot of different shows and movies to this point, enough so that people shouldn't have any trouble remembering his name, even though they tend to do so on a regular basis. His characters manage to fall along a spectrum that goes from crazy and hard to understand to serious and definitely dramatic, and the range that this guy has is incredible since looking at him might make one think that he's bound to play the gruff type of individual in anything he does. There are times that he does excel at this type of role, but it's also possible for him to play a very sensitive character that isn't all bluff and bluster. In short, he's a very accomplished actor that's been making people look good for a long time, so remembering his name shouldn't be an issue.
Trying to pin down a few characters to talk about is a little difficult since Blake has quite a few that people tend to remember. But there are a couple that are great enough to be mentioned since Harry from Home Improvement was great since he wasn't exactly a regular character but he was someone that was noticeable when he was there since he was the guy that owned the hardware store and as such was someone that Tim and Al were going to interact with on a fairly regular basis. He was a part of many other shows as well, but this one is a memory that a lot of people likely have since it was one of the best shows of its time. Blake's time in the movies though was definitely something that managed to catapult him forward in terms of his fame, and it's likely that a couple of his turns with Adam Sandler, and there were definitely a few of them, that helped him to become such a well-known face.
One role that people aren't likely to forget was that of Farmer Fran, who was about as cajun as they could get since this guy sounded like he was deep from within the bayou, but spoke in such a garbled manner that it was a wonder that he managed to get by around other people since they couldn't understand him. In The Waterboy he was a funny part of the movie that was still necessary since the Louisiana Mud Dogs were such a pitiful football team that their drunken cheerleading squad, the fact that they had to share equipment, and the idea that they had Farmer Fran as one of their coaches was a good indication of how little money their school actually had. But Farmer Fran was a lot of fun even if no one could tell what he was saying since he was entertaining and had just enough effect on the movie that taking him out wouldn't have been the best idea. He even showed up in Joe Dirt with David Spade for a single scene, but he was credited as Old Cajun Man instead of Farmer Fran, which was kind of funny since it was the same character. But people were still happy to see him anyway. Blake went on to play several other characters in a few Adam Sandler movies such as 50 First Dates, Hubie Halloween, That's My Boy, Bedtime Stories, Grown Ups, and even The Ridiculous 6. He's been a mainstay with Sandler for quite a while, but he's also gone on to do movies with Sandler's buddies a time or two such as he did as an umpire in The Benchwarmers.
He doesn't always play characters that are so completely out there and he doesn't always play down to earth characters that everyone can relate to. To be completely honest, Blake plays whatever character he needs to in order to make the role and the movie, or TV show, work as it should. He's even played the role of Slinky Dog in Toy Story after his good friend Jim Varney passed away since Jim was the original voice of the animated toy. This is a guy that's shown enough talent to be someone worth every dollar he's paid and a lot of people would likely agree since he's one of the better supporting actors out there. But as to not remembering his name, well, don't feel too bad, remembering him for the stuff he's done is a good start at least.