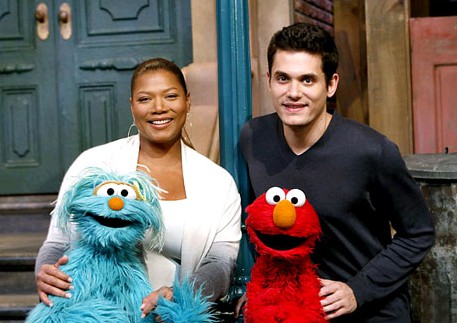 Don't get me wrong, I think it's a great thing when a celebrity makes an appearance on Sesame Street. In fact the biggest stars do it. And most of the time it's because it's the right thing to do (though I'm sure their publicists have something to do with guiding their decisions). It's a fantastic show for kids and it's nice to see them doing their parts in caring for the youth of America. However, it doesn't mean that these celebrities don't look completely hilarious and almost out of place on television. And that's exactly the point. We're so used to seeing these people on screen and up on stage that we rarely see a humbled moment. It's there's one group that can humble celebrities, it's definitely the silly characters on Sesame Street.
Although I have to admit this as well. Sometimes celebrities look downright scary on this show. And if you don't know what I'm talking about simply type in "James Earl Jones" and "Sesame Street" into Youtube. It's easily the scariest demonstration of how to count to ten that I've ever seen in my entire life. No worries on that one as I've included it below.
In any event, here are 10 celebrities who looked kind of funny on Sesame Street.
Ben Stiller's Neighborhood
Neil Patrick Harris Has Telly's Shoes
Natalie Portman as an Elephant
John Leguizamo as Captain Vegetable
Anderson Cooper in a Garbage Can
This is Flat out Scary
Elmo and the New York Jets
Spin Doctors
Jack Black Defines Octagon
Lullabies with Ricky Gervais