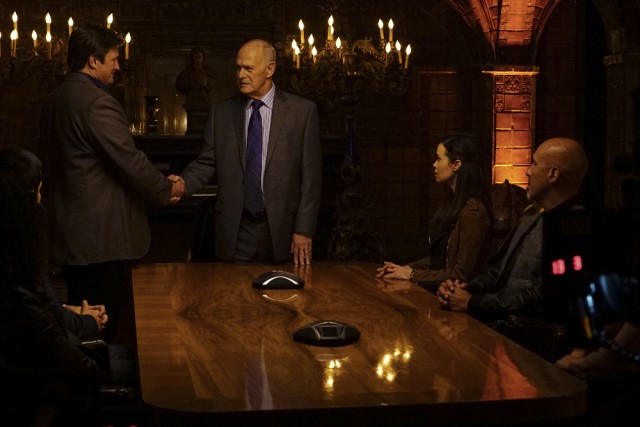 Castle season 8 has been a disappointment to many viewers, but many also hold out hope that somehow Castle is going to turn back into the show they loved for years. I've said this the season before, but this week's episode of Castle should make the most loyal Castle fans realize that it is not going to happen. This isn't about labeling anything good or bad. However, if you are waiting for Castle to go back to the central idea of the adventures of writer Richard Castle (Nathan Fillion) and his muse Kate Beckett (Stana Katic) as crime-solving and romantic duo, you are wasting your time. Don't believe me? Check out this sneak peek for Monday's episode.
[youtube https://www.youtube.com/watch?v=lG_tkk51V-o?showinfo=0]
Yes, that is Hayley Shipton (Toks Olagundoye) sitting next to writer Richard Castle, (Nathan Fillion) the way Detective Kate Beckett – who is now Captain Kate Beckett (Stana Katic) – has sat for years. The only difference in the setup is he's doing nearly all the talking. There is even a moment of Hayley smiling with pride/amusement as the new head of the studio shares he'd just been talking about "Rick." He goes on to say that the old studio "dropped the ball" on Castle's vision, even though this guy fought for it. Still, the new studio head has exciting news for Castle:
Now that I am running the studio – it is time to get back into the Richard Castle business.
Being that this is a show that historically loves to encode messages and opinions about the show into the script it's difficult to ignore the point being made. Especially since this idea of changing the premise of Castle to center on just the writer has been trending on the show for a while. Castle 6 x 23 was done so that Castle season 7 could be more focused on Castle's character, and Castle season 7 tried to do it. They did a number of things to give more focus to Castle, not the least of which was having him get a P.I. license.
What's Wrong With Focusing on Just Castle?
Before someone says I'm gunning for Richard Castle, let me just point out that in season 6 the Beckett-heavy episodes "In the Belly of the Beast" and "Veritas" also had lower numbers than other episodes that season and of episodes in that time slot for Castle season 5. Castle has been built on the story of a writer and his muse, so when it deviates from that – whether that be heavily Beckett or heavily Castle – the numbers have suffered. However, the Beckett-centric episodes didn't negatively affect the overall season 6 the way the P.I. arc did season 7. That's because there's a big difference with the Beckett arcs that occurred in season 6 and the shift to focus on Richard Castle in seasons 7 and 8.
While the season six finale did some damage to the season seven premiere numbers the first serious ratings drop occurs with the fourth episode "Child's Play" which was billed as an episode featuring Castle going undercover in a classroom – without Beckett. That episode got what, at the time, was the lowest demo rating ever – a 1.5 (www.seriesmonitor.com). Also, for an episode with a Dancing With the Stars lead in it had some of the lowest numbers of viewers as well. The show started to climb out of that ratings hole with the wedding and honeymoon episodes, but the ratings took another hit with the Castle-focused episodes, "The Last Action Hero" and "Bad Santa." The Castle P.I. episodes would drop the numbers even lower. (Even given the lack of a lead in, compared to episodes from the same time period in Castle season 6 those P.I. episodes showed a clear drop off.)
Someone over at Castle was paying attention to how those Castle-focused episodes like "Child's Play" were affecting the ratings because the second half of season 7 saw the show start to do more with Beckett's character. Castle becomes less childish and silly, and there was more of Castle and Beckett working together. It's too little, too late. The ratings go up some, but not enough to keep Castle from posting a seasonal loss in viewership for the first time ever – to the tune of nearly 2 million (www.en.wikipedia.org). None of the Beckett-focused episodes had this kind of effect.
This is because the mystery of Johanna Beckett's murder and its effect on Beckett wasn't about changing the show's DNA. The story was built-in from the start to explain some things about Beckett's character. (I mean, who would be so resistant to a charmer like Castle? There had to be a reason!) It also contributed to building the relationship between the writer and the muse – which is the engine that has driven the show. Unlike what is going on with Castle P.I. and the LokSat mythology, Beckett pursuing her mother's murder didn't change the engine. She stayed a detective and Castle was her partner whose outside the box thinking and memory of an insane amount of trivia helped crack open cases.
One could argue that there was another Beckett arc that was attempted DNA change – when at the beginning of season six Beckett was in D.C. as a federal agent. Why didn't that cause a major ratings drop? First of all, if that story was attempting to significantly change the show then Castle creator, and at the time showrunner, Andrew Marlowe pulled off an incredibly fast course correction. It would have had to have been based on the fans rumbling before the premiere even aired. The Castle season 6 filming dates show they were already filming episode 6 x 7 by the time season 6 premiered.
Another thing that made the D.C. arc different from Castle P.I. is there was a general perception that the D.C. arc was temporary. Because of that the commentary of various sites have viewers more upset about the new boyfriend of Alexis Castle (Molly Quinn) than Beckett's new job. Even if a viewer hated Beckett being in D.C. the belief that it was basically going to be a two-parter made it easier to watch. The Castle P.I. arc in season 7 was seen as being more open-ended and as a device created just to split up Castle and Beckett. The first two episodes did in fact have them not working together much. It was very similar to "Child's Play."
In contrast, the fact that the D.C. arc changes the venue of the show and Beckett's title it doesn't really change the show's central focus. The premiere has them getting engaged, then it shifts to them trying to handle a long-distance relationship, and then Castle ends up getting involved in Beckett's case. The second episode was Castle and Beckett racing against the clock to find an antidote to save his life. By the third episode Beckett is in New York and on the familiar turf of the 12th precinct. We get the gang back together in a situation that shows reasons why this new job isn't right for Beckett, and a lot of Caskett interaction. Sure, the ending of that third episode was odd. I'll always wonder why they didn't just have her quit – but it did what it needed to do which was bring her back to New York.
All in all being in D.C. didn't change much of Caskett or drop in the ratings much. It's "In the Belly of the Beast" and "Veritas" that came in significantly lower than those episode numbers in the prior season. Still, they didn't affect the overall viewership numbers because most viewers came right back for the next episode. This didn't happen so much in with the Castle season 7 episodes about Rick Castle because it wasn't just about an episode here and there. There was a major change in how the show was being done. Focusing on Castle instead of on Castle and Beckett changes the formula that made Castle a success in the first place. That's why it's a problem.
The Risks in Changing Castle's Premise
This problem isn't just a Castle thing. Regardless of the business, a brand risks losing their consumer base when they start trying to change the product.
Oftentimes, brands miss the mark (however well-intentioned) and disrupt consumer loyalty because they take creative risks that are not in-tune with their consumers. (www.Forbes.com)
To say that the Castle season 8 showrunners Alexi Hawley and Terence Paul Winter are not in-tune with consumers of the show is putting it mildly. While the comments, reviews and ratings have said the splitting up of Castle and Beckett and the LokSat storyline have been horrible, the showrunners continue to say these have been great ideas and a lot of "fun." Then there's this latest comment from Hawley in a recent blurb from ew.com:
"Our hope is to get to a place where they do get to confront LokSat and get something satisfying," he adds. "It would be great to have something of a cliffhanger."
Seriously? Where is he getting this from? It's certainly not from the viewers! A look back to a January interview in Deadline will tell you exactly where.
"I think going out with a cliffhanger of sorts always helps you when you come back. When we came back this year, it had a conclusion last year, and I think ultimately it was a little harder for us to get out of the gate because people didn't have anything driving them back."
Anyone who actually saw the Castle season 7 finale, "Hollander's Woods" knows that statement is a bunch of malarkey. The episode wrapped the case but viewers had no idea if Beckett was going to go after a state senator's job, wait to get her police precinct, or tell Castle that she was pregnant. It was the new showrunners that chose to announce that Beckett was coming back as a police captain. Even the news that May about Penny Johnson Jerald not coming back didn't make it clear Beckett would be captain, the show could have been shifting Beckett into running for senator. I'd say rookie mistake but this isn't Hawley's first time being a co-showrunner. The low ratings for the Castle season 8 premiere likely had more to do with the mass of changes being introduced: Beckett as Captain, Castle back as a P.I. and the new character of Hayley. It was – and is – a major change in the show's structure.
In particular, the choice to bring back Castle as a P.I. is strange when you consider how poorly it did in season 7. However, it's not strange if you realize that Castle as a P.I. has been part of trying to change the show to make Richard Castle the center of it. That idea fits into the idea of a spinoff.
A TV spinoff is a television show that takes either a character from another show, or similar plot structures and the same fictional universe, to create a new program. (www.wisegeek.com)
What doesn't fit the idea of a spinoff is that these changes to Castle are all being made while still calling it Castle. This is like trying to say the show Frasier is the same as Cheers, or that The Closer is the same as Major Crimes.
Is Castle Becoming the "New Coke"?
I get it. Brand loyalty is something all products – and to be clear, a TV show is a product – hope for. ABC is trying to keep the show's audience, by continuing to say this is Castle, . What everyone at Castle seems to have forgotten is that brand loyalty is based on an expectation of the product being essentially what it's always been. What can happen if a company drastically changes the formula? Well, remember the New Coke? Exactly. (If you don't remember this, that's even more to the point.)
The soda Coke was doing pretty well, but the company that makes it saw a slight slippage in their market share. Their solution was to retire the soda's original formula and replace it with the formula for Diet Coke – only whatever low-calorie sweetener is in Diet Coke was replaced with corn syrup. They didn't even really change the name of the soda, they just announced to the world they were changing it.
What they didn't bother to check in about was the thoughts of the consumers of their product. It turned out that most of them didn't like the new Coke. To make a long story short, the backlash was so severe that within a few months the company started making both versions of the drink before quietly phasing out the "New Coke."
The people at Coke only took a few months to realize their mistake and fix it. Not all companies move as quickly. A less well-know example is the Necco Wafers fiasco. (I got this from www.thestreet.com and if you have time to read it, it's hilarious. They have 6 different examples of these kinds of screwups)
Necco Wafers have been around since 1912, and the candy company was doing fine until 2009 when it was decided to "completely change the makeup of the product." They started getting massive amounts of consumer complaints, but for two years said the changes were fun good – and watched their sales drop 35 percent. They switched back to the original formulas in 2011.
Castle, "The G.D.S."
Unfortunately, the formula changes that have been made in Castle season 8 shows no signs of going away. Toks Olagundoye's character Hayley is a series regular. All the things that weren't working in season 7 have come back ten-fold. It's not just Castle as a P.I., but Alexis and Castle pairings ("In Plane Sight" tied for the lowest demo for that season) and long Richard Castle comedy sketches. Then there's the press release for Monday's episode.
CASTLE RETURNS TO LOS ANGELES IN SEARCH OF ANSWERS ABOUT HIS MISSING TIME, ON ABC'S "CASTLE"

Summer Glau and Gerald McRaney Guest Star

"The G.D.S." — Castle returns to the City of Angels in search of answers about his missing time. But things take a deadly turn when he's recruited by the legendary Greatest Detective Society to help solve a murder, on "Castle," MONDAY, MARCH 7 (10:01-11:00 p.m. EST), on the ABC Television Network. Summer Glau guest stars as Kendall Frost, a heady private detective in Los Angeles who competes with Castle to try solving the murder, plus Gerald McRaney guest stars as Mason Wood, the head of the Greatest Detective Society.
Is it just an interesting coincidence that Castle season 8 episode 14 will be taking us back to deal with what happened to Castle after the car crash in Castle 6 x 23 – which is what started all of these changes in the first place? In that same Deadline interview with Hawley mentioned earlier he says a few things that make is seem like it's not.
"This season was a little bit of a transition, getting Castle into the PI office and setting that world up for him to give him that drive," Hawley said. "We wanted to wrap up a lot of the threads of different conspiracies, Beckett's mother's murder, Castle's missing time. We wanted by the end of Season 8 to have gotten through all those – hopefully in a compelling and satisfying way – so Season 9 can be more about the case of the week, going back to the fun of solving the case of the week and not have the luggage of past conspiracies."
I'm not going to rant much about the fact that Beckett's mother's murder story didn't have any threads. That story was satisfying wrapped tight like a mummy until Hawley decided to dig up its corpse. The real point is that he says this season was about setting up "that world" for Castle as a P.I. – for season 9!
Castle, "The G.D.S" is the title of Monday's episode. However, the explanation of what those letters stands for ("The Greatest Detective Society") might as well be saying "welcome to the new three-letter agency Castle will be working for." Even if the G.D.S. turns out to be a ruse in this episode concept has been introduced. Now it can be brought back again at any given time – much like Castle P.I. went away in season 7 only to come back in season 8 with two new partners. Want a look at what a Castle spinoff may look like? Here's the second sneak peek:
[youtube https://www.youtube.com/watch?v=le6rJJolSU0?rel=0&showinfo=0]
At the beginning of this article I said the changes being made aren't about being good or bad. This is true. People like what they like. Some people did love the New Coke. Some are enjoying the new Castle. It's also true that not all brand changes fail.
Take TNT's The Closer spinoff, Major Crimes. If Castle has to do a spinoff for similar reasons as The Closer did, they should have used TNT's strategy – aka honesty way ahead of time. Viewers knew what was coming and why. TNT also never tried to suggest that the new show would be the same as the old one, and the producers didn't change Brenda's character traits and history to make the transition. Instead The Closer did a plausible and seamless storyline to make its changes. Over at ABC's Castle viewers have not had these kinds of considerations.
Will Castle get a season 9? I have no idea. However, whether both leads come back or not, a season 9 is going to be even more of what's been going on in season 8. That's the thing viewers need to realize and then decide for themselves how they want to handle it. Love the new stuff? Good, because there's gonna be a lot more of it. This is not a spoiler alert, but do consider yourself warned. This Monday is Castle, "The G.D.S. " alright. It's (and I'll say this politely) Castle, The Gosh Darn Spinoff.
Tell us what's wrong with this post? How could we improve it? :)
Let us improve this post!