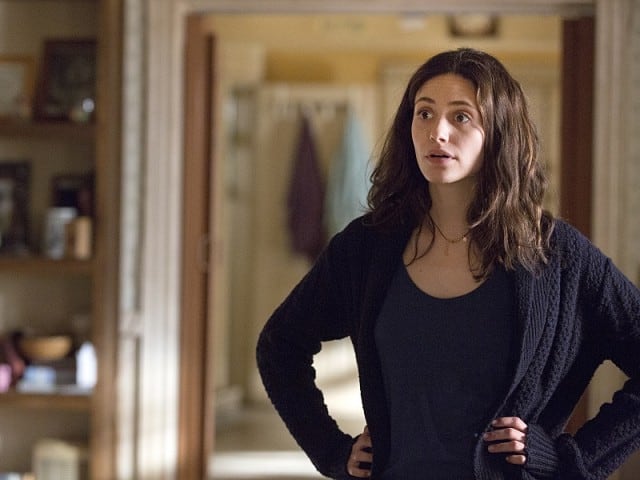 Showtime's insane family drama Shameless is back and crazier than ever. "I Only Miss Her When I'm Breathing" carried several key themes through it from last season, and added a few new problems I can't wait to see play out.
If you recall from last season (how could you forget?), Frank lost his dear dying Bianca…and he's still not over it. He spent his time in this episode reminding his 'loved ones' how much he truly loves them, and hanging around late Bianca's grave doing grossly inappropriate things. Frank even has a brief spout searching for the reason God took Bianca away from him. He doesn't learn why at the end of the episode, and he's still annoying the entire Gallagher household with his antics. Business as usual.
Meanwhile, Fiona finally takes Debbie to Planned Parenthood to get a pregnancy test. The nurse gives Debbie a positive result, and Debbie refuses to discuss any of the options the clinic offers. Debbie walks out and lies to Fiona, telling her she's not pregnant. Yes! What an excellent conflict! This could tear Fi and Debbie apart, maybe even for good. I can honestly say that this could be one of my favorite new subplots on Shameless. Debbie is such a strong character, and I cannot wait to see how the writers challenge her this season.
Debbie continues her plan to only tell her pseudo-boyfriend, Derrick, about the pregnancy, and of course, he wants to tell his parents and discuss their options. Poor Debbie; she doesn't even see how terrified he is of the whole situation. She goes to her appointment alone, and when she shows up at his house afterward to find him, he's gone. He doesn't seem to be coming back either; he ran away all the way to Florida. The episode ends with Derrick's parents showing up just to discuss the secret Debbie is keeping. That didn't last long at all.
Speaking of Fiona, unfortunately, she is still with her boss, Sean. Everything feels very predictable with Fiona so far. I made that complaint last season, and it is only the first episode, so a lot could change…but it better change fast, because Shameless can't stand stagnant with an idle lead. Sean's assistant manager gets fired for a massive possession charge, and guess who's going to take the position? Our girl, Fiona.
Fiona gets a nice surprise when Carl comes home a few months early from Juvie. Carl has changed a lot, and at the moment, the gimmick straddles the line between awkward and funny. As Carl leaves the detention facility, all of the black kids call him "White Boy Carl" and high five him as he goes. Sure enough, Carl has the hair to match, and clearly a new attitude on life. Long gone is the Carl who occasionally set things on fire in the house. Fi holds an impromptu party for Carl's return, and it's short-lived because Carl invites his quiet, but giant friend Nick to live with them, and they leave the house as soon as Nick arrives. I'm interested to see how long Shameless wants to go with this new Carl, but I don't think it will be long before he gets a real wake-up call.
Then we have Lip, who like Fiona, has several opportunities waiting at his feet. He is still with Helen, his professor from last semester, and now he's a Teacher's Assistant for a physics professor (who is not unlike Frank in his extra-curricular activities). Helen suggests that Lip use the time when the professor is absent to teach the class himself, and he does. I'm no physicist, but he sounds pretty good as a physics professor. Apparently, the professor thinks he's pretty good, too, because he tells him he should look into being a professor himself.
Lip also hears a rumor that Helen has a new boy-toy, and he goes prowling around her house to find out. He immediately picks a fight with a young guy leaving her house and wouldn't you know, he's her son Dylan. Smooth, Lip! Later, Helen confronts him about the whole scene and instead of making excuses Lip owns up to what he did and apologizes. I'm excited for how much Lip grew last season, and clearly he will have more development as we move through this sixth season.
Now for the minor characters who will never get as much screen time as they should: Svetlana, V, Kev, Ian, and Mickey. In "I Only Miss Her When I'm Breathing," we learn that the gentrification is only going to continue. Some of it benefits our lovable group, but most of it is not so great. V and Kev deal with the Lisas complaining about Yanis, a loud neighbor making an extra amount of noise just to make them mad. Kev makes a good point in saying, "You're in the ghetto, it's loud in the ghetto." Even so, he tries to talk to Yanis about keeping the noise down because it affects his daughter's sleep schedule, too.
On the flipside, hipsters are coming to the Alibi just to get an authentic feel for Chicago. It's very objectifying, but Lana, V, and Kev don't really care because the hipsters are paying twenty dollars for drinks. Lana also wrangles Ian into coming to jail to see Mickey, and she has to pay him to get him there. She has a crazy ulterior motive though, she and Mickey are taking requests for murders inside the prison and they are making a lot of money.
We only get one scene with Mickey and Ian, and it is a sad one. Not only does Mickey misspell Ian's name on a new tattoo, but it turns out that he will be in prison for fifteen years ("It'll be eight with overcrowding"). I hope something crazy happens so Mickey will be out of prison soon, because I don't know if I can take a whole season without Mickey and Ian's antics.
Overall, this was a really well-balanced episode, and it was great for the premiere. I am especially excited to see where Shameless takes Debbie this season, and I cannot wait to see how this gentrification plot pans out. Maybe Shameless will finally give Fiona a less predictable path this season, and who knows, will we see the return of Sheila? If Shameless can keep up this level of crazy for one more season, I know I'll be satisfied!
[Photo via Showtime]
Shameless Season 6 Episode 1Review: "I Only Miss Her When I'm Breathing"
Summary
The Gallaghers take on several new conflicts and opportunities in Shameless' Season 6 premiere.