We're very excited to have spoken to Penny Johnson Jerald who plays Captain Victoria "Iron" Gates on Castle. Penny is a very wonderful, deep, and insightful woman and it's great that she brings that to the role of Captain Gates. She was a delight to talk to and I wish I could pick her brain about a lot of things! In this coming episode, we get to meet her sister, but all is not well between the two women. They've been estranged for a matter of years, but a Wall Street case brings them back together. Here's what Penny and I discussed:
Capt. Gates' sister is played by Salli Richardson-Whitfield, who's best known for her role on Eureka. Penny had nothing but awesome things to say about her. "When you're working with a real beauty, not just physical beauty, but something deeper, to play your sister, you think 'some of that must be in me!' I really enjoyed working with her, it was really such wonderful casting. And she looks like she can be my sister! We have similar personalities." Penny said her real life sister will also feature in this episode, gotta keep a look out for her!
The two sisters aren't speaking, but Penny sassily replied, "Oh, words will be spoken!" The two women have been estranged, but we'll see if they choose to remain so.
Penny was excited to get some more tidbits about her character. We've gotten a few before–we know she's married and collects dolls–but the difference here is that "in the flesh we get to see what her family might be like." We don't get to meet Mr. Gates, but I asked Penny who she'd like to see play him. "I've been watching so many good looking gentleman in films lately, I can't really choose, but I think Jeffrey Wright would be a great choice." We say the same! The Hunger Games: Catching Fire star looks like he could be a great amiable foil for Gates' tough exterior!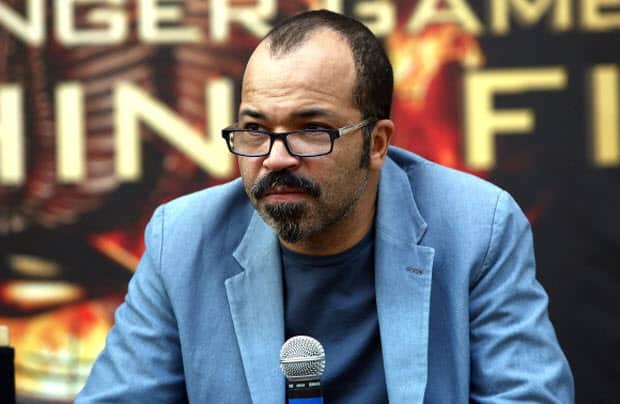 Finally, I asked Penny if there were three words or some phrases that might describe the episode. "Mirror, mirror" or "see thyself." She elaborated saying, "Anytime you have siblings, in an episode or even in real life, it forces you to reflect. We see something in ourselves we want to change." And with that, I'm left wondering what about Gates she sees in her sister that she perhaps doesn't like about herself. Is that what caused the estrangement?
I can't wait to see Monday's episode, and I was so inspired by Penny's depth and investment in her character and the other characters on the show.
Castle, "The Greater Good," airs on Monday at 10/9c, on ABC. For more Castle, head to the show's site here.
[Photos via Angela Weiss/Getty and Paul Zimmerman/Getty]
Tell us what's wrong with this post? How could we improve it? :)
Let us improve this post!