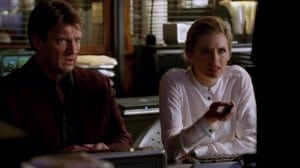 Well, I don't know about you guys, but last night's Castle was one of the most entertaining episodes of the series thus far for me. See, "Scared to Death" had everything that attracted me to this show in the first place. It was hilarious, it had amazing suspense – I was really creeped out by that video, honestly – and a very nice balance of case of the week, humor, drama and the relationship between all major characters.
I really, really loved it. I found myself laughing out loud a lot and it was great to see how they always split up in the same teams when it comes to these unexplainable events. Ryan and Castle are always believers, while Beckett and Espo always choose to be skeptical of the other pair's theories. Although one of my favorite scenes was when Kate and Esposito went to that creepy hotel and how he was trying to play cool when he was clearly terrified. Hilarious.
Not to mention how the case got creepier and creepier the further we got into the episode and I was at the edge of my seat when Beckett went into the woods alone and whoever it was she was chasing just disappeared in the middle of the fog. Also, I got a kick out of the fact that the killer was a girl named Amanda seeking revenge for her father's death. Nicely played, TPTB. Nicely played, even if it wasn't intentional.
But what I really loved about this episode was the camaraderie between the characters and the teasing and how comfortable they are around each other. I also absolutely adored that they finally seemed to get the hang of showing some intimate scenes with Castle and Beckett and that they got the message that intimacy doesn't necessarily mean sex. Every single scene between them had a touch of domesticity and how comfortable they are in their relationship. It was just so amazing to watch. Also, Kate's thing with the ice cubes? Fantastic nod to season 3, TPTB. Great to see that you realized you can pull stuff from past episodes and that it doesn't hurt the storyline. So no need to be afraid to do it again.
And that last scene with the bucket list. So, so amazing. See, this is the Castle I got addicted to all the way back in 2009. This is the kind of episode that I want to watch when I tune in. So please, you finally seem to have gotten the hang of Castle and Beckett's relationship and how to mix it in with the case of the week and the other characters' storyline. Just keep it up.
A+
Tell us what's wrong with this post? How could we improve it? :)
Let us improve this post!