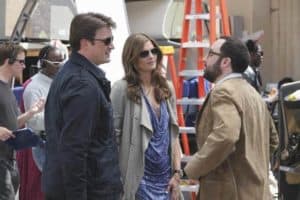 Castle fans, you have just died and gone to heaven.
You know how ABC usually airs a promo for an all new episode only one week before it's scheduled to air? They changed the rules and released the promo for the LA episode tonight.
I know, I am bursting with excitement too.
From what we can see from the 30-second clip, things will be very, very interesting in the City of Angels. We have now confirmed that Mike Royce is the one who dies and prompts Beckett's sudden urge to go rogue and investigate his murder on her own. Castle obviously tags along and they end up in Los Angeles.
Lots of action, excitement and – dare I say it – romance seem to in store for us in this highly anticipated episode. They are going to have an extensive list of guest stars, including KISS' Gene Simmons. Aside from Simmons (who will appear as himself), Prison Break alum Dominic Purcell, will play a movie producer who may find himself connected to the murder; D. B. Sweeney will be an LA Robbery Detective that will question our dynamic duo about their little investigation; Off The Map's Jason George will guest star as an entrepreneur who crosses paths with Castle and Beckett along the way, and ends up being a key character in solving the murder; Ryan Deal and Justice Gamble will also appear as the actors who will play Detectives Raley and Ochoa in the fictional big screen.
Beckett follows a trail of a suspect on Royce's murder all the way to LA, do a little investigating on their own — of course they're going rogue since Beckett is entirely too close to the victim and shouldn't even be anywhere near the case — bump into all these new characters along the way and still find time to visit the Heat Wave set.
And, of course, they're sharing a hotel suite. Have I mentioned there's a pool scene?
This is going to be a very long two-week wait.
"To Love and Die in LA" is scheduled to air May 2nd, at 10pm, on ABC.