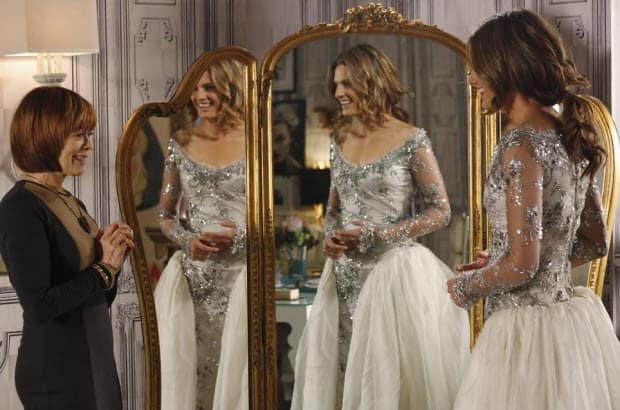 Castle and Beckett uncover some hot fashions and warm up some cold feet (sorry, couldn't resist). When our duo meets the world of the Devil Meets Prada, we bring back some of Beckett's backstory and getting a free wedding dress out of it!
The assistant to the hottest high fashion magazine owner is found murdered in a dumpster. When Castle and Beckett head to Modern Fashion's headquarters to investigate, the new assistant asks, "Do you know what happened to the last assistant?" "Yeah. She's dead." Modern Fashion's fierce leader is Matilda King, played by Frances Fisher, who enters every bit the Meryl Streep wannabe (complete with tossing her coat to her assistant). But what Castle doesn't know, is that Kate has met Matilda before, back in her (very brief) modeling days. Matilda hasn't forgotten "those cheekbones," and is as pleased as a person like her can be to see an old model who turned her down.
Our victim, Ella, was having a rough month. Her designs were stolen, her work was being tampered with, she was being wooed for corporate espionage, she was fired, then murdered and placed in a dumpster. Poor girl! The designer who stole her designs was in cahoots with Julian–from Matilda's editorial team–who wanted Matilda's job during a takeover by new management who wanted to propel Modern Fashion into the future, but away from the core of what Matilda believed in. Julian decided to kill Ella before she could spill the beans to their Couture Chic rivals.
The case has a lot of suspects, but Pink Shirt (also known as Julian) was my first guess. I'm pleased to say I was right for once. I loved how Castle wanted the case to be about something bigger and more secretive than high fashion– La Femme Nikita! Also case-wise, Castle got some information by giving up his Knicks tickets; I'm sure those really only hurt Ryan and Esposito…
In the nuptials department, we got several little bumps and turns of wedding planning all in one episode. Castle and Beckett chose a location, didn't want to wait for the location, didn't have to wait for the location, turned down the location, then wanted a location for the same time frame but have to pick a different location. Phew! We also might be getting a finale wedding as opposed to a season 7 premiere wedding. I wonder what the reason for the back and forth in dates is–is it mere realism? Or was a premiere wedding in the works, then a different story made them want to take it in a different direction. It's hard to see them not ending the season on a wedding, but I also await a cliffhanger that prevents them from getting married until the fall…
Beckett has a bit of a roller coaster of emotions herself in this as well. She's been so happy and excited for the wedding, and that hasn't dissipated, but it has finally hit her that her mother won't be there for this. Matilda mentions that if she had a daughter "this is exactly the kind of dress [she] would want for her." With her standing there in that wedding dress–which I don't love, but might feel differently about when she's all done up with hair and make-up and Castle in a tux–she subtly touches the spot where her mothers ring sat all those years, where she was shot in search for her mother's killer, and it hits her that her mother isn't standing behind her. And it gives her pause. I hope they continue some of this thread, because it's a real shadow to the upcoming joyous event. She may have more closure than she did before, but it doesn't make her mother's death go away. That loss will always be there, even when she's at her happiest.
Also, an interesting piece of detail to notice is that Kate turned down Matilda for the January 1999 cover of Modern Fashion. Some see that as a reference to Beckett's Mom's murder (which happened on the 9th of that month), but she couldn't have turned it down the same month is came out, as magazines are laid out and shot well in advance (unless it's a writer error?), but it is interesting timing. Beckett quit the modeling business probably right before Stanford (if it's her summer before college), choosing be begin the steps towards her then desired law degree instead of modeling. But it makes one wonder what Beckett's life would have been like should she have kept at it a little longer, considering when her mother dies.
Kate takes a moment alone, heading to her own apartment (she still lives there? goodness), to find the doorman, I suppose, left a large package in her living room. It's the dress she tried on, from Matilda, to wear at her wedding. Kate's cold feet evaporate a bit, further as she cozies up to Castle and his kisses, and tells him her hesitations. She tells him she wishes her mother could have met him, "She would have loved you," which we all knew she'd say. And it's beautiful and heart-warming anyway.
So Kate has a dress, ideas for locations, and a sooner than anticipated wedding date. I think the wedding tension will only amp up from here; a sooner date means more scrambling to get things done! I can't wait for my official wedding invitation!
Quotes
[RE: Blue hairs] "So she was killed by a little old lady. or Katie Perry."

"Do you have any idea what happened to the last assistant?!" "Yeah, she's dead"

"I never could forget those cheekbones."

"Hey Beckett." "And Castle." "Sure."

"I don't want to waste any more time."

"Murder is not his type of accessory."

"She would have loved you."
[Photo via Richard Cartwright/ABC]