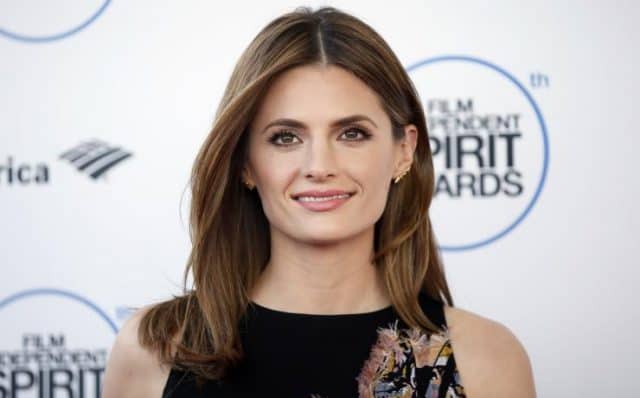 All good things must come to an end, but some things end better than others. After ABC Studios made the odd decision to fire Castle co-star Stana Katic for "budgetary reasons" ABC wisely canceled the show. Since then the actress has been praised for her work in two film projects and her stint in the thought-provoking Off-Broadway show White Rabbit Red Rabbit. Now Deadline is reporting that Katic is set to star in Absentia, a crime drama ordered by Sony Pictures Television's worldwide AXN channel.
Oded Ruskin, known for the hit Israeli series False Flag, will direct all ten episodes of the series. Ruskin also will produce with Masha TV's Maria Feldman (Homeland, False Flag), Ruskin and Julie Glucksman.
The show features Katic playing a FBI agent who disappeared while hunting a notorious serial killer. She was assumed dead, but shows up six years later with no memory of those years. Her homecoming isn't great either. Her husband's remarried and their child is being raised by his wife. Then a new series of murders begin – and she's the primary suspect! Yikes!
Absentia fits perfectly with the actress's past artistic choices. A strong supporter of smart independent and international films, Katic has done several of them. The most recent is The Rendevous, which premiered in October at the Mill Valley Film Festival.
The Rendevous was directed by the Jordanian-American independent filmmaker Amin Matalqa. His film Captain Abu is a Sundance award-winner, and got an Oscar nomination for best foreign film. Now she's cast in a series production filled with international players that will be seen on Sony's world-wide AXN network.
Assessing Absentia – Why it's Likely to Succeed
What's particularly striking about the news is how Absentia is yet another sign of the change in the kind of television that's being made these days. This year HBO's Game of Thrones chose to release the premiere globally instead of by market. The British Downton Abbey received numerous Emmy nominations for every season it was on. Rookie Blue, a police procedural based in Canada, was a solid performer in the U.S. market. The idea that a television show should be geared towards a particular country is quickly becoming obsolete.
Equally out of vogue is the idea that a woman can't carry a series. Furthermore, female characters that are strong, unconventional, and at times even ambiguous in their morality have been successfully leading shows for a while now. We've moved far beyond the idea of Charlie's Angels in the roles women can hold on television.
This trend of full-spectrum female characters didn't happen overnight. It owes a debt to shows like Cagney & Lacey and The X-Files. Back then the idea of a three-dimensional kick*ss women being front and center on aa show was unusual. These days, women are expected to be equal to their male character counterparts on television. When they aren't the audience votes "no thanks" with their remotes. Unfortunately, some studio executives haven't gotten the memo
The Wrap Up
Absentia has all the earmarks of another award-winning scripted series. As Marie Jacobson, EVP, Programming and Production at Sony Pictures TV Networks told Deadline
With a strong lead, Matt's writing, and Oded's direction, we have a signature series packed with suspense, surprise and emotional turns that feels distinctly AXN, and has great global potential.
U.S. fans of Castle and Katic may be wondering how they'll be able to see Absentia. That isn't clear yet. Sony Pictures Television will be handling the distribution of the show in that market, but hasn't started that process yet. With it's content it seems likely that it would end up on one of the cable networks. You never know thought. If the language, sex, and violence factors were FCC passable I'm sure the networks would jump at it. Just look at how NBC and Fox have stepped up their drama programming. However, I'm guessing even if it were FCC approved the one place Sony wouldn't be pitching Absentia to is ABC.