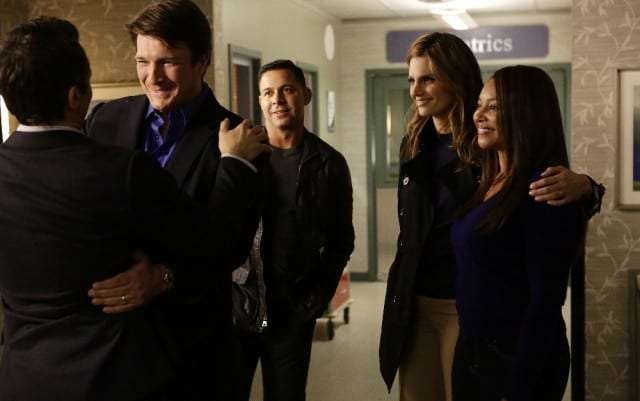 Castle season 8 episode 17 will be playing with its fun and whimsical side! Some might say writer Richard Castle (Nathan Fillion) already found his "Genie in a Bottle" when he met the NYPD detective who is now the 12th precinct's Captain – Kate Beckett (Stana Katic). However that Christina Aguilera song is a metaphor. On this week's episode Castle thinks someone has found a real genie – specifically, he thinks someone has found Aladdin's lamp! Like many of Castle's crazy theories, the sneak peek below shows this one isn't going over well.
[youtube https://www.youtube.com/watch?v=7_7kdfc6zEw&w=560&h=315]
Poor Beckett!  Now she knows how Captain Gates (Penny Johnson Jerald) felt!  Still, Beckett does love her whimsical guy, and Castle does get very cute about his theory!
[youtube https://www.youtube.com/watch?v=fTIupx_lHzE?rel=0&w=560&h=315]
He's so playful, isn't he?
Now, what was that bit in the first sneak peek about the lamp being found between Syria and Turkey? Here's the ABC story synopsis It explains exactly what's going on.
Castle: Death Wish (4/11)
CASTLE AND BECKETT HUNT FOR AN ANTIQUE LAMP AND A KILLER,
ON ABC'S "CASTLE"
"Death Wish" — The murder of a man connected to smuggling Turkish relics sends Castle, Beckett and the 12th Precinct on a search for a stolen antique believed to be Aladdin's lamp, in hopes that it can lead them to the killer, on "Castle," MONDAY, APRIL 11 (10:00-11:00 p.m. EDT) on the ABC Television Network.
Here's another fun point from the first sneak peek:it looks like the bromance between detectives Kevin Ryan (Seamus Dever) and Javier Esposito (Jon Huertas) is going to be on the competitive side this week. I wonder if that's just for the laugh or will it be an ongoing storyline in the episode?
In either case, this episode photo suggests that Ryan may have other things on his mind besides trying to one-up Esposito!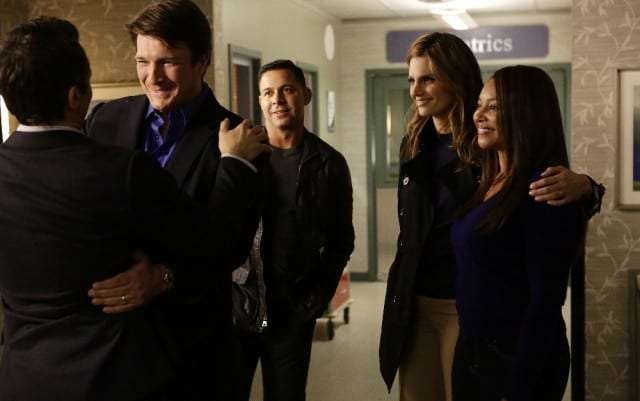 I love happy occasions with the Castle gang! This is going to be so sweet!  
Really, there is much about these episode spoilers that make it feel like Castle season 8 episode 17 will be a classic! Since its second season Castle has customarily had at least one episode a season that plays with themes of the sci-fi/mystic/and the general world of geekery.  Those episodes include:
"Vampire Weekend"
"Punked"
"Undead Again" ("The Killer's a Zombie" has to be one of the funniest line/moments in Castle history!)
"The Final Frontier"
"Time Will Tell"
"Clear and Present Danger"
Although this list doesn't cover all the wacky or strange worlds Castle has delved into, it does suggest that for Castle season 8, "Death Wish" will fit right into this tradition!
The only thing that concerns me about this Castle episode is the promo….
[youtube https://www.youtube.com/watch?v=47cLg1p_2Hs?rel=0&w=560&h=315]
I have zero interest in watching Richard Castle running around in an episode with other women. I don't like it with Hayley, I didn't like in "The G.D.S." with "Summer," and now I'm seeing two other female characters that the promo says Castle, not Castle and Beckett, will be going after. I'm also hoping this episode won't be like the season seven wedding episode which was more about Castle running around in an alternate universe than the actual wedding. It's why I've never bothered to watch it again – I just watch the actual wedding vows.  However, ABC doesn't always make the best promos for Castle.  Hopefully this one isn't representative of what the bulk of Castle season 8, episode 17 will be featuring.
This third sneak peek shows suggests that there at least two scenes with the blonde…but I love how Beckett reminds him to keep his eyes on the genie he's already got!
[youtube https://www.youtube.com/watch?v=XvefHcB38Xo&w=560&h=315]
Nicely played, Beckett! It reminds me of how Beckett got Castle's mind off of playing Scrabble back in season six. The above scene from season eight works well, but it'd be great if there were more chemistry at the end of it. At least it does make the point that Castle being paired with other women isn't ideal!
Regardless of my concerns about Castle hanging out with a harem, I am really looking forward to seeing everyone with Ryan at the hospital to congratulate him on the new baby – even if it does end up being a very short scene. Plus, the scene where Castle, Beckett, Ryan and Esposito looks great. With any luck they'll be more of those kind of scenes and less of Castle with the guest cast. Being that the last two episodes did have many parts that were like classic Castle moments, it's possible that the trend will continue. Let's hope so!
Castle season 8 episode 17 airs Monday, April 11th, at 10pm ET on ABC.