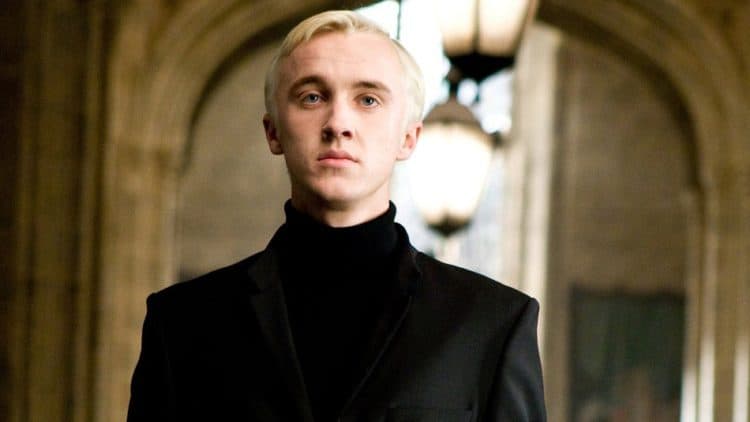 It's been over 20 years already since the first Harry Potter book hit the shelves in 1997. From there, the entire franchise–movies included–has created an entire subculture that only grows by the minute. We grew up with some of the characters, with Harry, Ron, and Hermione. We shared in their sorrows and their triumphs. These characters became part of our lives. While we love the protagonists, some of the best characters from the books weren't always the good ones. Draco Malfoy, for instance, evolved into a truly complex foil to Harry Potter's character. Draco started off as that annoying kid in class, but the pressures of his complicated life made his character arc completely relatable and believable.
This article from Pottermore talked about how Malfoy really wasn't the villain he was made out to be. If there were to be a Draco Malfoy origins movie–and we believe there should be one–it would be a harrowing look into what life looked like for children of Death Eaters. That's certainly a good sell already. But since we're talking about the Malfoys, we know that it's going to be filled with privilege and lots of snark. If we could cast a Draco Malfoy origins movie, this is how we'd do it.
1. Draco Malfoy
We wish Tom Felton could age back in time and play a young Draco once more. He was the perfect cast, and it's going to be difficult to top. But for an origins movie, we'd probably look into someone just a couple of years younger than the first Draco we saw in Harry Potter 1. There aren't many male child actor options today that are young enough to play a younger Draco Malfoy. One actor that comes to mind is 10-year old Matthew Stagg. Stagg is a British actor who is known for his roles in Macbeth and War & Peace. He also played the role of Charlie Budd in the show Bodyguard. He'd have to get his hair dyed to fit the role of the Malfoy family, but we believe he'd do well as a young Draco.
2. Lucius and Narcissa Malfoy
It would only make sense to cast the original actors that played Lucius and Narcissa. That would be the talented Jason Isaacs and Helen McCrory. Both were excellent in the roles. But this article reported that Jason Isaacs originally wanted to play Gilderoy Lockhart. The world of Harry Potter would've been completely different if Isaacs didn't play Lucius. Isaacs said he didn't want to play two children movie villains, as he had already signed on to play Captain Hook in a Peter Pan film. Actress McCrory couldn't have been a better partner for Isaacs on screen. She totally captured what it's like to be a mother in dark moments. Both would be great as younger versions for a Draco origins film. If Isaacs and McCrory are just too aged to play the roles, we could definitely think of younger actors to fill in the roles. Tom Felton would be the obvious choice for Lucius, of course. And as far as Narcissa is concerned, Saoirse Ronan would be perfect for the role–because she's great at anything she does.
3. Crabbe and Goyle
Who would Draco be without his loyal buddies? In a Draco Malfoy movie, we'll also see younger versions of Crabbe and Goyle. It might be interesting to have the film written out, so we'd just be seeing the beginning of the trio's friendship. Actors that come to mind include August Maturo from 2018's The Nun and Zachary Arthur from 2016's The 5th Wave. Both are talented young artists that would be able to handle more equal roles to a Draco character. Younger Crabbe and Goyle will play an important role in young Draco's life, and at their age, they'd be more Draco's partners than his followers.
4. Pre-Harry foil character
In a school setting, it might be important for a Draco film to have a character that's opposite the main role. We can definitely picture Jacob Tremblay to be the anti-Draco in this case. According to Roger Ebert in his review of the 2015 movie Room, Tremblay has the ability to act as though he's not acting at all. That's one skill that many adult actors would love to have. For a Draco origins movie, Tremblay could either be the good kid that almost influences Draco, or he could be the bully that finally pushes Draco over the edge. No matter which role Tremblay would carry, we're pretty sure that he'd be able to pull it off.
5. Other Death Eaters
A Draco Malfoy origins film would be ridden with Death Eaters everywhere. It might be important for young Draco to see how adults interact in this kind of setting, so powerful Death Eaters should be cast. This is where older Jason Isaacs might come in to play. He could definitely portray an influential Death Eater just when the Death Eaters are beginning to form. We could also see the likes of a younger Sirius Black and/or Bellatrix Lestrange. For a young Sirius, someone like Adam Driver would be perfect. He's got the dark looks, and he definitely plays brooding pretty well. Driver's recently been one of the main faces of the Star Wars franchise. For a young Bellatrix Lestrange, Vanessa Hudgens comes to mind for some reason. Hudgens can play damaged pretty well, and what's Bellatrix if not messed up?
6. An important female influence
We believe it's important for Draco to have another female influence in his life apart from his mother. After all, we see the nuances in his character because he was so troubled with the evil he had to commit to doing at the end of Harry Potter. A good female influence could come in the form of a teacher or a nanny. A nanny would make sense given that the Malfoys are wealthy. Scottish actress Rose Leslie would make for a great magical nanny who's good of heart and sound of character. She could very well try to shield Draco's eyes from all the evil that would surround him in an origins film. Without this positive influence in Draco's life at a young age, the Harry Potter stories might have ended differently.