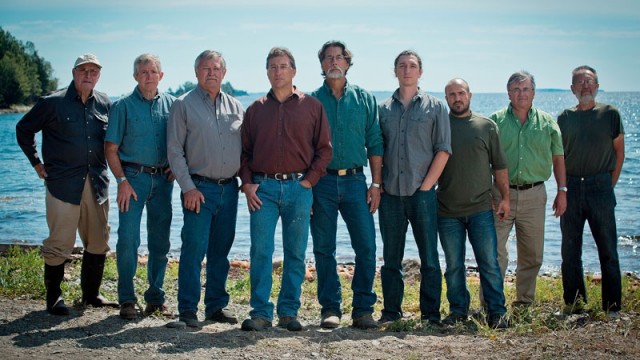 If you haven't yet had the pleasure of sampling The Curse of Oak Island on the History Channel, then you've missed a reality TV hidden gem. Unlike many contest style shows, the 'competitors' on this show are people who have self-assigned the task of finding the fabulous wealth rumored to be hidden on this strange island. This is no mere plot device created by producers; it is a genuine obsession for treasure-hunting. With the sad passing of Dan Blankenship just a short while ago, the show has lost one of its all-time beloved characters. Moreover, the series and the fans, not to mention fellow treasure seekers have lost a great resource. With such a hole in their lives, it may yet be time to consider the future. We aren't suggesting anyone give up their life long dreams, and Dan wouldn't want that. However, we think The Curse of Oak Island would make a stellar Hollywood movie. Making such a film would reinvigorate the myth and bring new life to the island.
Our Story
To honor his life, and because he was a fascinating man, we're going to cast our imaginary movie around a Dan Blankenship story. We'll assume they want to tell the tale of how a normal, upstanding man with his own successful business in Florida caught 'the curse.' Closing down a solid business and moving north to chase what may be only legends is a bold move for anyone. Dan did it with such certainty and fearless resolve. It's worthy of a movie homage. Dan's story has all the hallmarks of a great film. There's an epic quest, conflict, passion, and drama aplenty. He risked his life chasing treasure in a way that draws a comparison to a modern-day Moby Dick set on land. Yet instead of insanity and isolation, he found fulfillment and companionship.
*Special Note
While we recognize that much of the show centers around Rick and Marty Lagina, we thought it would be fun to go with a derivative tale because there is simply so much to work with in making a movie about Oak Island. We feel with the recent loss, giving Dan the first film would bring the most attention to the efforts of the show and the men who make it worth watching. To truly cover the Curse of Oak Island you would need a long-running TV series, and they have that in the bag already. We've chosen actors with comedic range because we love seeing these serious treasure hunting men take time out to joke around on the show every so often. Since we're not casting a documentary, bringing more of the humor into any script would help draw a diverse audience and keep them riveted. We can only hope to do the cast list a bit of justice.
Meet the Cast of Characters
Dan Blankenship – Stanley Tucci
For obvious reasons, we would want to tell the story from earlier years with a movie about Dan. In looking for an actor to play Dan well and do him justice, there are a lot of difficulties. Dan was a storyteller and had a sense of humor. He was a risk taker and had tremendous spirit. Choosing someone to fill those shoes is not easy. We think the incomparable Stanley Tucci might be the man for the job. He's smart and funny, but he's also a storyteller. Stanley shares the spirit and willingness to take risks. He seems like a wise pick, able to play the part to the hilt with humor and a spine of steel. It doesn't hurt that both the original and the actor are known for their eyeglasses.
Laura Baird Blankenship – Nicole Kidman
Though she isn't really seen on the show, Laura would be essential to any story about Dan. Because she is so hard to find information about, we get to make her up as we go along. A screenwriter wouldn't have the same freedom when making the script. For now, we've chosen someone who can tackle almost anything. We think she'd make a good supportive wife for Stanley Tucci as he pursues his dream of becoming instrumental in finding the treasures of Oak Island.
Rick Lagina – Jeff Bridges
It's alright; you can ask if we chose him for the epic beard. Rick does have a great beard, so any actor playing him needs one as well. The honest answer is that it sure didn't hurt our choice, but no, his beard wasn't the clincher on this pick. As unlikely as it may seem, it was his time on The Big Lebowski that made us consider him for the part. He played an excellent counterpoint to his more boisterous supporting actors and showed us that laid back spirit that we think might translate well as Rick's quieter nature.
Marty Lagina – Mark Ruffalo
Yes, our picks can be quite unconventional here, and this is another unexpected choice, but hey, our imagination doesn't have to worry about silly things like budgets or schedule conflicts. Watching Marty speak with such enthusiasm reminds us of some of the roles Mark Ruffalo has taken on. Though he'd have to tone down the slightly frantic edge he often gives his characters, we still think he'd make a decent Marty given a chance.
Craig Tester – J.K. Simmons
We see a lot of wit and heart in Craig Tester throughout the series. He a smart businessman with just enough enthusiasm to be likable, and not so much of any one quality that he steals the show. We think his Hollywood match would be J.K. Simmons, who's affable smile and incredible depth has led him to fame.
Final Thoughts
There is so much backstory, and so many theories about the Curse of Oak Island it's hard to limit ourselves to just one. Perhaps a historical fiction based on the groups who may have used the island over the years to hide their treasures would be just as good. Hopefully, someday they do make a movie about Dan Blankenship or the other characters on the show. Trying to shoehorn it all in would never work, but any feature-length film would be on our to-watch list without question.