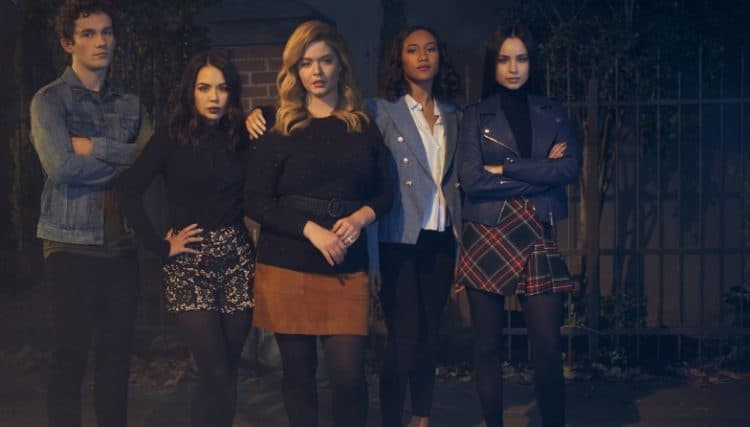 Fans of Pretty Little Liars who were disappointed when the original run of the show ended in 2017 have been eagerly awaiting the spin off show Pretty Little Liars: The Perfectionists. The show aired its first episode in March 2019 and received positive reviews from critics. The show features some cast from the original show as well as a host of new faces. A full list of the main cast can be found below.
Sasha Pieterse – Alison Dilaurentis
Sasha Pieterse is a South African actress who moved to the United States with her parents when she was four years old. Her character, Alison Dilaurentis, was a main character in the original Pretty Little Liars show and this is the role for which she is best known. She has also starred in a number of other popular TV shows such as House, Heroes and Family Affair.
Janel Parrish – Mona Vanderwaal
Janel Parrish's character Mona Vanderwaal was also a main character in the original run of Pretty Little Liars. When the show ended she moved into film work before reprising the role of Mona for The Perfectionists. She had a role in To All The Boys I've Loved Before in 2018 which was one of the most popular films on Netflix that year.
Sofia Carson – Ava Jalali
Sofia Carson is an American actress that is best known for her role as Evie in Disney Descendents. She played this role in the TV shows and movies in the series. The role of Ava is one of the first she has had that has not been connected to Disney in some way. She is twenty six years old but the roles that she plays are often for characters younger than this.
Sydney Park – Caitlin Lewis
Sydney Park is an American actress who has had a number of long standing roles in several other TV shows. Some of the roles that she is best known for include Cyndie in The Walking Dead and the voice of Pru Granger in the Netflix show Spirit Riding Free. One of her first experiences in acting was when she performed "Young, Gifted, and Half Black" in a theater in Los Angeles, a show that she also wrote.
Eli Brown – Dylan Walker
The role of Dylan Walker is Eli Brown's first major acting job. Before he was awarded this role he was best known for his work as a singer-songwriter who had gained a lot of recognition on YouTube. He started off by performing cover songs on his channel before writing and performing his own songs. He has recently been cast in the lead role in the upcoming movie The F*ck It List.
Hayley Erin – Taylor Hotchkiss
Hayley Erin is an American actress who is well known for her roles in The Young And The Restless and General Hospital. She was nominated for a Daytime Emmy Award for Outstanding Younger Actress for her role as Kiki Jerome in General Hospital. She started acting at the age of ten and has also guest starred in many popular shows such as NCIS and Two And A Half Men.
Graeme Thomas King – Jeremy Beckett
Graeme Thomas King is a British actor who has only been acting for a short time. While he was still at school he had a chance encounter on a bus with a filmmaker. The two got chatting and King decided to audition for the a part in the short film she was making. He moved to New York in 2016 to study acting and was awarded the part of Jeremy Beckett in 2018.
Kelly Rutherford – Claire Hotchkiss
Kelly Rutherford is an actress with a career that spans over three decades. She is best known for her role as Lily van der Woodsen in Gossip Girl. She has a lot of experience acting in soaps with regular roles on shows such as Generations and Melrose Place. It has recently been announced that she will also star in the new Dynasty reboot.
Chris Mason – Nolan Hotchkiss
Chris Mason is a British actor who is well-known in the UK for his roles in the TV show Broadchurch and the movie Legend, where he starred alongside Tom Hardy. He has had no formal training but this has not held him back in his acting career. He now lives in Los Angeles where he moved to in order to further his career.