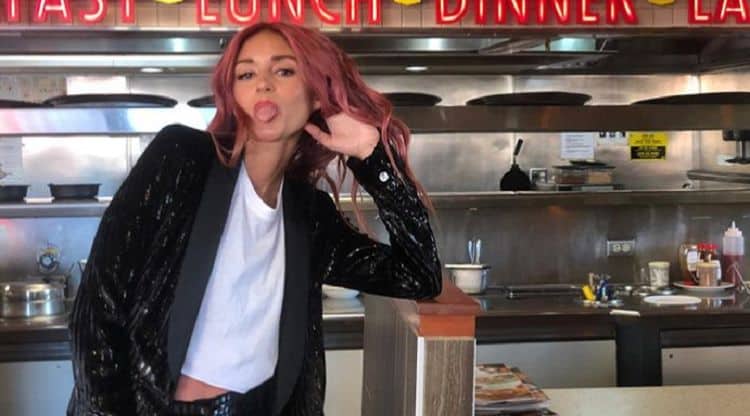 Caroline D'Amore is an American actress and songwriter who is best known for her hit single "Music Man." She has made a name for herself in the entertainment industry, but she is one talented lady who has done a little bit of everything. For all you music lovers who remember her DJ adventures on Heartbeatz, there is a lot more to know about her that you might find intriguing as we did. Here are 10 things that you probably didn't know about Caroline D'Amore.
1. Her Birthday
Caroline D'Amore was born on June 9, 1984. She turned 35 in the summer of 2019. She was born in Los Angeles, California to her parents Bonnie Major and Joe D'Amore. For everyone who was wondering if her last name is a stage name, now you know it is the surname that she was born with.
2. She is a chef
Caroline was born to parents who made the restaurant business their livelihood. Joe and Bonnie founded D'Amore's Pizza Connection in Los Angeles. She has now become the co-owner of the pizza restaurant that her parents established. She also serves as the head chef of the eatery, so she can make a mean pizza.
3. Caroline D'Amore was a model
When Caroline was just 17 years old, she left her family and moved to the Big Apple. New York City was the hot spot for modeling and this was what she wanted to do with her life at the time. She enjoyed a period of success in this era of her life appearing on Teen Vogue, Seventeen, Cosmo Girl, Nylon, Santa Barbara Magazine, and Flaunt. She also worked with several famous designers including Diane von Furstenberg, Stella McCartney, Heatherette, and more.
4. Caroline has a family of her own
One of the first things that fans want to know is the marital status of their favorite celebrities. We learned that Caroline D'Amore is happily married. She and Bobby Alt were wed in August of 2012 and they are still together. The couple had their daughter on April 30, 2015, and named her Isabella Viking Alt. She is a wife and mother.
5. D'Amore is a popular radio personality
Caroline D'Amore is a successful DJ and she is well-known in the music industry. She opened for will.i.am at the Japan MTV Music Awards which started her career in music. She has also worked in Las Vegas at the Hard Rock Hotel serving as the artist in residence at the venue. She produces "DJ Diaries with Caroline D'Amore" which is a web series that delves into what it's like to be a DJ featuring her own experience along with several other popular DJs. She is also the host of the Dash Radio sho "Heartbeatz."
6. She started acting in 2004
Caroline D'Amore made her acting debut in 2004. Her first professional gig was in a comedy horror video that was titled "Ghost Game." She didn't have the lead in the video and although it was a minor part, it was a good starting point. Her next acting job was in 2007 in "Daydreamer." The same year she had a minor role in the TV series "Bad Dad."
7. She has racked up 13 acting credits
D'Amore went on to appear in several short films and videos and as a guest on more popular TV series'. She actually played a DJ or "90120" in 2008. She also appeared in the short "Perfectly Flawed" as a madwoman and made a guest appearance on the series "Entourage."
8. Her last acting job was in 2013
It's been nearly 7 years since Caroline D'Amore has appeared in a television series or film. After landing a few more minor roles between 2008 and 2010, she appeared as Beth in a recurring role on the TV series "The Clinic" in 2010. She went on to appear on "Rollers" the same year, and the last time that she was seen acting in a project was as Katie Jones in the film "American Idiots" in 2013. She has a total of 13 credits in her professional acting portfolio. Although she hasn't appeared in any recent projects, Caroline has certainly kept herself busy with her family and other career endeavors.
9. Caroline D'Amore is a Pizza Pro
In case you're wondering what Caroline has been up to these days, it's been about the pizza. We checked in on her Instagram account and learned that she is currently the CEO of Pizza Girl Inc and she even has an official site for the business. We also discovered that she has created her own pizza sauce which is marketed and it contains vodka in the recipe. She is following in the footsteps of her parents in the restaurant industry and she is doing very well for herself.
10. You can follow her on Instagram
If you're a fan of Caroline D'Amore, then we have a great resource for you. She has an Instagram account and D'Amore is good at keeping it filled with great new updates. It's a haven for fans who enjoy seeing photos of her recent endeavors. So far, she has 50.4 K followers which shows that she is still quite popular. She's made 3,904 posts on the site so she's doing her part to keep loyal fans informed about what is trending in her personal life and in her current career choices. Caroline D'Amore seems to have come full circle at the very young age of 35. She has relentlessly pursued her passions and has been a DJ, songwriter, appeared in music videos, she has acted in films and in television series' and she has also been a successful model. She is still active in radio, but her sights have turned towards business and entrepreneurship. She is an inspiration for women who want to have it all and a family too. She has shown us how it's done.