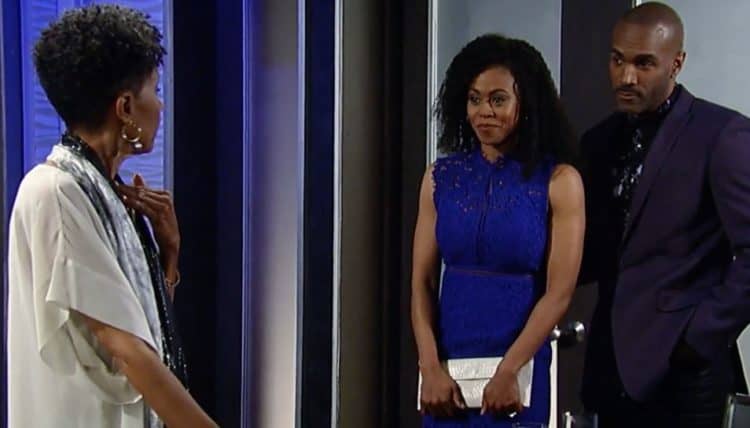 General Hospital fans always want to see more than they get, but that's what makes this show so good. The fact that everyone is willing to do what they can to make this situation easier on everyone is really good, but it's the fact that we can see the final product that makes it all that much better. We saw Nina run into Drew and have some serious words with him. She's hurt, and there is a lot going on in her life she cannot control. She's asked her husband to divorce her, she's unwillingly caught up in all that her friend Liesl is up to despite not wanting anything to do with it. She's in a messy personal situation, and she's scared of what that might mean for her and how it will all play out for her in the long run.
But she's also going to open up to Drew about a few things she's feeling. But that means that other things might be happening. We also saw that Liesl is working very hard to cover her tracks, and that means she might be worried. She was so confident when she took Peter/Henrik and held him, and her confidence is clearly wavering right in front of all of us. She's working very hard to make sure things do not go bad for her, and that might mean things could go very badly for her if she's not careful. She's got a lot on the line now, and she might even be worried about Nina. Which makes us wonder if Nina should be worried for herself. But, we also know that Peter is still working very hard to ask her to let him go and set him free, so there might be that, too.
What's Happening on General Hospital
Jordan and Stella "try" to play nice! (That won't work) @VinessaAntoine #VerneeWatson @GeneralHospital #GH

— Frank Valentini (@valentinifrank) June 18, 2018
Frank Valentini spent the day yesterday living tweeting during the show to help fans understand some of what is going on with the characters and their stuff, and he's been all over the place. He obviously knows more than we do, but he's sure that Stella is going to be quite the tough sell when it comes to a few of the things that are happening on her end. And we can't help but wonder if he's right. There's a lot happening in her world, and this is not something that will work out well for Jordan and Stella.
What's Next on General Hospital
It's getting hot out there! ☀️#GH55 pic.twitter.com/gQEZw59jj3

— General Hospital (@GeneralHospital) June 11, 2018
Carly will do anything she can to get out of here. At the moment, her plan is to be as nice as possible and see if that gets her anywhere. Perhaps this means she will stop making everyone aware of the fact she totally hates Nelle and act as if she's going to give her a chance. We just don't know how or where this will end for anyone. All we can tell at this point is that things will certainly be very interesting as people are given a chance to work through their issues and see how this will play out. She's doing everything she can, and the fact that she's going to have Jason with her regularly soon is going to work for her. We will also see a few things from Nelle.
We know she's got someone home who is willing to do anything to take her down, and that's never good news. What we expect to see now is that she will get her life in order and keep it together as best she can. She will do anything and everything she can to help her case, but she's also going to spend some time thinking about her past. She has to, though. She's in a bad place, and she has to find a way out of it. If she cannot find a way out of this situation, it's going to be very ugly for her. She can't just sit back and let this go down the way it's been going down. But does she have a choice?
Stay tuned for more General Hospital and be sure to check out TVOvermind daily for the latest General Hospital spoilers, news, and updates.