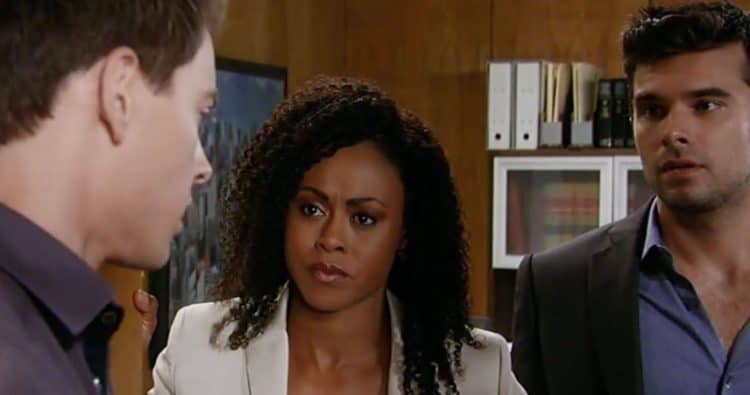 General Hospital fans never really know what to think about all that happens. Yesterday we watched Nina with her impeccable timing — once again. We also saw Peter make a promise. We saw Franco find out something is going on that makes him want to know more, and we saw Sonny totally cool and collected even though he's up to something totally amazing and worth our time in terms of figuring out what it is that's going on. And we also saw Finn decide it's time to make things right. But while it was all interesting and fun to watch, we want to go back to Franco. He cannot seem to keep his life together long enough to make things right in any way, and that makes us wonder. He just got things semi-back together with Liz, and they have a future to plan. Yet here he is hearing that there is man in a cabin, and he can't just let that go.
Of course, now that Liesl Obrecht knows that he knows after overhearing the conversation in which he was told about the man in the cabin, she has to act fast. She either has to move her prisoner, or she has to take down Franco as things unfold and he makes his way to the cabin to find out what is going on, and he will go to the cabin to find out for himself. He is not someone who can get his life in order for very long. He knows better than this, yet here he is working so hard to find out anything he can to get to the bottom of this. He's curious, and we have to wonder what his curiosity is going to cost him or if he can actually help make things happen.
What's Happening on General Hospital
https://twitter.com/chloelanier/status/1016340309884751874?ref_src=twsrc%5Etfw
Fans love it when their characters get together in real life for a little fun, and that's what Nelle and Michael are up to right now. Their wedding is coming up, and the show provided a fun little promo of Michaels' face with a few scary emojis. Chloe Lanier, who plays Nelle, got in on the action with her on funny retweet telling him to be nice to her. She's an excellent villain on the show, and we will seriously miss her when she's gone. We don't like Nelle, but we do think she does an amazing job of being such a shady woman.
What's Next on General Hospital
"'Til death do us part… " 💍💀#GH55 pic.twitter.com/8i6MsDNleA

— General Hospital (@GeneralHospital) July 9, 2018
The truth is that no one is going to know what happens in the meantime, but we do see that today is a day that Michael will apologize. He knows how badly his actions are hurting those in his life, and he can't seem to stop what he's up to and get his life right. He's not making good choices, and we all know this. He's making very poor choices that affect everyone he loves, even if he does think that he is making the right decisions for himself and his family. His mother will be so hurt if she is made aware of all that is going on outside of her current situation, but he can't seem to make better choices. He know not one person in his life is happy for him and his current situation. He knows the only person happy is Nelle — and probably Josslyn. She'll do anything to hurt her mother, and this certainly does count in her book.
But things are taking a very disgusting turn for so many, and we can't just sit back and watch as this all unfolds in such a terrible way. We will also see that things don't go well for Nelle for a second. Something is going to happen to her to leave her very shaken, and we do hope that it all turns out for the best for everyone but her. We have confirmation she's leaving the show, and that has fans feeling a little more confident that Michael will be all right, that Carly will be freed, and that all will work out in some way for this family.
Stay tuned for more General Hospital and be sure to check out TVOvermind daily for the latest General Hospital spoilers, news, and updates.