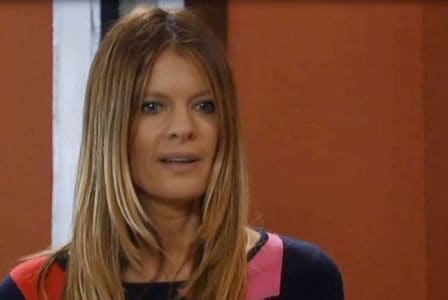 General Hospital fans know Nina is not a stupid woman. She runs a successful business, she has a good life of her own, and she has a lot to offer. She's someone who can't just sit back and not pay attention to what is going on around her. She's someone who has to make a point to get to the bottom of things, and she's just finished a call with Valentin – her husband — that might change the way she feels about her entire life. Is there a chance she might be able to go through with what he wants?
Or will she dig a little deeper? She's not someone to let things go, and she's not someone who goes blindly into situations in an effort to make herself look good. She's going to dig, and she's going to be right to suspect that things aren't what they seem. She's not happy with what is going on, and she's not going to be able to go over what's happening without digging.
What will she find out? And will she want to help her husband? She's not happy with him, but will she do it anyway because she cares for his little girl, Charlotte, and she wants the baby to be happy in life? She wants her daddy back, and Nina might be able to help with just that if there is a chance she's willing to put the baby first and the marriage second. Nina needs to Know the truth.