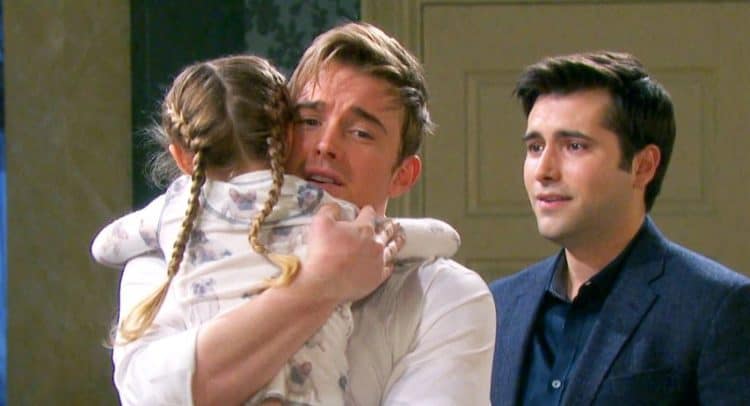 Days of Our Lives fans are going to have a long week of wondering what is going on with all their favorite fans. It turns out that things are rarely what they seem around here, and we don't know what to do about it. Paul's life is on the line, and no one will know whether he lives or dies yet. It is one of those things that has fans worried, and we are pretty certain we know the answer to this one. You see, the actor who plays Paul has chosen to leave the show, and we already knew his days were numbered. It seems this might be the time for him to take off and join his new life where he sees fit. We aren't sure what might happen to him now, but we are certain that there is a good chance that there is something happening. He probably won't make it, and we are sorry about that.
Sonny and Will are ready to begin their new future together, but they both certainly feel guilty about what happened to Paul. Will they go on with their lives, or will they put their own life on hold to make sure they can be there for him in his time of need? We aren't positive that they will make the most amazing choices, and we know there are many chances for them to be together in the future. Will they both be there for a man they once both loved? We hope so, and we also hope that Marlena will wake up and be all right. We're also all crushed for Kayla finding out that her husband is in jail and that there is nothing she can do about it. It's all bad this week, and nothing seems to make things good anymore. Can the people of Salem end this?
What's Happening on Days of Our Lives
#tbt to when Hope & Sami got along. Lol. Not really- it's Ali & @KJAlfonso !! Always fun to work with my friends. #friends #days #bts #setlife https://t.co/sDycBkJc9q

— Alison Sweeney (@Ali_Sweeney) August 31, 2018
We know that this is hilarious, and we love to see the actors working on things as they see fit. We love to see them making fun of their stories and making light of what is going on in their situations. It's something we love to see, and we love to make sure that we all get what is happening in this kind of story line. These two have not been friends, they will not be friends, but they really are friends who get along famously outside of their roles.
What's Next on Days of Our Lives
Second chances. ❤️ #DAYS pic.twitter.com/R4HsCRjwBi

— Days of our Lives (@nbcdays) September 3, 2018
Abigail is finally realizing what is going on in her life. She's not happy about it, and she's not going to be very happy when she realizes that the feelings she's having are true. Her friend, Gabi, is working to make her life miserable. She's been noticing this for a while, but this is the time she's starting to put the pieces together. Not only did she actually go out of her way to share her concerns with Gabi over the baby she's carrying, she also told her that things weren't well for her, she let her support her, and suddenly she sees that Gabi is doing everything that she should not do as her friend, and she's benefiting from Abby and Chad's misery. She is about to open up to her brother about what she feels is going on, and she's going to quickly realize that her brother feels the same way.
Remember when Gabi opened up to him about the way she was feeling after she want to jail and all that happened? They won't need much longer to realize that this is all happening because of what she feels that Abigail did to her when her alternate personalities took over her life. She's going to quickly realize that this is all a bad situation, and we don't believe that she will wait much longer to realize that her paternity test might not be entirely accurate. And that's going to change the entire game for everyone who is currently in this game.
Stay tuned for more Days of Our Lives and be sure to check out TVOvermind daily for the latest Days of Our Lives spoilers, news, and updates.
Tell us what's wrong with this post? How could we improve it? :)
Let us improve this post!